Distributors ready to move to digital, but aren't sure how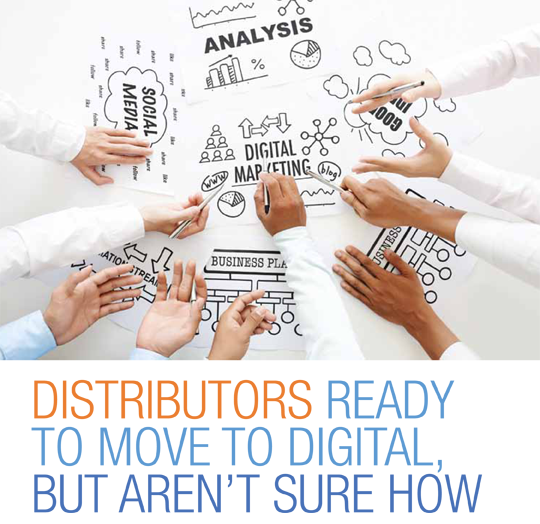 By Jonathan Bein
How distributors ought to go to market is rapidly changing – whether distributors are ready or not. This forced evolution is in large part due to the changing look of the customer base, as Millennials and then Gen Z move into the workforce.
Millennials, the oldest of whom are 36, and Gen Z, shop and buy very differently from Gen X and Baby Boomers, according to our surveys of more than 10,000 end-customers of distributors. They prefer digital channels. That means that distributors must meet them where they are.
Industrial Supply readers responding to the Real Results Marketing survey seemed to recognize that they need to do something differently to reach and engage with prospects and customers today, moving away from traditional channels. "Information has to be at the end of their keystrokes," wrote one respondent. "The digital capability of these emerging generations will require digital mastery by distribution to sustain relevance."
But many indicated they aren't sure how to move forward.
In addition to the changing makeup of the workforce, distributors are facing fast-changing technology across all facets of their business, and Amazon Business still looms as a specter on the industry. The survey of Industrial Supply readers highlighted how distributors are adapting to these uncertain times.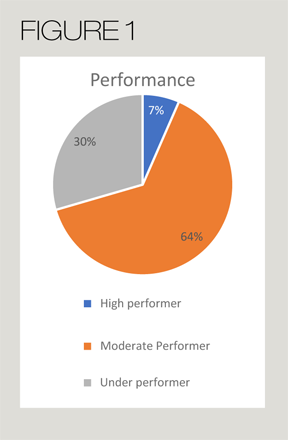 Marketing Performance
The percentage of survey respondents who were extremely satisfied with their marketing results was low, with just 7 percent saying they felt that their company was accomplishing marketing goals in the way they would like. A little less than a third seem to be struggling, and most respondents are just doing OK. Please see Figure 1.
Respondents to the survey said that their top four objectives for marketing were to retain existing customers, grow market share, increase gross margin through better pricing and grow wallet share.
Marketing Vehicle Importance
Print flyers were the most important marketing vehicle for distributors in the Industrial Supply survey, in large part because of the percent of readers who named it "important." More respondents rated email as "very important" than those that named print flyers the same. And a quarter of respondents said that email was their top priority.
This isn't surprising, as email is a universal form of communication in today's business world, reaching more people than any other form of marketing. Social media is next-most important, which nearly half of respondents agreed with. But only a small portion of respondents said that social media was most important to their marketing efforts.
Social media is an odd duck in marketing, producing mixed results for companies depending on their goals. Many distributors have not found it to be helpful for product marketing, but great for branding. Nearly half of respondents rated search-engine marketing as "very important" to achieving marketing goals, with the most respondents saying that it was "very important"; this is because it provides incredible dollar-for-dollar ROI when done right. We have measured search with leading industrial distributors. Many have doubled or trebled the number of keywords recognized by search engines over the past two years.
While print flyers landed at the top of distributors' lists in this survey, with print catalogs also in the top four, in-person methods of marketing were ranked as less important, taking a back seat to digital methods. Trade shows, store-based events, display and telemarketing are all forms of marketing that require more direct communication, and in the world of 2019, one in which information can be communicated effortlessly without the assistance of personal contact, they seem to be falling by the wayside.
But distributors should take care not to abandon any one tactic. Print is still in use today, but its use is at a tipping point. Customers are moving away from print to digital and even in-person shopping; but on the latter, customers are leaning toward inside sales or customer service and away from field sales. But just as with this survey, many distributors have not kept up with where customers are; distributors remain more similar in their capabilities to support buying and shopping by people and print than they do by digital methods. Please see Figure 2.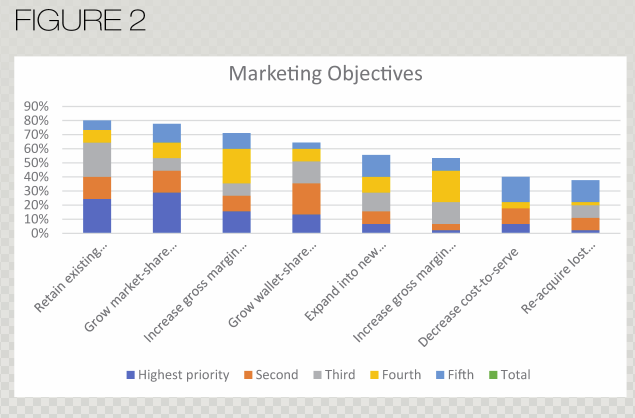 Marketing Vehicle Frequency
Certain marketing vehicles are best used at specific intervals, as shown in Figure 3. However, certain market segments may have different requirements. Please see Figure 3 and 4.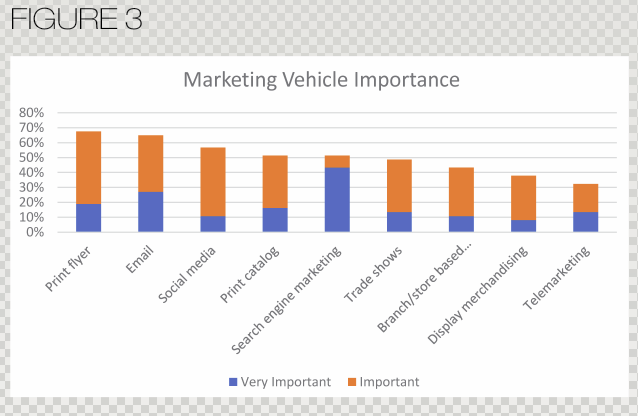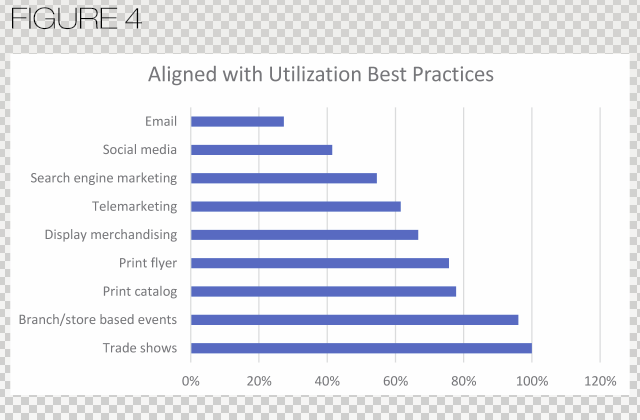 Respondents made clear in the survey that social media, search-engine marketing and email were a priority, but they fall toward the bottom of the list in terms of following best practice for how frequently they should use them. Distributors are excelling in categories they are most familiar with, including trade shows, catalogs and in-person events, which are well-established marketing tactics.
Distributors have an opportunity to improve in line with best practices for many of these digital channels.
Looking Forward
Millennials' buying and shopping behavior needs to play a part in how distributors structure their go-to-market strategy. While the survey data show that many distributors are moving in the right direction, they may not be moving quickly enough. Nearly two-thirds of respondents said they never use website analytics as a marketing tool, and 60 percent said the same of marketing automation. About a fifth never use website checkout on an ecommerce site.
Those distributors that do embrace the next generation of digital tools available to them,
however, can put distance between themselves and competitors that have not. Still, the bottom line goes beyond just the tools, as one respondent rightly pointed out. "An obvious response (to the question of meeting the next generation's needs) centers on understanding and selecting the right touch points. Digital? Of course. Social media? Probably. A not-so-obvious response is to understand their definition of value. How is it evolving? What does a supplier need to do to fulfill it?"
The answer from one respondent: "Become expert listeners! Embrace technology. Stand for something. Articulate vision."
In addition to understanding how your customers shop and buy (no matter their age), it's never been more important to differentiate your company than in today's competitive markets. Distributors must have a strong, credible value proposition, and must communicate that effectively across their channels.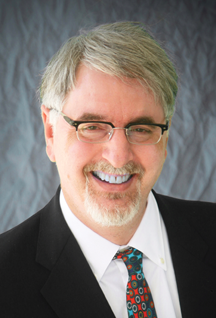 Jonathan Bein, PhD, is the managing partner of Distribution Strategy Group, which helps distributors make marketing a profit center. He has developed and applied analytic approaches for customer segmentation, customer lifecycle management, positioning and messaging, pricing, and channel strategy for distributors. Reach him at jbein@distributionstrategy.com or visit DistributionStrategy.com.

This article originally appeared in the Jan./Feb. 2019 issue of Industrial Supply magazine. Copyright 20198, Direct Business Media.
COMMENTS: 0
---