Are smaller distributors here to stay?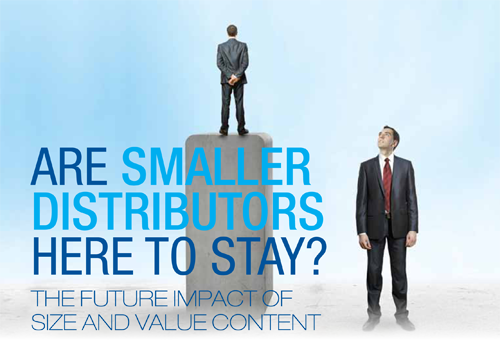 by Dr. Bill McCleave, PE
The distribution world today consists of constant change and a general trend toward larger firms occupying more market space. Yet many small distributors continue to survive, prosper and grow.
The big question is, will small firms remain viable and what will they provide of value to the channel?
During 1998 and 2006, the Industrial Supply Association (ISA) conducted primary research studies to determine the future impact that size and value content would have on industrial distribution and to examine how these might affect the market opportunities for distributors. The results of these studies were widely distributed and used by distributors and their supplier allies to better understand the future shape of the industrial distribution channel.
The great news is that a new 2015 study has just been completed and was presented during the ISA Convention Education Workshop Series in Cleveland, Ohio in April.
For the first time since 2007, we get an ISA insiders look at the dynamics of size and value content in the channel and examine what a live expert panel said about the study.
Highlights of the study:
$10 million may be the new annual sales ceiling for small distributors
Smaller distributors can have a role to play in the future
They will look to other channel players for support and that support may vary
They will have to be different from the past
Services and new technologies will offer a big opportunity
Who participated in the survey and analysis?
Survey participants included 144 ISA members who answered 20 questions reflecting their perspectives on the future of distribution (about 40% distributors, 45% manufacturers and the remainder were manufacturers representatives and trade affiliates).
Four Expert Panelists:
Two manufacturers: Sandy Johns, Brady Corporation, Milwaukee, Wis.; and Phil Hanson, C.H. Hanson Co., Naperville, Ill.
Two distributors: Peter Madsen, Madsen and Howell, Perth Amboy, N.J.; and Jon Eames, N.H. Bragg, Bangor, Maine.
Although these panelists were selected for their individual expertise, it is interesting to note that their four firms have a combined experience in this industry of 517 years.
Distributor participants placed themselves in the following categories with Small Local General Line Distributors being the largest single category.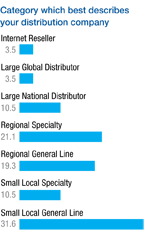 These distributor respondents indicated their number one revenue source from product sales as shown, while the number two revenue slots were occupied by general line industrial supplies, abrasives, "others" and cutting tools.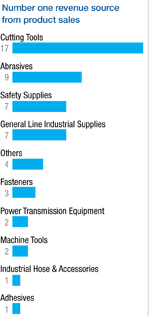 There has been much continuing debate over what sizes make up small distributors versus large, so we asked our respondents and they provided the following perspectives on size: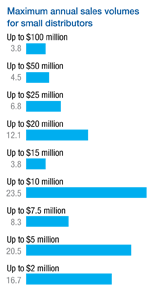 From this input it appears that $10 million is a safe "ceiling" approximation for small and that $100 million is a safe "floor" for large distributor sizes.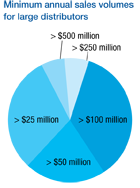 We wanted to know if size would have an impact and our respondents gave us the following input: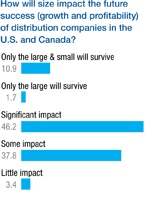 It is clear, as past studies have shown, that respondents don't think only the large will survive. That could be continuing good news for smaller distributors.
We also asked how distributors' roles in the supply chain would change over the next five years, which is significant for opportunities and margins, and received the
following input: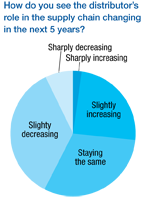 "Slightly increasing" and roles "staying the same" won out but "slightly decreasing" roles might be a reason for further examination of what customers and suppliers may value going forward.
We found that respondents have anticipated what will be valued most by customers: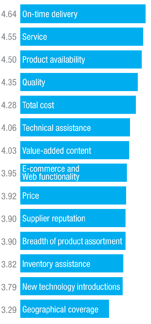 Our respondents also told us what size distributors would be best positioned to provide selected value points for their customers:

So, what about suppliers and who they will rely on most for important capabilities? We got the following answers: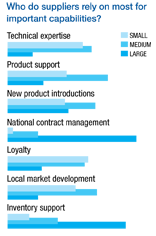 Large suppliers win out in inventory support and national contract management, while small distributors hold their own in technical expertise, loyalty and
local market development, which is what previous studies have
also indicated.
So, we know the differences between small and large distributors and what will be expected of them. But what does our study reveal about what smaller distributors can do to gain an edge?
Focus on:
Local problem solving
Product application expertise
Longstanding customer relationships
Custom services
Intimate market knowledge
Watch for the hazards in:
Integrated supply and national contracts
Cost of technology
Access to financial capital
Difficulties in web marketing
Distributors seem to have an opportunity to sell services but when asked, they gave us the following insight into their future business five years out.
To many observers, including our panelists, this small amount of projected service sales could mean missed opportunity for many distributor respondents but it may not change!
In the future, distributors will rely heavily on their trade allies for support. When asked to grade the overall quality of this support, they responded as shown: Large Manufacturer Technical Support and Buying Groups received the highest overall average grades, which did not seem to come as a surprise to the panelists or the author.
While this sample size is small for an entire industry sector, these average results might be an indicator that some opportunity for improvement exists for some of the supporting firms and all partners should concentrate on improving their mutual cooperation and performance.
As a summary, the roles for distributors will likely continue into the future but different size firms will have different opportunities and challenges. Our respondents and panelists have painted a picture of the landscape and have offered some insight into what firms might consider in adopting strategies for the future.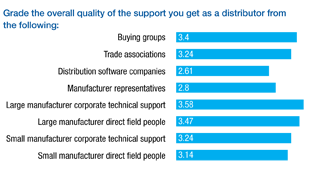 A few things are strikingly clear.
Panelist Peter Madsen suggests that small distributors might survive by staying the same but cannot grow unless they are different.
Panelist Phil Hansen recommends that you must watch the technological changes in manufacturing, such as 3D printing, because they can change your world fast.
Panelist Sandy Johns advises utilizing what great suppliers can provide.
Panelist Jon Eames says to focus your efforts on the right business opportunities.
And, as an audience member suggested, the future might not seem clear but you cannot put your head in the sand because things seem complicated. Powerful forces are at work in logistics, transaction management, e-business and in relationship marketing, among others. The forces may not suggest change for smaller distributors but total transformation. The decisions are yours to make.
A complete set of PowerPoint slides for the study results are available to ISA members through ISA, and for a fee of $100 for non-members. Visit www.isapartners.org to learn more.
Dr. Bill McCleave, PE is a nationally recognized speaker, trainer and president of W. R. McCleave & Associates, a consulting firm specializing in relationship management for industrial distributors, manufacturers and their customers. Contact him at bmccleave@aol.com or (704) 232-6858.
COMMENTS: 0
---