In harm's way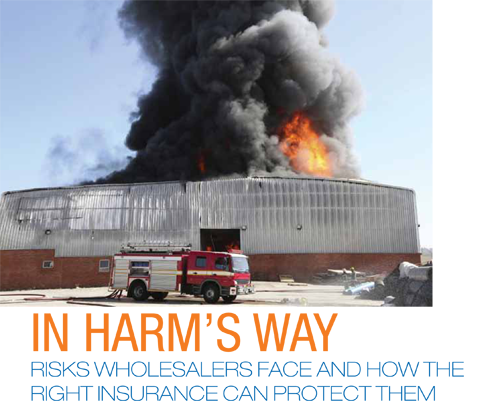 by Leo Heintz
Wholesaler-distributors face some unique risks—some of which they might be overlooking. As a wholesaler-distributor who needs to protect what you've worked so hard for, you most likely need insurance coverage for your building; your business's personal property and the property of others in your care; liability; and on-the-job injuries.
But that's just the beginning. Not every insurer or policy offers coverage for each risk, so it's important to have at least an idea of what you may need when you're shopping for coverage. Below are some common industry problems along with solutions that
an insurer like Erie Insurance can offer to protect you and your business before it's too late:
SITUATION 1: As a wholesaler-distributor, one of your vendors is sued because a customer is injured by a product they purchased through you. Your business could be required to pay your vendor's legal fees if you forgot to add the vendor to your policy as an additional insured. To combat this issue, be sure to purchase insurance that automatically includes vendors as additional insureds.

SITUATION 2: Brand name merchandise in your warehouse is damaged by smoke and cannot be sold, and replacing the damaged merchandise will be extremely costly. Having proper insurance coverage can help you solve the issue by providing protection for the merchandise at an agreed upon value, up to the Business Personal Property limit.
SITUATION 3: A major fire destroys the manufacturing plant of your main supplier. Losing this key supplier could be devastating to your business because now you have no inventory to deliver to customers. Fortunately, being appropriately insured can help save a certain amount of lost income.
SITUATION 4: A major power surge damages your office and warehouse equipment, causing you to incur thousands of dollars in repair bills. An insurance plan that is specifically developed for wholesaler-distributors can provide coverage for damage to equipment up to a predetermined amount so you're not left repairing or replacing costly equipment on your own.
SITUATION 5: Merchandise is stolen from your customer's loading dock after you deliver it, leaving you at risk for not receiving the remainder of the money owed by the customer. With additional insurance coverage, you can be reimbursed certain allotted monies owed.
SITUATION 6: Someone, other than your employee, steals property belonging to a customer out of a delivery truck, and you may have to pay for the property out of pocket. The right kind of insurance can cover stolen property while it's being transported, taking the burden off of you as a distributor.
How to protect yourself
So now that you know some of the risks, what specifically should you be looking for in your insurance policy?
Insurance policies can vary a lot by company, so be sure to check with your agent to make sure you have the right protection for your particular situation. Below are some of the features of Erie Insurance policies designed with the unique needs of wholesalers and distributors in mind.
Building coverage
In addition to the building structure itself, this coverage also protects:
Anything permanently attached
Equipment used to service or maintain the premises, such as forklifts, floor coverings and appliances
Exterior signs
Glass, including the lettering and ornamentation
Fences, walks, unattached outbuildings, trees, shrubs, plants and lawns
More than 30 automatic extensions of coverage, such as debris removal, accounts receivable, employee dishonesty, money and securities, valuable papers and records and more
Income Protection coverage
Because the income derived from your business is of vital importance to you, income protection coverage is key. Benefits include:
Guaranteed income for up to 12 consecutive months while your business is suspended due to a covered loss, if damage to your property interferes with normal operations. At Erie Insurance, this coverage is triggered not only in the event of a total interruption of business but also a partial interruption. And, during the critical seven-day period after a loss, we will advance our customers up to $100 per day while they determine their actual loss.
Reimbursement for extra expenses incurred to continue nearly normal operations
Civil authority coverage for up to three weeks with a 72-hour waiting period, if you are prohibited access to your business by a civil authority due to a covered peril
Contingent Business Interruption that reimburses you for lost profits and extra expenses resulting from an interruption of business at the premises of a customer, supplier or a neighboring business that your company depends upon to attract customers
Off Premises Utility Service Failure if operations at your business are suspended due to an interruption in utility service, such as electric, water or communications
Mechanical and Electrical Breakdown coverage
This is sometimes referred to as boiler and machinery insurance and covers the often expensive physical and financial damage that can result from an equipment breakdown. In a general sense, this type of insurance includes:
Direct property loss to cover the cost to repair or replace damaged equipment
Lost business income and costs for temporary replacement equipment
Other expenses incurred to limit the loss or speed restoration of operations
The loss value of spoiled products or materials caused by a covered breakdown
Business recovery expense
It's especially important to take a close look at your mechanical and electrical coverage, because many standard policies typically exclude (meaning don't cover) the very losses that equipment breakdown insurance is designed to cover. Erie's policy includes coverage for many of these risks, including mechanical breakdown; electrical arcing; artificially generated electrical currents; centrifugal force; boiler overheating, cracking, bulging, sagging; and the bulging, cracking or collapse of pressure vessels.
Equipment covered under our specialty wholesaler/distributor policies include:
Beyond what we've already outlined, here are few other coverages that you as a wholesaler/distributor may want to discuss with your insurance agent:
Ammonia contamination that results from a mechanical, electrical or pressure system breakdown
Electrical panels for damage caused by electricity
Expenses for loss adjustment, meaning the costs incurred by investigating, administering, defending or paying a claim. An example of such a cost could be the price of a police report or the payment for services of an independent adjuster.
Expenses for security, to protect covered property from further damage after a loss
Fine arts, for property that is rare or has historical value, such as paintings, tapestries, etc.
Fire department service charges
Peak season coverage; you'll want to consider this if your business fluctuates so you can get more coverage during peak sales times.
Also consider protection for check, credit, debit or charge card forgery or alteration; employee dishonesty and theft; sewer and drain backup; commercial auto; data breach; and business life.
Hopefully by now you have a better sense of the risks you face, but even more importantly, steps you can take to protect yourself and your business. To get some peace of mind about your coverage, speak with an insurance professional who can walk you through your options. Being informed and taking the proper precautions now is the best way to stay protected.

Leo Heintz is vice president and product manager for Commercial Lines at Erie Insurance, a property/casualty and life insurance company founded in Erie, Pa., in 1925. Erie has a program that includes products and services specifically developed
to provide wholesaler-distributors with the protection they need. More information can be found at ErieInsurance.com.
This article originally appeared in the July/August 2015 issue of Industrial Supplymagazine. Copyright 2015, Direct Business Media.
COMMENTS: 0
---