The Daily Grind
Alro Industrial Supply and Radiac Abrasives earn ISA American Eagle Excellence in Industry Award for helping a grinding operation increase throughput capacity
by Rich Vurva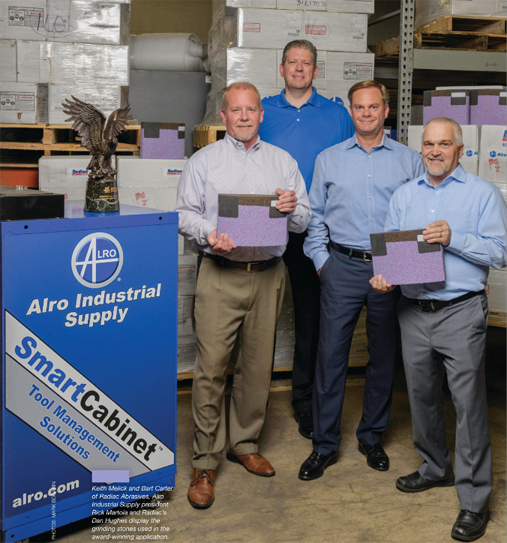 Keith Melick and Bart Carter of Radiac Abrasives, Alro Industrial Supply president Rick Martoia and Radiac's Dan Hughes display the grinding stones used in the award-winning application.
A grinding operation in Michigan was having difficulty keeping up with customer demand because all of its machines were maxed out. Without a dramatic improvement in machining time, the company would be forced to outsource jobs, severely impacting profits.
In addition, the existing process required machine operators to switch out grinding stones on every shift. Downtime to change the stones was about 15 to 20 minutes per machine.
The company turned to its local distributor, Alro Industrial Supply of Jackson, Michigan, for help. Alro brought in abrasives and grinding specialist Radiac Abrasives of Salem, Illinois, to help devise a solution.
The company uses a Blanchard grinding process, also known as rotary surface grinding, to grind plate stock including different grades of hot rolled plate and stainless steel. Developed by the Blanchard Machine Company in the 1900s, the process efficiently removes stock from one side of material with a large surface area. It is a more economical process than precision grinding a large surface.
The objective was to improve throughput, reduce setup time and decrease downtime. The first step in the process was for Alro and Radiac to learn how the current grinding operation worked.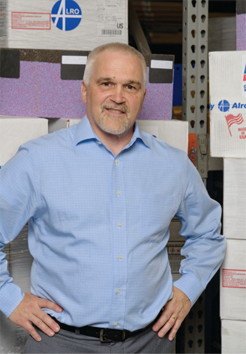 Dan Hughes, Radiac Abrasives
"We follow a process called Innovative Performance Consulting or IPC," says Dan Hughes, territory manager for Radiac Abrasives. "We look at all of the equipment, materials and work pieces that they're grinding. We look at the entire process, everything from coolant, to machine capabilities, to how well the machines are maintained. "
The goal is to find out as much as possible about the operation, explains Keith Melick,
regional sales manager for Radiac.
"What is the horsepower of the machine? When was the last time the bearings were changed? What type of coolant is being used? Is swarf being gathered in the coolant and, if so, how much? All of these factors can affect the finished product," he says.
Much of the fact gathering fell to Monty Brooks, Radiac application engineer, who follows a methodical process to determine a solution. He considers how many hours per year the equipment is running, the number of parts produced per year, the number of setup changes required and more.
With an understanding of the parameters, Brooks established a baseline grinding ratio, or G ratio, which is the volume of material removed per unit of volume of wheel wear. G increases with less wheel wear or higher material removal. The higher the number, the better the grinding conditions.
The current operation had a baseline G ratio of 2.6.
Based on the operational requirements and machine capabilities, Brooks recommended a solution that used a combination of ceramic and aluminum oxide grinding segments.
"Obviously, ceramic segments are more expensive, so you need to find the right balance between performance and cost for each machine," Hughes says.
Testing the solution
The customer agreed to do a test, so grinding segments were ordered. The grinding segments, which measure approximately 12 inches by 16 inches, take up to eight weeks to manufacture.
"Grinding wheels aren't made in a day. We want the most precise information we can get to come up with the trial segment," explains Melick. "Because if it doesn't work the first time, then we have to go back to the drawing board and wait for the next opportunity for a test run."
When the test segments were ready, Brooks scheduled a few days where he could go to the customer's location for a test run, comparing the performance of the new grinding segments with the existing product.
"This was a great scenario where we had a sophisticated customer who understood that there was more to the analysis than just the price per stone," says Hughes. The true savings come from a better process in which the grinding segments would last longer, which means less downtime and less wrench time changing out segments.
Machine operators typically have decades of experience running their machine. It's important during the test process to work closely with the operator to explain what's being done and why in order to get his cooperation. If you come in with a heavy-handed approach and make the operator feel as though he doesn't know what he's doing, he can sabotage the project in short order.
"It was important to demonstrate this on one or two machines. Once we had success on a couple of machines, we could translate the improvement across all of their machines," Hughes says.
Following the initial test, an additional check test was required to make sure that the solution that worked on machines A and B would work on machines C and D because each machine has unique performance capabilities.
"It's important that you have a distribution partner that is able to have a conversation with the end user and get their buy in," Hughes says. "That's important up front because if they're truly serious about making a step change in performance, they have to be willing to make the time available. We'll make the resources available, we'll get the people here, but they have to buy into that process," says Melick.
When all of the testing was complete, Radiac and Alro presented the test results to the customer's management team that broke down, by machine, the projected savings. From start to finish, the project took about seven months for completion.
The project resulted in projected annual savings of $798,000. With the new grinding stones, instead of changing segments once every shift, they only have to change segments once every 10 days or so.
The new process proposed by Radiac and Alro resulted in a G ratio of 10.9 compared to the baseline of 2.6. Machine capacity improved by a minimum of 25 percent per machine, allowing the company to keep all of its work in-house instead of having to outsource jobs to meet deadlines. The company previously struggled to meet same-day delivery promises.
One benefit gained from a higher priced product is that it lasts longer.
"That means less time changing over the grinding wheels on the machine, so you have more uptime grinding. When the table is turning, you're making chips and you're making money. When it stops because you have to do any of the things relating to maintenance, or switching out wheels, your flow of cash just stopped," says Melick.
Hughes adds that many people look at grinding wheels as a consumable. They want to buy the cheapest because they're just going to use it up and throw it away.
"This customer understood that specifying the proper tooling will generate much higher machine performance. That higher performance out of the machines allowed them to leverage their manpower and their equipment to push more throughput throughout their entire operation," Hughes says.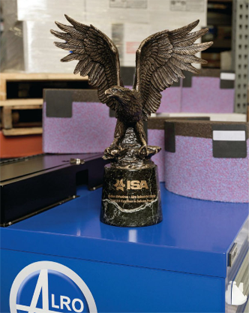 Award-winning effort
The Industrial Supply Association recently presented Alro and Radiac with its American Eagle Excellence in Industry Award in recognition of their efforts.
"Some of the criteria for the American Eagle Award include tremendous communication between channel partners and innovative products that drive value to the end user. All of that was very much present in this situation," says Rick Martoia, president of Alro Industrial Supply. "It was a great partnership between Alro and Radiac to accompsh a goal for our mutual customer."
This exponential increase in machine output, using new stones and accelerated machine parameters, increased the machines' capacity while at the same time reducing the number of stones consumed, explains Bart Carter, vice president of sales and marketing for Radiac.
"In the end, this solution not only allowed the customer to decrease their acquisition costs and gain nearly $800,000 in production improvements, we enabled them to increase profits through increased sales, reduced outsourcing and increase margin per ton of steel sold. It was truly a winning combination of reducing costs and increasing profits," Carter says.
This article originally appeared in the July/August 2018 issue of Industrial Supply magazine. Copyright 2018, Direct Business Media.
COMMENTS: 0
---