Work while you walk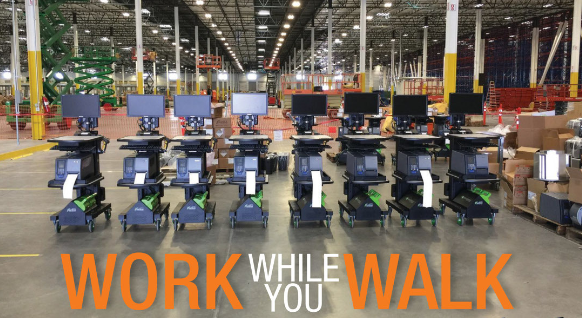 by Rich Vurva
Warehouse workers who spend more than half of their time walking up and down aisles to do their jobs are wasting their time and wasting your company's money. Sometimes, the easiest solution to a problem is to equip employees with the tools they need to be more efficient. Workstations are one example. Here are some ideas from three companies that provide workstation solutions that might enhance productivity in your warehouse or distribution center.
NEWCASTLE SYSTEMS


Kevin Ledversis, sales director
www.newcastlesys.com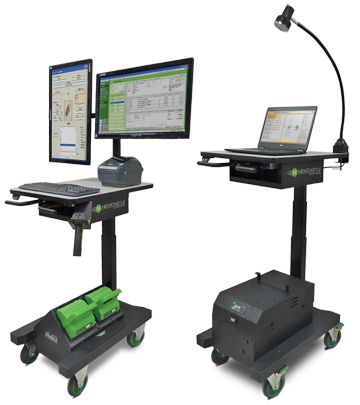 Two clear trends are driving development for our solutions, the need for added capacity to tackle the e-commerce boom and warehousing growth, and the lack of consistent labor to support this growth. Our solutions are developed to provide mobility and flexibility to workers in the distribution industry. Mobility in the inbound, picking and shipping functions allow distribution centers to become more efficient. Wasted motion is a liability to an efficient distribution process, and our solutions are designed to eliminate it.
In some cases, wasted motion can be up to 50 percent of the distribution process, greatly affecting the performance numbers (KPIs) measured by management. For a company to grow and add inventory, turns capacity has to increase. Product has to be sitting less, and moving more. If a process is poor, growth is nearly impossible, especially when the people doing the work are walking 50 percent of the time, providing no value to the process.
The distribution industry is in the midst of a labor crisis; there are simply not enough workers to complete these tasks efficiently and turnover rates have never been higher. Newcastle's solutions allow workers in DCs to become more productive, safer (less crossing of paths and wires) and less fatigued. When workers are less fatigued they are more apt to feel supported by management, and stay at their company longer.
Mobile-powered workstations take any static device and add mobility, which reduces worker travel times and adds efficiency. Our workstations provide benefits to all companies in the distribution industry, whether they need to receive trucks faster (capacity), reduce shipping errors (accuracy) or create mobile supervisors (this is one of our fastest growing applications). Newcastle's mobile-powered solutions can help. It's imperative for supervisors to solve problems faster and engage their workforce. Workers who are engaged on the floor are 21 percent more productive, have 37 percent less absenteeism and account for a 48 percent reduction of accidents on the floor.
An engaged workforce is a competitive advantage because the company has a better chance of retaining staff, adding a major level of stability to their process. For example, the supervisor workstation can be height adjustable to allow the manager to sit or stand depending on their needs throughout the day. All of our mobile-powered workstations have a fantastic ROI, and are easy to integrate without the high cost associated with automation or software.
With ordering patterns shrinking, more single-line items need to be picked, placing stress on the warehouse staff. Batch picking multiple orders to a cart, and removing paper pick tickets adds a major level of efficiency to that process. Our single bay lithium battery system allows companies that pick the ability to operate much longer than less industrial systems, all with the added benefit of reduced weight. We provide the power for their tablets, printers, scanners and laptops for 24/7 operation. The reduction of paper with added battery life is a big process improvement.
Dimensioning is also a trend to look for in the near future. Companies that dimension their SKUs take advantage of the lowest parcel rates and avoid charge backs in shipping. They also manage their warehouse capacity better by slotting inventory in locations that make the most efficient use of space. One of our most recent solutions, the Atlas Series Mobile Dimensioning Stations, enables quick and accurate dimensioning directly at the product location, increasing productivity up to 50 percent by eliminating costly motion, touches and transportation waste.
DEHNCO EQUIPMENT & SUPPLY


Jeff Dehnert, president
www.dehnco.com
Online shopping has set new customer expectations surrounding the speed, convenience and cost of delivery. Shoppers want their deliveries within two days—preferably for free—and in case the delivered item doesn't quite work out, they expect the returns process to be just as seamless. Purchasing decisions are increasingly made based on convenience; consumers are opting for what's easy.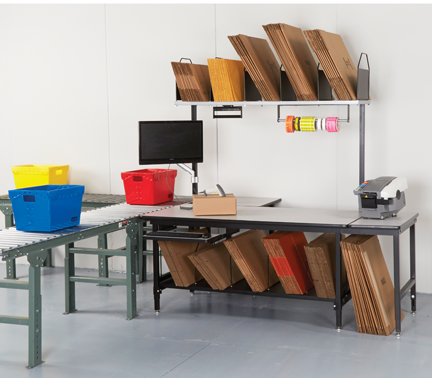 Conversely, things are getting more and more complicated for distributors as they strive to meet these expectations. For e-commerce operations, an influx of orders means more inventory, equipment and warehouse space to manage. Minimizing turnaround time and delivery cost requires companies to optimize the function of individual workstations, as well as their entire operational workflow. Retailers, in order to stay competitive with e-commerce, have begun converting their stores into shipping locations. A successful ship-from-store operation allows retailers to fulfill orders more quickly and at a lower cost, but it requires finding in-store space for inventory, workstations and pack-and-ship materials. Distributors across the board, whether in their warehouses or stores, are looking to maximize the productivity of their existing operations.
To help our clients meet these challenges, Dehnco provides both off-the-shelf components and custom-built solutions. Every business is different; our modular workstations support a variety of tasks—including order consolidation, prepping, packing, VAS services and manifesting. We believe that new equipment is an investment, but in a rapidly changing landscape it can be hard to future-cast. That's why our solutions are designed with flexibility and adaptability in mind. We know our clients' needs today might not be the same as their needs tomorrow. Our workstations can be easily modified to meet new opportunities and changes in the marketplace.
In order to keep up with shopping trends, turnover times and customer expectations, e-commerce and ship-from-store operations alike must continue to evolve. Distributors will increasingly turn towards data and digital tools to optimize their processes. At Dehnco, we're developing IT accessories that seamlessly fit thin client CPUs, keyboards, scanners, printers and monitors into our workstations. Additionally, pack-and-ship players will have to be mindful of the industry's increasing environmental impact. We are constantly looking for ways to maximize our clients' operational efficiency while minimizing material waste. Finally, and perhaps most critically, businesses will need to assume greater responsibility for the health and well-being of their employees. Dehnco workstations are built with a focus on maximizing worker safety and comfort.
At Dehnco, we apply our more than 40 years of experience to improve every aspect of our clients' pack and ship operations. We are able to help them every step of the way, in every facet of the distribution chain. We ensure that—through the right processes, supplies and equipment—their entire operation flows, feels and works better.
CREFORM


Keith Soderlund, VP of sales
www.creform.com
E-commerce order processing, a higher volume of small orders and customers expecting fast processing are three primary trends impacting the distribution industry today.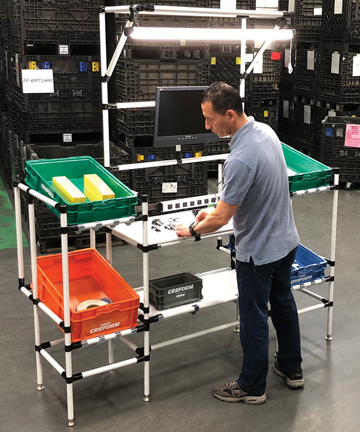 To gain efficiencies, more and more companies are trying to reduce or eliminate paperwork on the floor. One way that's accomplished is by integrating computers and screens into workstations.
Distributors in the past often just used a generic structure. Often, people not well informed about manufacturing or equipment options will purchase these solutions from a catalog because they are a cheap and easy solution. But they tend to function poorly and eventually get modified or replaced. Some are starting to practice continuous improvement business philosophies and seeing the benefit of custom workstations that are designed and optimized for their specific applications.
For example, they're using workstations for parts kitting, light assembly and pack and ship functions. Well designed workstations keep parts, tools and supplies readily at hand, which enhances work efficiency. Height adjustable workstations support ergonomically correct work, increasing productivity and reducing fatigue and injury. Adding casters for repositioning and cleaning is a simple feature that can greatly improve workflow.
Creform structures are modular, so workstations can change and evolve as needs change or approach to the work changes. As continuous improvement methods are applied to the process, often workstations need to change as well. Investment in a modular workstation like Creform is a long-term decision since you know it can change as you do. There's no need to throw out one structure to buy another.
Improvements in technology have introduced ergo lifts. With warehouses running multiple shifts with personnel of varying heights, it's nice to be able to raise/lower the workstation to suit. Another recent solution is integration of overhead lights on the workstation. Often, high bay warehouse lighting does not provide sufficient light at the workstation to work.
Integrating technology into workstations, such as computers, screens, wireless scanners, printers and even pick-to-light systems, are additional examples of enhancements that can make workers more productive. Computer design tools have made it easier to develop more complicated workstations. Simulations are possible. The best solution is one that is designed for your company's specific needs.
Before purchasing a generic structure, watch and thoroughly understand your company's process, parts presentation, tool accessibility and ergonomic considerations. Ask end users for their feedback. They know the job best and will appreciate being part of the design process. Their involvement early will make implementation easier. Think flexibility from the beginning. Situations change. A rigid workstation will be difficult to modify or you'll have to modify to suit the station, which isn't desirable.
This article originally appeared in the July/August 2018 issue of Industrial Supply magazine. Copyright 2018, Direct Business Media.
COMMENTS: 0
---