Crushing the Competition
Stellar Industrial Supply and Sandvik Coromant demonstrate how a focused approach can outperform the market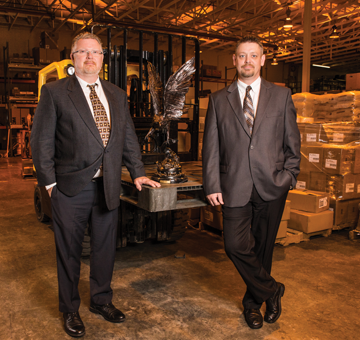 Sam Wrisley (left), an account relationship manager for Stellar Industrial Supply, and Sandvik Coromant territory productivity engineer, Eric Sleater, helped their companies win the ISA American Eagle Award.
By Rich Vurva
During a year in which most providers of cutting tools were experiencing declining sales, Stellar Industrial Supply and Sandvik Coromant embarked on a program aimed at bucking that trend. Stellar had been acquiring distributors, extending the Tacoma, Washington-based industrial distributor's reach beyond its base in the Pacific Northwest into the Southwestern and Southeastern U.S. Some of the company's 14 locations were more focused on cutting tools than others.
Recognizing that a patchwork approach wouldn't generate better than average results, Stellar's executive management team met with executives from cutting tools supplier Sandvik Coromant to map out a strategic action plan. The first step was to boost their joint investment in training.
As a Sandvik Yellow Coat Elite distributor since 2011, Stellar was already sending people for the training required to maintain that status. In 2015, Stellar ramped up those efforts to ensure that all seven Stellar metalworking specialists completed the Sandvik Coromant Channel Partner Representatives program, plus several inside and outside salespeople also participated in advanced technical training.
In addition, the companies drew up action plans for introducing Sandvik Coromant solutions into new territories, with a special focus on developing documented cost savings to prove to customers the value of those solutions.
The efforts paid off handsomely.
Stellar's booked business with Sandvik Coromant increased by 45% in 2015 and is up nearly 20% year to date in 2016.
The growth was especially impressive when you consider that the U.S. cutting tool market was down by 5% in 2015 compared to the previous year, according to data from the U.S. Cutting Tool Institute and AMT-The Association for Manufacturing Technology.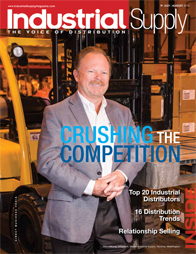 "We're doing it the right way. We're doing it by showing customers our value proposition. We're not out there in a race to zero just to get volume. That's not what we're about," emphasizes John Wiborg, Stellar Industrial Supply president.
During 2015, the channel partners jointly worked on $1.8 million in documented cost savings, representing nearly 13% of the total documented savings Stellar captured for customers that year. The total will likely exceed that amount in 2016.
Demonstrating value
Since becoming an authorized Sandvik Coromant distributor in 2011, Stellar quickly became one of the supplier's largest distributors, with annual purchases of more than $7 million. Sandvik Coromant is currently Stellar's second largest supplier.
In recognition of their work together, the two companies were named 2016 co-recipients of the American Eagle Excellence in Industry Award by the Industrial Supply Association. The companies were recognized for their long-term commitment to delivering solutions and new technologies to establish a supplier-distributor relationship focused on continuous, consistent cost-savings and productivity improvements for customers.
Wiborg says the relationship between the channel partners is a good example of the types of partnerships that Stellar strives to achieve with all of its key suppliers.
"Our vision statement refers to creating ideal customer-supplier partnerships," explains Wiborg. "We look for suppliers that we can really partner with and go to market to gain share. We do it by delivering profits to customers. Not every supplier can do that. Sandvik, and other key supplier partners of ours, share our values. They share the value of being able to go to a customer, show them a better way to do things that improves their financial performance, and then ask for the reward of engaging in the business."
In January 2016, Stellar awarded Sandvik Coromant its 2015 Supplier of the Year Award, while the metalworking company named Stellar its 2015 Channel Partner of the Year.
Adds Tom Henry, manager of channel marketing for Sandvik Coromant, "The partnership between Sandvik Coromant and Stellar Industrial Supply is innovative, with our long-tenured history of success, but also demonstrates a willingness to change and invest in new ideas and technology to meet customer demands."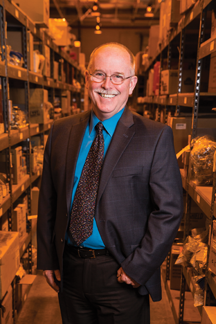 Steve Slater
Steve Slater, Stellar executive vice president and chief operating officer, explains that the renewed focus on value creation with Sandvik Coromant began in January of 2015, when Stellar held its annual Stars supplier summit to recognize about a dozen suppliers that worked closely with the distributor in the past year to grow their business. He says participants in the Stars program typically outperform competitors.
"We got together and decided, why don't we focus on value creation and on removing obstacles to success? That has led us to where we are now, where all of our people are focused on removing as many obstacles as they can and on working on creating value for customers," Slater says.
New customer opportunities
A key component of the action plan between Stellar and Sandvik Coromant focused on seeking new business opportunities.
Norfil LLC is a Tier One aerospace manufacturer that produces complex machined parts for the global aerospace and defense industries from its facility in Pacific, Washington. Stellar account relationship manager Sam Wrisley had called on the company in the past, but was unsuccessful in signing them as a customer. When Norfil was looking for a solution to a cutting tool coolant problem, Wrisley got his chance to demonstrate Stellar's capabilities.
He spent time at Norfil cleaning out the old coolant and testing alternative solutions. Impressed by his work ethic and knowledge, the conversation turned to other areas where Stellar might be able to apply their metalworking expertise. He learned that Norfil was looking to reduce costs on a process for machining an engine mount for an Airbus A320 aircraft. Wrisley arranged for Eric Sleater, a territory productivity engineer for Sandvik Coromant, to visit the Norfil plant.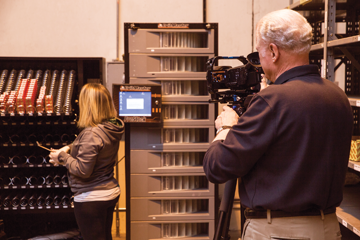 ISA develops a video each year that highlights the winner of its annual American Eagle Excellence in Industry Award winner. Click to view the video.
Sleater discovered that in a face milling operation that required four passes, operators would rotate out the indexable inserts after each pass. Norfil was hoping to find a cheaper insert. Sleater told them something they didn't want to hear; the problem wasn't with the insert they were using, it was with their process.
They pushed back, telling Sleater, "We can't afford to change the process. We don't have the resources and the manpower to do it."
Like most machine shops, the people at the spindle on the shop floor are proud of the solutions they have put in place. They're reluctant to make changes because that would be an admission that their solution was flawed.
So, Sleater offered Sandvik Coromant's services to make the needed changes to their program. They agreed, and Sleater's team devised a solution that went from making one pass per edge to producing one completed part per edge. The total annualized cost savings for the change was more than $155,000.
Following that initial success, Wrisley and Sleater have become mainstays at the Norfil facility. In just over a year, Stellar has gone from doing no business with Norfil to being one of the company's most trusted suppliers.
"I'll walk in there and, an hour and a half later, I still haven't gotten to the original project I went in to do, because," Wrisley explains, "the general manager catches me as I walk in. 'Hey. I wanted to talk to you about this and this. Could you get this? What do you think this is? Is this working best?' As I walk through the shop, people are coming to me and asking me for help on different projects even before I make it to that area that I'm going to work on."
Wiborg says the work being done at Norfil is typical of the way in which Stellar prefers to deal with customers. Instead of falling into the trap of selling at lower prices than the competition, Stellar and key suppliers like Sandvik Coromant shift the conversation to helping the customer focus on continuous improvement, improving productivity, and getting a better return on their investment.
"We're not trying to sell anything. We're trying to help customers achieve greater success," Wiborg concludes.
This article originally appeared in the July/August 2016 issue of Industrial Supply magazine. Copyright 2016, Direct Business Media.
COMMENTS: 0
---