ISA honors Judge
by Rich Vurva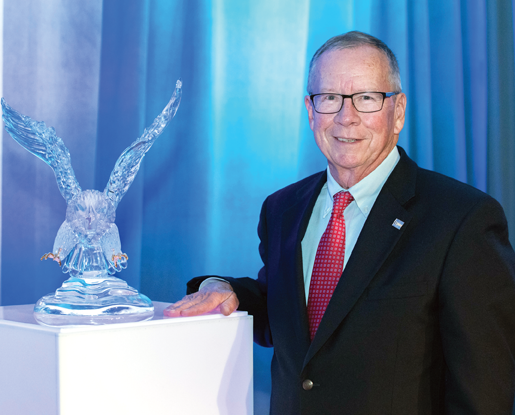 Dan Judge always assumed he'd end up working in the business his family owned. What he didn't know at the time was how many changes the business would go through in a career that has lasted nearly five decades. Judge recently received the John J. Buckley Lifetime Achievement Award from the Industrial Supply Association (ISA) at the association's annual convention.
Now chairman of NetPlus Alliance, the buying group he founded in 2002, Judge was introduced to distribution as a young boy, putting away stock and riding along with drivers making deliveries for Ward Brothers Mill Supply in Lockport, New York. The company was owned by Judge's three great uncles, and his father also worked there and eventually became a co-owner.
In 1964, Judge earned a bachelor's degree in Industrial Distribution from Clarkson University and also participated in the school's Army ROTC program. After graduating, he was commissioned as a second lieutenant in the U.S. Army Signal Corp. and spent a year in Vietnam, earning the Vietnam Service Medal and the Army Commendation Medal. When he returned home, he finished his active duty tour as a company commander at Fort Meade, Maryland.
With his military career behind him, Judge decided to work toward a master's in business administration from the University at Buffalo School of Management.
"As I was finishing up my MBA, Sam Ward, principal owner of the business, said to me, 'Well, you are coming to work for us, aren't you?' That was my job offer," he laughs.
He started working full-time at Ward Brothers in 1969.
The company made several acquisitions during the 1970s and 1980s, and was eventually renamed Ward Beals & McCarthy.
"We grew through acquisition, but at the same time western New York's manufacturing base was shrinking dramatically," Judge recalls. Major customers such as Bethlehem Steel and Republic Steel closed down and, soon, related businesses that supported the two steel plants would go out of business as well. "We'd make an acquisition and grow, and then somebody would leave and we would be back to where we started," Judge says.
He became active in the National Industrial Distributors Association (NIDA) in 1977 when executive director Bob Clifton invited him to get involved in a committee. "When I started participating in NIDA committees, I was probably in my late 20s. I might have had a degree in Industrial Distribution and a master's in business, but I didn't really know what I was doing. It was a great opportunity to learn from some really smart people," he says.
Throughout his career, Judge served in leadership roles in NIDA, and was instrumental in the merger of NIDA with the Southern Industrial Distributors Association to form the Industrial Distribution Association, which later became part of ISA.
"I started to reap the rewards of industry networking when I became active in the associations. We were non-competitors, so we were like sponges trying to get whatever information we could about running our businesses from other people who were doing a great job of running their businesses. We shared a lot of ideas," he says.
Judge served as co-president of the merged I.D.A. in 1988-1989. He had been asked to serve in leadership roles earlier, but declined, opting to wait until his daughter, Jennifer, was out of high school and he would have more time available for travel.
Judge became president of Ward Beals & McCarthy in 1987. The company was one of six founding members of I.D. One, the first cooperative for industrial supply distributors. In 1993, after the sale of the distribution business, Judge took over management of I.D. One, which he ran until it was merged into AD in 2000.
Judge formed NetPlus Alliance in 2002 "with only a business plan, a press release and hundreds of industry relationships," he says. The company, which began its first full year with 38 distributors, 20 suppliers and less than $20,000 in total purchases, has grown to a membership of 390 distributors and 180 suppliers, conducting more than $200 million in purchases through the buying group by 2016.
"I am grateful to the ISA board and members of ISA for this great honor. When I reflect about what has guided me through my lifetime in industrial distribution, I think of three things: change, networking and relationships," Judge told attendees at the ISA convention when he was given the Lifetime Achievement Award. "While ISA has a different mission from NetPlus Alliance and other buying groups, the distributors and manufacturers in this industry need both organizations for the networking, relationship building and change opportunity they provide. We value our relationship with ISA."
Judge takes great pride in the fact that his daughter, Jennifer Murphy, decided to follow in his footsteps by building a career in the industrial supply industry. She became president of NetPlus Alliance in 2013.
"My father has a true passion for the industrial distribution industry, as well as good friends and colleagues he has met along the way," says Murphy. "He is a vocal advocate for the Industrial Supply Association, often writing about his history of attending past association events and how these meetings were the foundation for great friendships and business success."
Judge is the fourth person to receive the John J. Buckley Lifetime Achievement Award, named for the former executive vice president of ISA. Previous winners include Don Ruggles, chairman of Martin Supply (2016), Kathleen Durbin, CEO of General Industrial Tool & Supply (2015), and Tim Tevens, president and CEO of Columbus McKinnon Corporation (2014).
This article originally appeared in the July/August 2017 issue of Industrial Supply magazine. Copyright 2017, Direct Business Media.
COMMENTS: 0
---