Training Tips: Abrasive Brushes
by Rich Vurva
Manufacturers of abrasive brushes have focused a great deal of research and development efforts to produce products that last longer and offer more aggressive cutting action. In some cases, they've moved to composite materials to replace traditional wire and steel filaments in deburring applications. Here's a quick look at solutions offered from three leading suppliers.

Imre Karetka, product manager, brushes
PFERD
PFERD
In recent years, collaboration between deburring equipment manufacturers and robotic and CNC equipment manufacturers has driven considerable advances in abrasive brush developments. Historically, the deburring process of a part was treated as an afterthought. We are seeing a shift in this mindset, where the deburring tool manufacturers are now being consulted at the front end of the project. The benefit of this is that tooling and special brushes are developed and integrated into the programming and tooling requirements of the overall manufacturing process. Due to this close collaboration with equipment manufacturers, a number of very successful abrasive brush solutions and brush holders have been developed for these custom applications.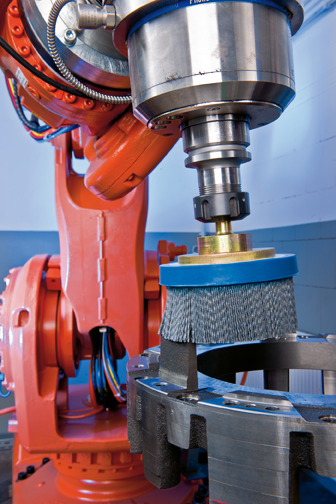 PFERD Inc. works collaboratively with robotic and CNC equipment manufacturers to design and integrate products to meet specific end-user requirements. Recent product innovations resulting from these kinds of collaboration include our M-BRAD composite brushes, which are installed in several of these machines. M-BRAD brushes are made using ceramic oxide grain for very aggressive brushing, and contain more filament than others on the market, which yields longer tool life. The unique M-BRAD filament can be used in both wet and dry applications, and won't degrade the dimensions of the work piece, which results in time and cost savings due to reduced scrap.
PFERD has experienced sales and technical professionals who work closely with customers, including CNC equipment and robotic manufacturers, to integrate any required abrasives into their machines for unique customer applications.
Modifying the features of an abrasive brush, such as the trim length, density and face width, seem to be the most common and practical means to improve productivity for our customers. All of these physical features need to be taken into account when cycle time, accessibility to a part or geometry, and brush life are considerations.
The trend in manufacturing is to make things smaller and last longer. To achieve this goal, manufacturers are designing parts with alloys which require abrasive grains and brushes that are suitable for these alloys. There is more ceramic grain used in brushes than ever before. The use of Superabrasives such as PCD are also on the rise for surface conditioning and deburring applications. To keep pace with this trend, we are developing abrasive brushes which are smaller in physical size, yet still have the aggressive deburring characteristics that meet customer requirements and get the job done in the most cost effective and efficient manner possible.

Ron Vogt, category manager, MRO
Weiler
Weiler Abrasives Group
Competition in the marketplace continues to challenge companies to become more productive and generate higher quality parts. Companies need to reduce costs, too, while still producing just as much. Finding ways for companies to do more with less, and for less expense, is key. Having the right abrasive brush can help.
Weiler continues to look for ways to instill efficiencies in our product development and manufacturing practices that drive costs out of our abrasive brushes, while still providing our customers with the best quality. We understand that we need to make products that can reduce downtime for changeover — the longer our brushes last for our customers, the better business they can do.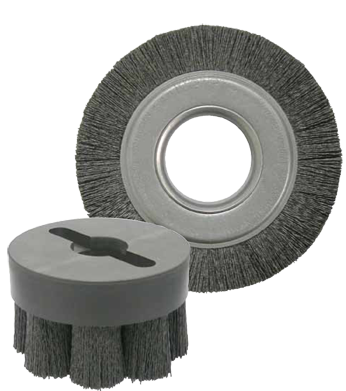 For automated deburring applications, our customers rely on our Nylox brand of products — especially in the aerospace and automotive industries. These products are aggressive, but can still help companies maintain compliance. There is no alteration to the overall dimensions of the part. The abrasives also conform to complex part shapes, so companies don't have to spend as much time programming and fixturing. When efficiency is critical, that's a big help.
Within our Nylox line of products, our composite metal hub brushes are a big advantage. The addition of ceramic filaments provides a tighter tolerance for in-machine and automated deburring. And our shell mill holder disc brushes have an engineered backing that works with the shell mill holders in automated machines — there's no special mounting adaptor required, which further reduces downtime for set up. The tolerances are a lot tighter on those than a composite backed disc brush and we offer them in ceramic, as well.
Abrasive brush technology is relatively mature, but we find the addition of ceramic filaments in nylon brushes is a significant factor in working faster and handling higher temperatures. There is less wear or breakage — and when there is less wear, companies can keep their operations running for greater production.
Our engineers at Weiler are always considering new materials, and researching and testing new products. We want to find the next best thing that will help our customers meet their challenges and maintain their best production.
Joe Sigal, senior engineering product manager
Osborn
Osborn
Many industries in manufacturing technology, especially the automotive and aerospace industry, are trying to find a substitute for wire and stainless steel filaments in deburring applications. Manufacturers in these industries have certain cleanliness restrictions that make them want to move toward abrasive brushes and away from using wire because of the messiness the debris and residue leave behind.
The abrasive product line works to round sharp edges, remove metal flakes and condition surfaces to eliminate any potential loose metal that can contaminate engine oil or oil filters and affect normal engine operation.

One of the biggest developments in technology has been the growing trend of CNC machines and robotics replacing manual machines. CNC machines can be programmed to use abrasive products and can calculate the amount of wear on a product.
Manufacturers also like that these products are priced per piece. Rather than the scratchiness of wire brushes, abrasive materials won't scratch parts and work like a flexible file to deliver a better surface finish, more precision and better balance than wire brushes.
The first big innovation for Osborn is our line of Advance Technology Brushing, or ATBs.
ATBs are flexible abrasive tools designed for metal finishing. The compliant nature of ATB brush tools make them very effective in both the automated and manual metal finishing methods. ATB tools are very flexible and work like small independent flexible files that can conform to irregular shapes and reach into confined areas.
To improve the ATB line, Osborn recently introduced a new line of products with varieties of ceramic abrasive nylon filaments.
Lastly, we introduced ATB composite disc brushes with a shell mill mount configuration that can be mounted on standard CNC holders. The new design fits into users' existing shell mill holders and eliminates the need for special adapters to fit into their CNC machines.
With ceramic nylon filament, we've discovered that people are willing to pay more for better results. Tools with ceramic nylon filaments use better technology, reduce cycle times and are priced per piece, so they are, in some cases, more cost-effective in the long run than standard filament. Nylon filament allows the ceramic grain to cut deeper and has faster filament bend recovery allowing the filament to flow into complicated shapes at higher feed rates. Osborn also developed an improved urethane, or the base of the brush, for better brush integrity, higher temperature resistance and ability to handle heavier loads.
One recent example of products that users can expect to see in the future is our line of contour-faced brushes. With flat brushes, people were using 40 to 50 parts on an application and they were wasting time getting the brush to take the shape of the parts. By giving the brush surface a contour, customers can use a brand new brush on the part from the start.
We are constantly looking to see how the market reacts to new materials and technology and see what has potential. Some of the new materials we are seeing in the abrasives marketplace include titanium and carbon fiber. Anticipating what will be comes from anything from trial and error, to trying to meet a particular customer's expectations
This article originally appeared in the July/August 2017 issue of Industrial Supply magazine. Copyright 2017, Direct Business Media.
COMMENTS: 0
---