The Team Approach
A Wisconsin-based distributor and supplier help a Midwest machine shop achieve annual savings of $1.4 million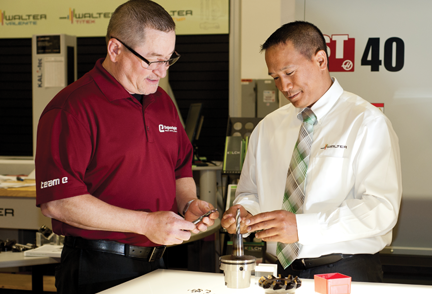 (Left) Jim Mueller, vice president of operations for Engman-Taylor and Jeremy Steiner, sales engineer for Walter USA, examine tools being tested at the Walter Technology Center.
by Rich Vurva
Mennie Machine Company is a Tier One automotive supplier that also serves customers in the computer, heavy equipment and other industries. The family-owned business, which operates a production facility in Mark, Illinois, is a long-time customer of Engman-Taylor, a distributor based in Menomonee Falls, Wisconsin.
"We manage their tool crib for them, overseeing every supplier that comes in," explains Brian Yount, account manager for Engman-Taylor. "We work with them on a daily basis on cost savings and manufacturing improvements on the shop floor."
One way that Engman-Taylor helps customers is by applying its Cost Circles program to reduce costs in three areas: administrative, manufacturing and price. The administrative circle includes the cost to source, quote, order, receive and inventory products. The manufacturing circle concerns activities that improve plant floor productivity, such as improving cycle time, throughput and reducing scrap. The final circle impacts the actual purchase price of products. Engman-Taylor can make the biggest impact when its activities impact all three areas.
With that approach in mind, when Yount learned that Mennie wanted to improve a machining process on a fuel pump housing head produced for a major engine manufacturer, he was determined to help seek a solution. The chief issues with the part, which was cast from 1722 steel, included a long cycle time, excessive deburring, inconsistent tool life and varying costs. Mennie was unsuccessful addressing the issues in-house, and it was becoming harder to make a profit producing the part.
Yount arranged a meeting with Jake Cimei, purchasing manager for Mennie Machine, Rick Star, president and CEO of Engman-Taylor, and Muff Tanriverdi, president and CEO of Walter USA, a Waukesha, Wisconsin-based tooling manufacturer. During that meeting, Tanriverdi outlined the Walter Multiply process.
"With Walter Multiply, instead of conventional tool optimization analysis, we put the entire process under the microscope. From tool procurement via supply and implementation to reconditioning, the whole process is analyzed and then we develop customized single source solutions," explains Jamie Boettcher, Walter district sales manager.
Mennie management was eager to put their troublesome fuel pump housing head process under the microscope, and come up with solutions that would increase their productivity, reduce their need for deburring, implement the latest tooling and practices, process the entire part at one time and, most of all, find a way to do all this while saving the company money.
"Mennie embraces the culture of change," explains Star. "They're very flexible and they're very nimble. It was Jake's willingness to take the ball and run with it and be the accountable person at Mennie that made this possible."
Left to right: Jamie Boettcher, Jim Mueller, Brian Yount, Rick Star, Bob Trent, Brian Baker and Jeremy Steiner gathered at the Walter Technology Center to describe how their team helped Mennie Machine Company save more than $1.4 million a year.
Analyzing the data
In January 2016 the work began. The Walter Multiply process team spent three days observing two lines that produced variants of the fuel pump housing head. Line No. 1 produced 45,000 parts per year and Line No. 2 produced 57,000 parts per year.
"We camped out at their machines for three days and watched everything about how they processed the part — fixturing, speeds, cutting paths, chip formation, you name it," explains Brian Baker, senior applications engineer for Walter. "We also studied the available reports and analyzed their CNC programs, their chips, their used tools, their machine cut/cycle times, and, from a global perspective, we analyzed the entire machining process as well."
Armed with that data, the team returned to the Walter Technology Center in Waukesha to re-create the process.
"We asked ourselves, 'If I had to make this part now, with today's tooling and today's technology, how would I do it?' And that's how we approached it," says Baker.
After their evaluation, which took several weeks to complete, the project team decided to pursue a full productivity solutions package, including programming and complete part reprocessing with an improved tooling package and new cutting parameters. Walter also proposed providing on-site NC programming assistance and conduct an on-site run-off of 500 parts.
"When we presented our solution to them we were a little conservative just to be on the safe side and they were still skeptical about whether it could be done," admits Bob Trent, central zone manager for Walter USA.
Walter initially projected that changing the fixtures and the tooling could generate savings of $1.9 million a year. Changing the tooling alone would save $1.2 million. Mennie opted not to change the fixtures, because that would require a total investment of up to $400,000 for all of the machines.
The team was given the green light to implement the project.
"Without changing the fixtures we predicted about $1.2 million in savings. In the end, it turned out that we were able to achieve annual savings of $1.4 million," Baker says.
Testing the solution
"We worked with Mennie's quality and process engineers to re-program the entire part without compromising quality or increasing the frequency of inspections," says Baker. "We applied best practices to improve tool life and part quality. In addition, we added roughing operations, pre-drills, and pre-spots to improve quality and reduce the wear on their finishing tools."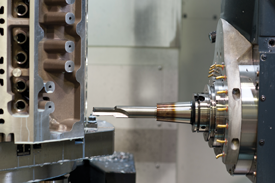 The new process replaced 31 of the original 48 tools. Other changes, including installing more efficient NC programs, reduced Mennie's cycle time by 32 percent and tooling costs by 15 percent, or $1.50 per part. In addition, there was much less need for manual deburring, which saved time and cost, and helped boost morale as well.
Total cutting time in the old process was 1322.5 seconds. It required 54 tool changes, which took a total of 378 seconds. Total cutting time in the new, optimized process is 642.1 seconds, requires only 50 tool changes, which take 175 seconds.
The new process reduced the number of machines on the two lines from 11 to eight. Mennie also reduced third shift staffing by five people, and eliminated a Saturday work shift on one line.
"They had machines running these parts 24 hours a day, six days a week," says Trent. "Now they can do it using fewer machines, they don't have to work Saturdays anymore, and these people are freed up for work in other areas."
Another major improvement, above and beyond the cycle time reduction and the tooling cost reduction, was reduced scrap. Scrap rate went from 5.4 percent to 3.3 percent, and tool breakage was also reduced.
Bob Trent and Jamie Boettcher of Walter USA were part of the team that earned the ISA American Eagle Excellence in Industry Award.
Satisfied customer
"The quality of this part has markedly improved," says Jake Cimei, Mennie Machine's purchasing manager, "and our relationship with our customer is much, much better. This is definitely a win-win situation."
Since implementing the changes, Walter has seen a major increase in business from Mennie, but tooling sales have decreased for Engman-Taylor because the process uses fewer tools that last longer than what was used previously.
"Even though our sales to Mennie have been reduced, our motivation to do this was because it was the right thing for the customer," says Star.
With fewer tools needed, however, Engman-Taylor spends less time managing Mennie's tooling inventory.
"They weren't getting the tool life they were anticipating previously so you had to have a lot of backup tooling with the other manufacturers' tools. The Walter tool life is very predictable so it's allowed us to better control the inventory," explains Jim Mueller, vice president of operations for Engman-Taylor.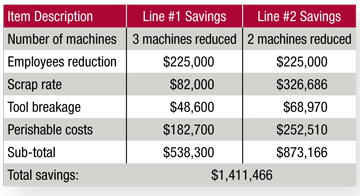 The Industrial Supply Association recently recognized the work that Engman-Taylor and Walter USA performed for Mennie by awarding the companies the American Eagle Excellence in Industry Award.
"Team is a very important part of Engman-Taylor. Everything we do revolves around team. This award underscores and enforces that concept. The success during this process would not have been possible without us working as a team with Walter, and our customer partner Mennie Machine," says Mueller.
"Our ability to be able to precisely and accurately predict what we can do in processes is phenomenal. Working with cutting edge tools, software and knowledge bases is the reason why we were able to accomplish so much," concludes Muff Tanriverdi, president of Walter USA.
This article originally appeared in the July/August 2017 issue of Industrial Supply magazine. Copyright 2017, Direct Business Media.
COMMENTS: 0
---