Better MRO
MSC's information hub aims to help manufacturers solve problems
by Rich Vurva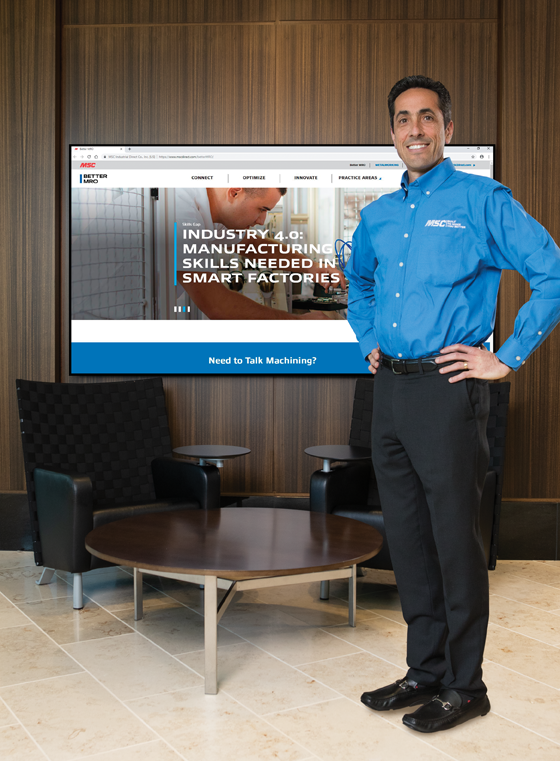 To thousands of customers throughout North America, MSC Industrial Supply is their go-to source for spot buys of metalworking products and other MRO supplies. Thanks first to its iconic Big Book catalog, and more recently to its online presence—more than 60 percent of the $3.2 billion distributor's transactions are conducted digitally—MSC has earned a reputation as one of the leading industrial distributors serving manufacturers.
For more than 75 years, customers have come to MSC for the products they need to buy to keep their factories and facilities running. Whether they prefer to use the 4,500-page "Big Book" print catalog, visit MSC's world-class eCommerce platform to select from more than 1.6 million SKUs, or be among the million-plus customers each month who interact with MSC representatives over the phone, email or chat for sales needs, service help or to solve product-related or application-specific questions, the emphasis has been on making it easy for customers to do business with MSC.
That's why it might seem counterintuitive that one of the newest initiatives at MSC is a website focused on pushing information, not product sales. Better MRO (mscdirect.com/betterMRO) is an online information hub intended to be the go-to resource for the kind of information that customers need to do their jobs better. Launched in late 2017, it includes articles, research and webinars on manufacturing, inventory management, metalworking solutions, safety practices, jobs skills training and more. In addition, there's information on topical subjects in the news such as trade wars, tariffs and tax reform.
The purpose of the site, explains Steve Baruch, executive vice president of strategy and marketing, is for MSC to be viewed by customers not only as a trusted source for products but also as a trusted advisor to help solve their mission-critical challenges on the plant floor.
"We want to continue to be that provider of spot buys and the things customers need, but now we're filling this other gap that we've identified to help them be more productive and help them drive better output," he says. "When they come to us, users are getting objective, non-biased, valuable information answering questions that they have that is not linked to anything we're trying to sell."
Baruch says the Better MRO website is one example of how the company fulfills on the promise made in its "Built to Make You Better" tagline introduced in 2017.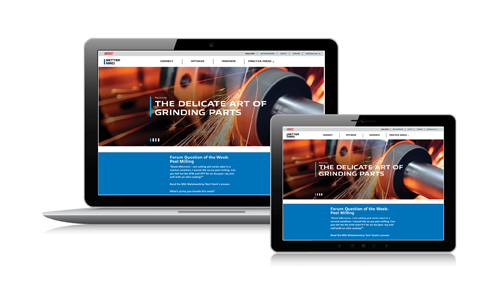 An idea is born
Baruch says the idea for the website was formulated about three years ago when research indicated that a skills gap in manufacturing will result in 2.5 million unfilled manufacturing jobs in the next three to five years.
"We started to think about how we could help customers close that skills gap," he says. "Our customers are finding it harder to get trustworthy information. The questions that our customers are coming to us and asking really transcend the product, and we realized that we can't be just a transactional provider of products anymore," he says.
The site includes information on proven methods for filling local manufacturing jobs, tips for recruiting millennials, the importance of jobs training and apprenticeship programs and similar topics.
Kathryn Nerko, MSC's eCommunity marketing manager, says the information on the manufacturing skills gap is just one example of how content on the site is designed to fill the informational needs of users.
"All of the information on the site is based on the needs of our customers. As their needs change, the content they gravitate to will also change and we'll pivot to meet those needs," she says.
MSC recently surveyed customers to determine the types of issues they struggle with in their jobs. Nerko compared those results to external studies conducted in the industry and discovered a similarity in findings. "When we look at the results of those two surveys, and pay attention to the customer engagement that's happening on the site, we get a sense for the 'pain points' that people are having, so we can focus in on those areas," she says.
If the site provides value to customers, Nerko says, the number of unique visitors will grow, they'll return more often and spend more time on the site. In its first year live, Better MRO reached more than 250,000 unique users and continues to grow by about 20 percent from month to month.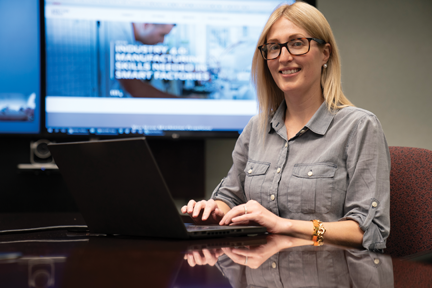 Content is written or curated by MSC editorial staff and other subject matter experts. Articles may reference new studies and research impacting manufacturing, present case studies about successful manufacturers or offer tips on plant or machine maintenance. All of the content is aimed at helping customers be more productive, reduce cycle times, increase output and reduce costs.
"In addition to having the content that MSC creates with our editorial staff, we have supplier partners who have seen Better MRO and want to be a part of it. So they share their content with us," says Nerko.
Technical resources include a metalworking productivity calculator where users can input current and potential cutting tool parameters to estimate possible savings, a machining calculator to help with speeds and feeds and a list of metalworking resources from suppliers and other industry experts such as Tooling U-SME.
Site visitors can exchange ideas and ask questions on forums with a growing list of machining, manufacturing, safety and other topics. Some forums are monitored by MSC metalworking tech experts who answer application questions concerning machining difficult materials, for instance, or safety and compliance issues. In some cases, users will post follow-up questions or comments and begin sharing advice with other machinists, plant managers, safety managers or maintenance professionals. The hope is that, over time, the forums become a place that a variety of people employed in manufacturing look to first when they have a question to ask or a problem to solve.
"The forums are available 24/7 so people can search the archives and look for topics that may have come up previously," says Baruch.
Measuring success
Since the site's primary purpose is not to spur transactions, Baruch says success isn't being measured by traditional metrics such as average order size and conversion rates. "We've shifted to things that help us understand how much that piece of content resonated with visitors. Are we talking about the right topics? Are they topics that our customers care about? Is it presented in a style that they appreciate and understand? Are they engaged with the material?" he says.
While the site wasn't designed to push product sales, it has proved to be a useful sales tool for MSC salespeople. Customers appreciate a quick email from a salesperson with a link to an article of interest and a note saying, "I thought of you when I read this. I know it's a subject that you've been thinking about at your company."
MSC tracks how often customers navigate from Better MRO to mscdirect.com, but that is not a closely followed key performance indicator.
"You won't find promos, marketing campaigns or advertisements at Better MRO. We have a great transactional site at mscdirect.com to sell stuff," says Baruch. "We go to great lengths to make sure that the site is built purely around edification, education and information."
Today, Better MRO currently focuses primarily on metalworking, safety and general manufacturing subjects. Over time, it will likely expand into other areas of interest to manufacturers.
"From ideation to where we are today has been a fairly short period of time," says Baruch. "We're still learning and testing things. I think you'll find that the site will continue to evolve as we gain more traction."
This article originally appeared in the July/August 2019 issue of Industrial Supply magazine. Copyright 2019, Direct Business Media.
COMMENTS: 0
---