The race to the finish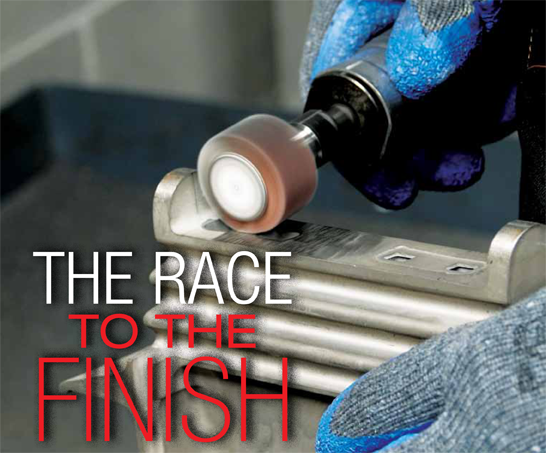 by Rich Vurva
The end goal in any metalworking application is to get the desired finish at the lowest cost. Abrasives suppliers are continually tweaking their product offerings toward that end. Here is a look at how leading abrasives suppliers are reacting to marketplace demand.
Adam Woodrey, director of marketing & communications
Arc Abrasives
www.arcabrasives.com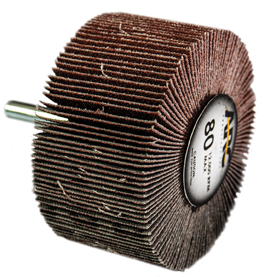 Mounted flap wheels are designed for light finishing, deburring and flash removal. The flap design allows the wheel to contour around the work piece and smooth the surface. As the flap wears away, new abrasive grain is exposed and the wheel continues to cut.
Mounted flap wheels are one of ARC Abrasives' fastest growing product lines. Our high-performance flap wheels are offered at a price point that allows additional margin for our distributors and their bottom line. Due to the increased demand, ARC has significantly increased our flap wheel stock to respond to the needs of the marketplace.
Mounted flap wheels are available with a 1/8-inch or 1/4-inch straight shank or a 1/4-20 male threaded shank. The 1/8-inch shank is heavily used in the mold and die industry for precision work with mounted flap wheel in the diameter range 3/8 inches to 1-3/16 inches. A 1/4-inch straight shank and 1/4-20 threaded shanks are the most common for general usage.
The pressure required when grinding or finishing with a flap wheel does not justify the need for a full ceramic or zirconia grain. Most flap wheels are an X-weight aluminum oxide cotton cloth. Exceptions to the aluminum oxide would be a J-weight cloth for increased flexibility, and silicon carbide for special applications commonly found in the aerospace industry. Aeronautical engineers do not recommend aluminum oxide products due the high iron content in the mineral. If used on an aerospace piece, the iron could contaminate the metal and become the source for crack to propagate under high stress conditions.
Frank Prenda, VP sales & marketing
Gemtex Abrasives
www.gemtexabrasives.com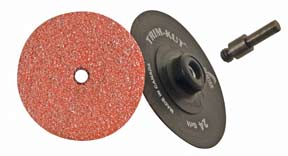 The abrasives industry is constantly striving to improve efficiencies in the metal finishing category. The preferred objective is to achieve desired finishes as efficiently as possible utilizing the minimum number of steps. At Gemtex Abrasives, we have addressed these issues with the addition of advanced design flap disc, surface conditioning and Trim Kut product lines.
In our flap disc offering, we have engineered new flap configurations, such as the CZT 1050 (ceramic/zirconia alternating flaps) combined with various backings to achieve optimum performance. In addition, we have added trimmable flap discs and a patented, lightweight, 5/8-11 plastic spin on hub to minimize downtime and increase productivity.
End users strive to get the maximum usage from their flap discs so the capability to trim the discs and continually expose sharp cutting grains is very advantageous. It is also important to provide users with options to meet their finish requirements as well as disc cutting speed and disc life.
Surface conditioning products are part of the ever-expanding category of non-woven abrasives. These products, in various shapes and sizes, are used to blend, deburr, grain and polish metals when specific surface finishes are required. Due to the versatility of this category and requests from customers,
Gemtex has added three new grades to expand "surface finishing" and to help prevent the need to use coated abrasive products which could possibly scratch or damage a metal surface. Extra Coarse, Extra Coarse HD and Medium HD have been added to provide longer life, more aggressive cut and more rigidity within the surface conditioning category.
The Trim Kut Disc is a patented abrasive disc with a plastic backing that is able to be trimmed to optimize disc life and adapt to diameter restrictions. The discs are available in 24-120 grits in all materials (aluminum oxide, zirconia, silicon carbide, ceramic and PMD Supreme Plus for aluminum grinding). The sizes available are 3-inch, 4 ½-inch and 5-inch diameters with multiple, spindle and attachment options, depending on the desired tool.
Tony Hufford, category manager, metal fabrication
Weiler Abrasives
www.weilerabrasives.com
Efficiency and performance are always top of mind for customers. I have seen more and more cordless tools making their way into the metal fabrication space. They are still used primarily for lighter duty jobs, but they are gaining more acceptance with more demanding applications.
Abrasives can play a huge role in the battery life of the tool. Weiler Abrasives' Tiger Ceramic flap disc cuts clean due to the self-sharpening nature of these grains. They offer reduced drag on the tool due to the added top coat, which reduces friction, and the fact that this product maintains its cut rate at reduced pressure throughout product life. This not only increases battery life of cordless tools, but it also lessens operator fatigue.
In regard to abrasive grains, ceramic alumina still continues to be at the forefront of the discussion. More options for geometric shaped grains, promising a more precise cutting action, expanded self-sharpening capabilities and longer life are starting to hit the market.
The desire to have one product for multiple applications is something we hear from the market all the time. As new technology presents itself, wheels that do multiple jobs well and safely will be a trend.
Patrick Carroll, senior product manager
Norton | Saint-Gobain Abrasives
www.nortonabrasives.com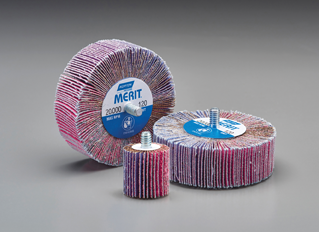 Flap wheels are an ideal choice for a wide variety of blending, deburring and finishing applications common in the metal fabrication, welding, aerospace and polishing industries. Due to their conformability, flap wheels are well suited for intricate shapes and contours. Designed to deliver a consistent finish with a uniform rate of cut, flap wheels wear away, continuously exposing fresh abrasives.
Historically, customers have used coated abrasive flap wheels with standard aluminum oxide grain and traditional cotton backings for deburring and finishing on a wide range of materials.
However, a key trend driving product development in the flap wheel market today is that customers are tackling harder-to-grind materials such as stainless steel, and as such, are demanding cooler cutting and longer lasting flap wheels. To address these industry-requirements, Norton | Saint-Gobain Abrasives has released a new line of Norton Merit Pink R928 flap wheels. Pink R928 has a distinctive pink color, different from anything else on the market today. Using 100 percent ceramic grain, operators will experience significantly longer wheel life, resulting in fewer change-overs as well as reduced labor costs. The strong, yet exceptionally flexible poly cotton backing, along with an advanced grinding aid lubricant for cooler cuts, are both important for increased productivity on stainless steel, Inconel, titanium and other harder-to-grind materials. These characteristics in Pink R928 enable more efficient deburring, polishing and finishing.
A second key trend driving product development in the flap wheel market is the use of smaller flap wheels. This is due to a number of reasons. Smaller flap wheels are more ergonomically friendly, provide better control and finish, and help minimize the chances of gouging the part.
In providing solutions for this market trend, Norton | Saint-Gobain has responded in three important ways including offering the following products options:
Pink R928 in flap wheels of 1"x1", 2"x1", 3"x1" sizes in ¼" & ¼"-20 shank and in grits 40, 60, 80, 120
Pink R928 in traditional specialties including cartridge rolls, spiral rolls, square pads and cross pads
A supporting Norton branded pneumatic Die Grinder that maximizes Pink R928 flap wheel and specialties performance
A third key trend driving product development in the flap wheel market today is the demand for better finishes. To better serve this requirement, a line of stock Norton non-woven flap wheels is available in:
Non-woven only flap wheels for finishing application
Interleaf flap wheels that have alternating cloth and non-woven abrasive flaps for more aggressive action than non-woven only flap wheels
Moving forward, the research and development team at Norton | Saint-Gobain continues to make the necessary investments in better grains, versatile backings and supporting grinding aids and resins to increase flap wheel productivity. This is important for improving the cut rate and life of coated, non-woven and interleaf flap wheels to better meet our customer needs.
This article originally appeared in the July/August 2019 issue of Industrial Supply magazine. Copyright 2019, Direct Business Media.
COMMENTS: 0
---