Cost cutters
DGI Supply generates $11.4 million in customer cost savings
by Rich Vurva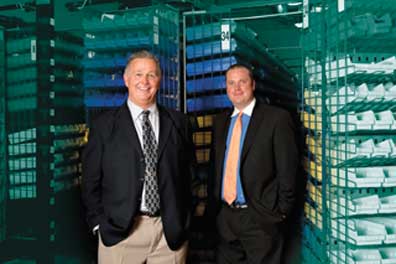 At DGI Supply, cutting costs is a way of life. In 2010, the Wheeling, Ill.-based distributor generated $11.4 million in documented cost savings for its customers. The achievement marked an 81 percent improvement over the impressive $6.3 million in savings generated the year before, which helped the company earn the 2010 American Eagle Value-Added Distributor award from the Industrial Supply Association. If not for the fact that the ISA annual award program was revamped in 2011, eliminating the distributor award, DGI Supply likely would have been a strong contender to win back- to-back awards.
Senior vice president David Crawford says DGI Supply's commitment to cost savings has improved customer account retention and helped the distributor post 14 percent revenue growth in 2010.
"Our team worked long and hard to make sure we were best-in-class at reducing our clients' overall cost on MRO supplies," he says.
The focus on generating cost savings and productivity improvements helps U.S.-based manufacturer customers like Conbraco Industries compete against global competitors. In 2005, DGI began supplying all of the MRO supplies to the manufacturer of Apollo Valves brand valves and actuators. The company boasts that 95 percent to 98 percent of the components in its products are manufactured in two manufacturing facilities in South Carolina. Helping Conbraco reduce costs also helps keep manufacturing jobs in the U.S.
"Over the past six years, our productivity savings with DGI Supply have accounted for more than $1.2 million. We are very proud of those numbers. DGI has continued to provide Conbraco with annual productivity savings, regardless of the sales volume during some very trying times within our U.S. economy," says Pat Orman, director of operations.
DGI modified its Web site so sales personnel can capture cost savings for customers and clients can view all approved and pending projects. Every quarter, these cost savings projects are reviewed with clients to determine if there are any barriers keeping pending savings from being implemented. A Web portal enables salespeople to share best practices and keep coming up with new ways to lower customers' overall costs.
"Since our account managers' compensation is tied to documenting cost savings for our clients, they enjoy sharing their success stories with other account managers," says Crawford.
Saving money – and the environment
A project completed for one customer reduced that company's manufacturing costs by more than half-a-million dollars a year and also made a significant environmental impact.
Trelleborg Offshore US Inc. produces polymer and syntactic foam-based products for harsh offshore environments. Since most of its operations are conducted in or near sensitive ocean fisheries and wildlife areas, the company is keenly aware of their impact on the environment.
Trelleborg's Houston facility, which produces a range of products for the oil, gas and telecommunications industries, hoped to make a change in a solvent-based bulk adhesive in its Mold Prep department. The product was used for manufacturing drilling riser buoyancy modules, which fit alongside the length of a drilling riser used to move drilling fluids from the ocean floor to an offshore drilling rig. While the current adhesive performed well, it was highly flammable and had to be manually brushed on over multiple layers of material, which was a labor intensive process. In addition, the volatile organic compound (VOC) content was quite high, at 624 grams/liter.
Trelleborg contacted DGI Supply's Groves Industrial Supply subsidiary for help on the project. Groves brought in product and technical specialists from 3M to work with Trelleborg engineers on a solution. After nine months of testing and documentation, Trelleborg replaced the original product with 3M Fastbond Insulation Adhesive 49, a waterborne bulk adhesive, which dropped VOC levels by 99.7% from 624 g/l to 1.8 g/l. The new adhesive is non-flammable, which is safer to use and allows spray application. The new process increased production by 30 percent, reduced the amount of adhesive needed by 75 percent, lowered set up and clean up labor costs, and eliminated the need for workers to wear respiratory protection while applying the adhesive. The total savings from this single manufacturing process change was more than $500,000 a year.
"The expertise displayed by Groves and 3M throughout the entire process was outstanding," says Valer Banushi, Trelleborg's health and safety director. "The companies truly are best in class. There could not have been a better outcome to the project. Once the new water-based alternative was commissioned, Trelleborg saw a major reduction in VOCs, and employees in the work cell no longer wore their half-mask respirators."
Banushi said the manufacturing improvement simultaneously increased environmental protection and corporate profitability, while making the manufacturing process safer and more comfortable for Trelleborg employees.
Crawford says the Trelleborg project, which was one of nearly 2,000 projects documented for customers in the past year, demonstrates his company's drive to add value and lower overall costs.
"I believe this clearly illustrates that if you walk the talk on cost savings, you will keep your best customers, grow your business, and make money in a very competitive industry," he says.
This article originally appeared in the July/August 2011 issue of Industrial Supply magazine. Copyright 2011, Direct Business Media.
COMMENTS: 0
---