Can you sell (and prove) the value you create?
Creating value makes price less of an issue
By Larry Davis, president, ORS Nasco
There is no question that the competitive landscape is changing. The national players continue to extend their advantages in terms of supply chain and technology capabilities, making it easy for their end-user customers to purchase from them. The impact of
e-commerce is proliferating as the old-school industrial marketplace is being pulled into the 21st century with the requirements of a new digital marketplace. For those of us that compete in the professional industrial landscape, the question on everyone's mind is, how will this impact me? The answer is as uncertain as the future itself, or in other words, "it depends." It depends on whether or not you know, understand and can articulate your value proposition. So what does all of that mean? Well, here is what I believe.
There is no competitive advantage for the professional end-user from those who sponsor the commoditization of products, creation of digital images, or leverage big data analytics. Instead, the professional end-user needs partners who can create productivity gains through innovation. Now let's calibrate on what that means. Specifically, let's talk about productivity. Productivity is the force that drives the American economy. That is an undisputable fact, proven by decades of economic leadership. That concept applies in particular to the industrial marketplace, which is perhaps the only American industry that has demonstrated sustained, sequential reduction in operating costs. American manufacturers, energy companies and commercial contractors are under pressure from global forces that continue to pursue them at an unprecedented rate. Our role, as their supplier partners, is to deliver innovation that drives productivity improvements, or in other words, makes them more competitive on a global scale.
The creation of value is a very abstract concept if you let it be, so let's get into the detail and make all of this real. In reality, each of us knows whether or not we are creating value, or just holding a place waiting for someone to discover our weakness. Value creation is about knowing what your partners need to create value for their customers and aligning yourself to help them deliver that value in a measurable way. Huh? What do I mean in "a measurable way"? What I mean is this: if you can't financially articulate the value you create, then you aren't creating value, and you are vulnerable. I'm sorry if that makes you uncomfortable, but life has taught me to operate in reality, and the lessons for not doing so are not only painful, but most likely, fatal to your business.
The creation of value has nothing to do with the size of your company, whether it's public or private, whether it's fancy or edgy, or for that matter, what anyone else thinks about your company. When you know you create value for your customers, and you can prove it, that makes you dangerous to your competition. What creating value does for your company is it makes price less of an issue and mutes your competition's core operating strength.
To achieve strategic advantage through value creation, you must be able to measure your contribution to your partner's business. The contribution needs to be in alignment with the initiatives that are strategically important to their business. If you can deliver real value in this manner, you have the opportunity to mitigate your customer partner's sensitivity to price. Stated simply, your goal should be to create value that transcends any price variances and demonstrates your commitment and alignment to their long-term success.
Industrial supply companies that are committed to the success of the American professional end-user understand that their long-term success is aligned with the sustainability of the professional tradesperson. So, here are some thoughts on what I believe we are all challenged with as we adapt to this changing competitive landscape.
We must invest in the commercial capabilities of our businesses. We need to learn about the markets in which we compete and where current and future business opportunities exist. We need to create consultative sales organizations that see value creation opportunities, sales organizations that have the vision to see and understand the challenges, frustrations and inefficiencies of the professional end-user. Sales organizations that are subject matter experts in the application of the products we provide. Sales organizations that are process experts that can help the professional end-user become more effective at providing value to their ultimate customers. Sales organizations that deliver seamless systems and processes that document the contributions we make to the professional end-user's own value creation. In other words, we need to migrate from transactional suppliers into strategic partners that are clearly aligned with the long-term interests of our customer partners.
We must select strategic partners that can deliver capabilities that enable our ability to deliver real value. Specifically, technology and supply chain partners that can mitigate the strengths of national and e-commerce players. We must learn from their success and ensure that our solutions are as robust and seamless as theirs. We must rapidly adapt to the new competitive landscape and be brutally honest about the values we can create on our own, and which components of our value proposition need partnerships to achieve the scale and capability we know our end-users deserve.
Most importantly, we must commit to operating in reality. Industrial distribution has existed in its current form since World War II. The human tendency to stick with the lessons of history and then pursue incremental improvements is a fundamental weakness we can no longer afford. The velocity of change in our marketplace is accelerating, and we must adapt to the needs of our customers. The competitive pressures are real and potentially harmful if we don't adapt to the realities that the industrial marketplace is presenting to us. So it's time for change, real change, the kind of change that delivers productivity gains driven by innovation.
Now, I believe in inspiration over desperation as a way to lead an organization, particularly if there is significant change involved. While it would be justified to be nervous or concerned about the future of the independent industrial distributor, I am optimistic. The reality is that the independent industrial distributor is in the best position to deliver the value the professional end-user needs to improve their competitive capability and thrive in a global marketplace. Why? Because the independent industrial distributor is closer to the end-user customer and has a vested interest in the success of their customer partners. If we accept the fact that we need to become more agile in the face of the new competitive landscape, commit to making the changes in our organizations necessary to align with the professional end-user, and learn how to collaborate with capable partners, the future for this industry and the distributors that serve it is extraordinarily bright. The time for change is now, the market is changing rapidly and we must adapt to the new competitive landscape. It's time to stop selling products through transactions and start delivering real and measurable value to the professional end-user, ensuring the success and future of our partners and ourselves.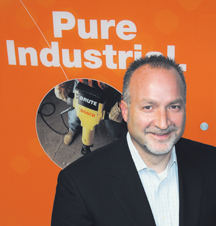 Larry Davis, president of ORS Nasco, has responsibility for setting, executing and monitoring the delivery of strategic goals and objectives for ORS Nasco while managing the implementation of current and long-range initiatives, operating plans and policies for the company. Learn more at www.orsnasco.com.
This article originally appeared in the March/April 2013 issue of Industrial Supply magazine. Copyright 2013, Direct Business Media.
COMMENTS: 1
I Agree
Posted from: Lucas Froeschl, 3/20/13 at 10:32 AM CDT
Yes! This is basically an outline of my mindset when I am marketing and selling our American-made pliers, punches, chisels, and bars. Explaining to distributors that our American-made pliers and striking tools gives value to their business with a profit margin that's above average creates my value to them.
Wilde Tool Co., Inc.
www.wildetool.com
---