The Future of DCs and Warehouses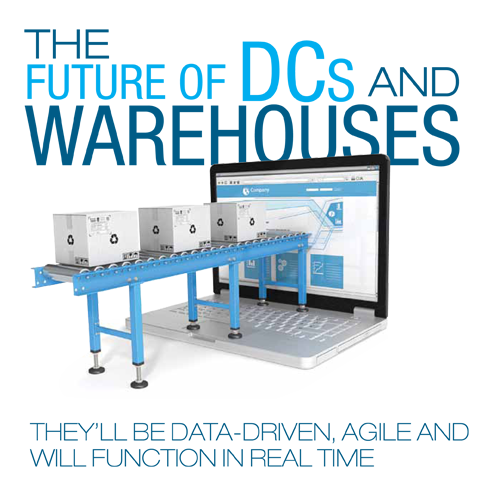 By Howard Coleman
Wholesale distributors that have modernized their distribution centers and warehouses have seen big improvements. Their efforts have resulted in significant increases in productivity, reduced transaction costs, avoidance of future costs, improved inventory control, inventory accuracy, and order fulfillment accuracy. Much of this has been accomplished through new or improved warehouse design as well as integrating new processes and equipment. Recent examples of work with our clients has included the design and integration of high velocity pick zones and flow-racking, narrow aisle storage, and gravity-fed and automated conveyors. The benefits have been a more effective use of warehouse space and dramatically increased speed of flow.
Of course, automation and process improvement is pretty cool stuff! But, time after time, we see the need for better enterprise software and analytics utilization to support warehouse management. Specifically, the ability to connect people, processes and data in such a way that is usable and useful. So, the DC and warehouse of the future doesn't have to be just about automation and materials handling and storage equipment.
I think it's about ways to automate decision making and the myriad of mundane processes that are currently done by people; being more data driven, agile and real-time.
The key to the future of DCs and warehouses? It's about the movement of data just as much as it is about the physical movement of product. In the future, this may take the form of greater utilization of traditional bar codes, still under-utilized by many wholesale distributors. Consider newer RFID tags that allow a device to read a tag, affixed by vendors, to determine the contents of a pallet or carton. Just think about it. Product arrives at your facility and a data collection device determines the contents, and prepares the inventory record for confirmation of storage put-away activity.
In other terms, it's about knowing where you stand in order processing, the remaining work load, where it exists, and the labor required to assure on-time processing and delivery. It's about knowing and understanding how you are performing against expectations – not waiting for some report issued at the end of the week – but knowing right now! It's about understanding and using data to reveal the root-causes of waste, particularly wasted time. It's about understanding the data to drive you toward what picking, put-away methods and other processes are best for specific products or warehouse storage areas. It's about knowing when inventory adjustments should be made on the fly, rather than waiting for a scheduled physical inventory. And that's just a sampling.
For instance, in the future DC or warehouse, why not transform your performance metrics from just a facility measurement (such as on-time, percent line completion, picks-per-man-hour, etc.) to more of a warehouse employee "time-on-task" measurement so that gain-share programs and incentives can be implemented?
Yes, some of the processes which we have to put in place are new! How we do things and use the data? An explosion of data!
One of the biggest obstacles, I find, is the change in mindset required, not thinking beyond the traditional, in order to thrive. I can tell you for sure, though, getting data savvy in your DC or warehouse will be crucial. The businesses that standout, that differentiate themselves, will be the ones that understand that they need swift, responsive systems and data capabilities that they can wield to ensure survival in their ecosystem.
Fortunately, much of it can happen right now.

Howard W. Coleman is principal of MCA Associates, a management consulting firm that works with wholesale distribution and manufacturing companies seeking operational excellence. MCA provides operational excellence – thought leadership – and implements continuous improvement solutions focused on business process re-engineering, inventory and supply chain management, sales development and revenue generation, information systems and technology, organizational assessment and development, and family-business succession planning. Phone (203) 732-0603, or email hcoleman@mcaassociates.com.

This article originally appeared in the March/April 2016 issue of Industrial Supply magazine. Copyright 2016, Direct Business Media.
COMMENTS: 0
---