Modern Monopolies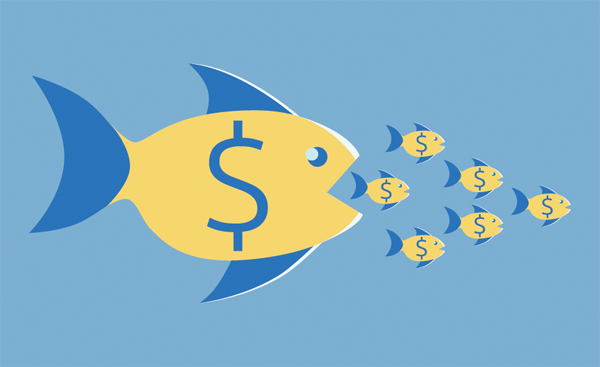 Fragmentation in the industrial supply industry creates an opening for a modern monopoly
by Alex Moazed
Platforms are making their way into many industries that have long been dominated by linear companies. And the industrial supply industry is likely next. One of the key traits of an industry ripe for platform disruption is fragmentation, as Applico head of platform Nick Johnson and I note in our book, "Modern Monopolies."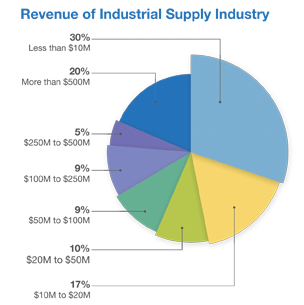 Large, fragmented supply allows a platform to enter the market, providing value for both consumers and producers by consolidating supply in a marketplace. At $75 billion a year, the industrial supply industry certainly has the scale to justify building a platform.
So what makes the industrial supply industry a good target for a platform? Let's take a look.
The industrial supply industry is very fragmented, with 30 percent of companies earning less than $10 million
The 50 largest companies generate only 50 percent of annual industry revenue
There are approximately 1,600 companies that are earning less than $10 million
As you can see, the industry is quite fragmented, mostly in the middle revenue ranges. While total annual revenue for the industry is $75 billion, most companies are in the low and high ranges, forming a U-shaped distribution. Approximately 1,600 (or 30 percent) of the industry consists of small companies that earn less than $10 million per year in revenue.
REVENUE SEGMENTATION
FirstResearch reports that the "50 largest companies generate about 50% of the revenue," but the large majority have revenues under $5 million. The chart below shows the industry breakdown based on 2015 sales.
The industry is fairly stratified, with most companies pooling at either the high or low end of the spectrum, with multiple smaller segments in between. The top companies, such as those in MDM's 2016 Top 40 list, fall within the highest three segments, or the top 34 percent.
CONCLUSION
The scale and fragmentation of the industrial supply industry makes it an excellent target for a platform business. The concentration of small suppliers gives a platform an easy route to building a modern monopoly.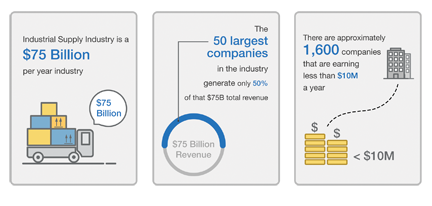 This fragmentation is a big reason why a platform like Amazon Business has started to attack the industry.
A platform would start by targeting smaller suppliers, perhaps mid-size regional suppliers, and offering them greater access to consumers. Once it consolidated the 30 percent of the market made up of small businesses, it would have scale with consumers to attract some of the larger regional players in the industry.
Once a platform achieves this level of scale, it will be able to squeeze the margins of larger suppliers since it can compete at scale with these incumbents, but with a more asset-light and capital-efficient business model.
Many of these large incumbents won't see the platform as a direct threat until it's too late to fight back. For example, many will happily work with Amazon Business for the incremental revenue it provides over the short term. But this is a mistake. That's why the best type of digital transformation would be for one of these incumbents to go on the offensive and build its own platform. This platform would enable it to attack its competitors while building a highly defensible moat around its core business.
If an incumbent doesn't take this route, then the size and margins of the industrial supply industry makes it an almost certain target for either a startup or a large tech company like Amazon. For those incumbents, the clock is ticking.

Alex Moazed is founder and CEO of Applico. He founded Applico in 2009 when he was 20 years old and funded the company with his own credit cards. He is co-author of the best-selling book, "Modern Monopolies," the defining publication of platform business models and digital in the 21st century. He appears frequently on major television networks, as well as in The Wall Street Journal, TechCrunch and The New York Times.
This article originally appeared in the March/April 2017 issue of Industrial Supply magazine. Copyright 2017, Direct Business Media.
COMMENTS: 0
---