Answering the call
No job is too challenging for Moss Rubber and Equipment Corp.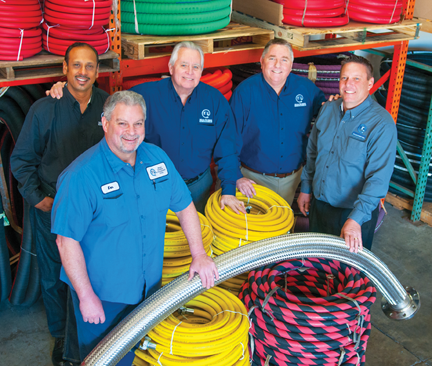 Back row: Vijay Bhan, Greg Moss, Scott Moss and Scott Mahrt, along with Ken McCormick (front) are among the 19 employees who staff Moss Rubber and Equipment Corp.
by Rich Vurva
Even those customers who can reliably forecast their purchasing needs sometimes experience emergencies requiring a rush order. That's when Moss Rubber and Equipment Corp. employees earn their stripes. For example, there was the time when a local refinery called at 5:30 one evening to order a 300-foot long, high-temperature, high-pressure water hose. They needed it the next day.
A fabricator stayed late to cut and assemble the hose so it was ready for delivery the next morning.
"We would have delivered it that night if they asked us to but they said the next morning would be fine," says Scott Moss, of the South San Francisco, California-based distributor of industrial hose and accessories. "Those are the kind of things we do all of the time. Our customers know that we'll come through for them in a pinch."
On another occasion, a different refinery wanted to purchase 4-inch diameter chemical hose to fill an urgent need. Moss Rubber employees, who are trained and certified to meet the NAHAD Hose Safety Institute Guidelines, cut, coupled, tested and delivered the hose within a matter of hours.
Then there was the contractor who realized he forgot to order suction hose, or the emergency response company that needed hose to clean up an oil spill from a pipeline leak, and the pump companies that were called into action to clean up after heavy rains in January caused flooding. Those are the types of emergency orders that Moss Rubber takes in stride.
"We're developing relationships for the long-term. We're not there just to get an order. We want to build their trust, get them out of a bind or solve a problem that builds trust over the long term and then develop a relationship that lasts many, many years," Moss says.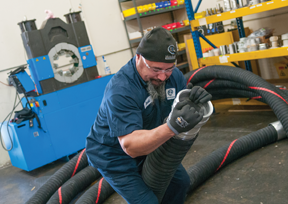 Dan Portillo assembles a water discharge hose being readied for delivery to a local refinery.
The distributor strives to maintain a balance between having enough inventory to handle typical demand patterns without carrying obsolete items. The company boasts of having the largest in-stock inventory of hoses and accessories in Northern California.
In addition, it provides services, such as the Moss Rubber Hose Tracker, to help customers manage their hoses in service. Powered by InfoChip, the Moss Rubber Hose Tracker enables customers to keep track of when hoses in service were last tested, so they'll know when it's time for them to be re-tested.
"A growing number of refineries and plants require hoses to be tested on a certain schedule, usually yearly," Moss explains.
The customer can do the testing themselves or ask Moss Rubber to perform the annual test, but relies on the Moss Rubber Hose Tracker to help maintain their scheduled testing.
"Most of our customers are focused on quality, reliability and standards. So, when they see that we're following NAHAD Hose Safety Institute qualifications and that we're doing testing and using quality products, they see a value in that," Moss says.
Moss Rubber primarily serves the construction, mining, manufacturing, petrochemical and agricultural industries, plus municipalities. The South San Francisco headquarters location focuses mostly on construction and municipalities, while a second branch in Benicia, California, is more heavily dependent upon the petrochemical industry.
Since being acquired by Motion Industries in December 2015, Moss has also seen an increase in business in the food and beverage industry, supplying hose and fittings to other Motion branches in Northern California. "Not only has Motion brought Moss opportunities in new arenas and geographies, they have been supportive in terms of investing in equipment and inventories while retaining the Moss team and keeping our identity," says Greg Moss.
Solving problems since 1965
Moss Rubber was founded by brothers Don and Leon Moss, who worked for many years for Goodall Rubber Company before moving to California to start their own business. Don's oldest son, Greg, joined the South San Francisco-based business in 1975 as a salesman. He became more heavily involved in managing the company in 1985, when his Uncle Leon passed away, and eventually became company president.
Greg's younger brother, Scott, showed an interest in the business at an early age.
"I was counting inventory when I was old enough to count and sweeping floors in the warehouse," recalls Scott. As a teenager, he made deliveries to companies that remain customers today.
After graduating from the University of California-Davis, Scott began working full-time in inside sales in 1991, and eventually moved to outside sales.
Business in the petrochemical industry began to take off during the 1980s and 1990s. Before long, the two brothers recognized the need to add an additional branch.
"Our business in the South San Francisco branch was mostly focused on heavy construction," explains Greg Moss. The company has long been a supplier to contractors working on major tunnel projects such as the Bay Area Rapid Transit transbay tube, and the California State Route 24 Caldecott Tunnel connecting Oakland with Orinda, California. In addition, it served some chemical plants.
"As we started doing more business in the petrochemical industry, trying to handle it out of South San Francisco just didn't work. When you talk to the contractors working in the refineries, we might as well have said we were in Texas. We just couldn't supply the industry from that location," Greg Moss says.
The decision was made for Scott to open a second branch and, in 2001, the company opened a branch about 50 miles northeast in Benicia to be closer to refinery customers such as Phillips 66, Shell, Chevron, Tesoro and Valero. Greg remained in South San Francisco to run that location.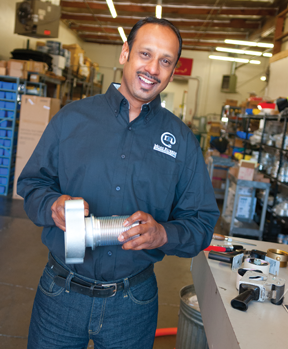 Operations manager Vijay Bhan says turnaround season at refineries is one of the busiest times of year for the California-based hose distributor.
Turnaround season
Winter is one of the busiest times of the year for suppliers to the petrochemical industry. During turnaround season, refineries shut down their operations for scheduled preventive maintenance, renovations or upgrades. Suppliers like Moss Rubber are kept busy cutting and coupling a variety of hoses needed for the projects.
"The refineries do major projects at their plants and may shut down an area or multiple areas in the plant for maintenance," explains Scott Moss. "Here in California, most of that is done in the winter when it's not peak driving season. So, from basically November through about April, a lot of this work is being done and they require a lot of our products, such as steam hose, hydrocarbon drain hose and nitrogen hose."
Vijay Bhan, operations manager for the Benicia branch, says a turnaround for one local refinery is the biggest project the refinery has done in about 10 years. "It encompasses about 2,000 contractors so there is a lot to keep track of," Bhan says. "Fortunately, we have a good relationship with the planners, the individuals that plan the projects, and they give us a heads up about what they may need and when they'll need it."
Despite the best attempts to plan ahead, rush orders are unavoidable during turnaround season, when it's all hands on deck at Moss Rubber. The distributor employs about 19 people full-time. Employees from the South San Francisco branch may be called up to Benicia to help assemble and test hose, Bhan may lend a hand in the warehouse if needed, and office employees will pitch in where required to get orders out the door on time.
"Our customers have our phone numbers and may even call us on the weekend. Someone will come in to assemble a hose. We do whatever we have to do make things happen," Bhan says.
Whatever customers need and whenever a need arises, Moss Rubber employees are eager to answer the call.
This article originally appeared in the March/April 2017 issue of Industrial Supply magazine. Copyright 2017, Direct Business Media.
COMMENTS: 0
---