Mobile and more
A mobile Web site for smartphone users is one of the latest enhancements introduced by Grainger
by Rich Vurva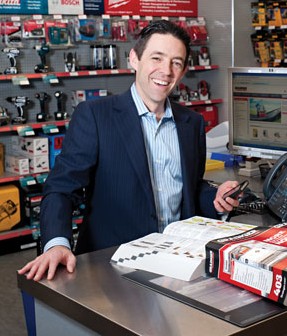 Court Carruthers, president of Grainger U.S., says the goal is to create a seamless experience for customers, whether they buy in person, on the phone or online.
When smaller distributors discuss their strategies for competing against major competitors like Grainger, they often say large companies are slow to adapt to change, less flexible and lack personalized service capabilities. The facts seem to suggest a different reality.
Too slow to change? Grainger's success in developing a state-of-the-art Web site and other electronic ordering capabilities demonstrates how quickly it has adopted new technology. While many distributors still struggle with how to handle online orders, e-commerce transactions at Grainger have climbed to 27% of its total $8.1 billion in sales and are projected to grow to more than 40% within five years. Its $2.2 billion in sales through electronic commerce in 2011 ranked the company as the 15th largest e-retailer in the U.S. and Canada. Recent enhancements, including a new mobile Web site and soon-to-be introduced mobile applications designed specifically for iPhone, Android and other mobile technologies, demonstrate the company's ability to adapt faster to technology changes than most distributors.
Less flexibility? With its new mobile platform, the company provides customers with another option for researching products, checking availability, placing orders and tracking shipments. Customers who place an order on the phone or online can use their smartphone or tablet PC to approve orders or check order status. If they're not comfortable with electronic commerce, they can still use the catalog that now features more than 413,000 products, or visit one of the 370 branch locations nationwide to access more than 900,000 total products. The objective is to provide the same positive experience for customers whether they choose to interact in person, using the catalog, on Grainger.com or through a mobile device.
No personalized service? A suite of inventory management services, which Grainger calls the KeepStock service, allows customers to manage their own inventory or hand over all inventory management to Grainger, depending upon their specific needs. Options include bin-fill programs, vending machines and other customized programs. The company produces multiple catalogs with products and solutions geared to specific industries, such as fire safety or first responders. Online customers who need help finding a specific solution can select a "Click to Call/Chat" option and a representative will send a chat message or place a call to the customer to discuss the options and answer questions. If the customer needs more technical expertise than the customer service representative is able to provide, he or she will be connected to someone with more product or subject knowledge.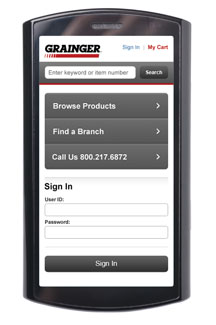 Multi-channel approach
Grainger says the company will continue to use this multi-channel approach to maintain a high level of service to customers, no matter how that customer chooses to do business.
"What we're trying to get to is a seamless experience. Whether it's at a branch, on the phone, on the Web or on your mobile device, you can get all of the information in one place. We think what makes us different is that we can service all of those different requirements," says Court Carruthers, senior vice president and president of Grainger U.S.
Grainger's large footprint and financial strength (it generated operating earnings of $1.05 billion in 2011) provide an enviable foundation and an ability to invest in growth initiatives. One key to the company's success is its devotion to understanding what customers want. For example, the catalog has grown from 86,000 products in 2006 to 413,000 items in 2012 as part of a multi-year effort to broaden the product offering to include more of the types of items that customers are looking for.
"What's really interesting is that the additions we've made in 2012 have been every bit as productive as the additions made in 2006," Carruthers says. He adds that while the product offering has grown substantially, the number of inventory turns has remained steady, which demonstrates the company's ability to accurately forecast demand. "We've increased the products in the catalog almost five-fold and kept inventory turns constant. At the same time, service levels are at an all-time high on a much broader offering than we had 10 years ago. We think that's quite an achievement," he says.
As the product offering has grown, it places added importance on providing a user-friendly experience online so customers can quickly find what they need. "We've invested a lot both in terms of the search functionality on the site and the way we've configured the site to make it easy for someone to find the exact motor they need or the exact pump they need or the exact safety eyewear," says Carruthers.
Returning customers to the site are greeted with a link that says, "Welcome back (name)." Called an account ribbon, the link enables customers to quickly access their order history and favorites list, which makes it easier for customers who place frequent orders to track their activity, check product availability and order status. Designed to incorporate some of the best functionality of popular business-to-consumer Web sites, these kinds of site enhancements have produced profitable results.
Although the company won't divulge specifics, Carruthers says the average order size tends to be larger for online orders than for offline orders. "We find that customers that use us online grow at a rate two times more than customers that don't order online," he says.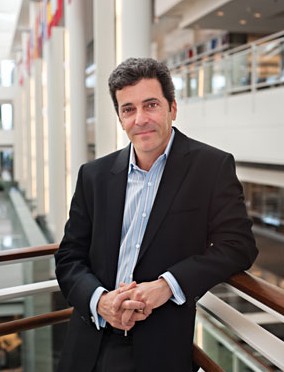 Grainger vice president of eCommerce Paul Miller brings a background in business-to- consumer online sales to his role at this B2B powerhouse.
Paul Miller, vice president of eCommerce, adds that while customers typically have a channel preference (online, phone or in-person), customers that interact across multiple channels tend to spend more money. The systems are synchronized so that if a customer begins by placing an order by phone, he or she can verify delivery status online. That person could also check if the product is available at a local branch for pickup. The customer's supervisor could approve the order or make adjustments on a smartphone or other mobile device.
"We believe that mobile will be a significant part of how they interact with us. Will it be that they buy half of their stuff through a mobile device? I don't know. And I don't necessarily think that it's even relevant. But I do think there will be a huge proportion of people's interaction with us that will have to be in multiple places," he says.
Miller says the addition of "Click to Call/Chat" functionality demonstrates how the company analyzed online metrics and listened to customer suggestions to enhance the online experience.
"The beauty of online is that we have the ability to analyze almost everything. Where do people drop off? Where do people get frustrated and leave the site? By using tools like Click to Call/Chat, you can actually leverage some onsite analytics and see areas where people might get hung up and offer them help," he says.
The option is designed so that it's only offered when someone is available to return the customer's call or engage in an online conversation. "If we don't have an agent available, then we don't present that as an option," he says. "It's worse to sell somebody on a help option and then not have help available. We've got a very robust staffing model so it's very rare that we're not able to help somebody during normal business hours."
Carruthers adds that the role of the Grainger seller or customer service associate is to help navigate the system, provide a great experience and make sure they get to the right solution. "As that solution gets more technical, they can either call on the right field resource or central resource, who can provide more detailed
assistance," he says.
Local service and support
The growth of e-commerce doesn't mean that Grainger places less importance on the local branch, Carruthers says. In November, the company raised eyebrows among industry watchers when it announced plans to close 25 branches by the end of 2011, despite an anticipated 11% to 12% increase in sales. It ultimately closed 35 locations, explaining that the move was done to "optimize its footprint and reallocate resources to higher growth opportunities."
"Our branches remain a critical part of our multi-channel offer and we think we're at the optimum level today," Carruthers says. "In fact, we just re-opened a facility in Minneapolis to better meet the needs of local customers. We constantly assess our network to make sure we have the right coverage to meet demands in individual markets."
While many customers have migrated to ordering online – a trend which will likely continue as younger workers become a larger percentage of the workplace – the local branch remains a popular option, especially for accessing emergency repair items when a customer can't wait for delivery. Carruthers says it's common for individual customers to do business by phone, online and in person. "There's a certain time when that branch is uniquely set up to serve the customers, even if that is not the primary way that customer uses us," he says.
The company closely analyzes order patterns and other data, thoroughly testing new ideas before implementing them. Whether it's adjusting the number of catalogs targeting a specific market, surveying customers on the desirability of new products, or making an enhancement to the Web site or mobile experience, nothing happens by chance at Grainger.
"When you can understand what customers are trying to do, how they're trying to do that, and create solutions that fit together with that knowledge and create a culture of innovation where you're going to be trying stuff and improving upon what you've done, that's where you see the kind of growth we've been seeing," says Miller.
This article originally appeared in the May/June 2012 issue of Industrial Supply magazine. Copyright 2012, Direct Business Media.
COMMENTS: 2
Grainger Online
Posted from: Peggy Tress, 7/16/12 at 7:54 AM CDT
This has some good ideas and thoughts on why they have "click to chat" customer service and other things on being online. I thought you might enjoy it.
Grainger Article
Posted from: Paulette Grimme, 5/14/12 at 4:19 PM CDT
Interesting article on Grainger
---