Green and Growing
This family-owned distributor is on track to double sales every five years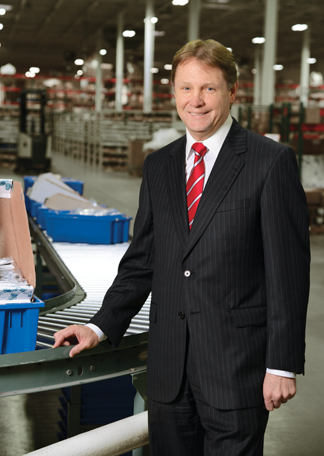 Pat McCurdy Jr. is president of the family-owned business that has grown to more than 1,000 employees, three distribution centers and annual sales of about $190 million.
By Rich Vurva
At its core, Kimball Midwest is a sales-driven organization. The Ohio-based company's success is deeply rooted in its unique "two-customer philosophy" that recognizes the need to provide outstanding customer service to both employees and customers. It's an ideology which boosts employee job satisfaction and ultimately results in higher sales.
The company is a back-to-back winner of a Top Workplace award from Workplace Dynamics, which uses employee feedback to determine award winners. Of more than 800 companies invited to participate in the process, Kimball Midwest ranked in the top 1 percent in the mid-sized company category.
The distributor often holds banquets, picnics and other employee appreciation events to thank employees for their efforts and shares good news and success stories in company newsletters and other forums.
Photos of top selling sales representatives are displayed outside of the conference room at company headquarters in Columbus, Ohio, to recognize their achievement and the important part they play in the company's success. Special recognition is given to those salespeople who achieved more than $1 million in annual sales. The company celebrates additional individual milestones, such as honoring sales and support staff for their longevity on an "employee wall" which features the name of every employee with more than five years at the organization.
With a goal to double sales every five years, Kimball Midwest is committed to remaining "green and growing" vs. "ripe and rotting."
Using a field sales force of more than 700 people situated in major markets throughout North America, Kimball Midwest believes that knowing customers on a personal level is key to building and maintaining strong business relationships.
An extensive sales training program that systematically develops the skill sets of people in the field is a major investment in people and processes that pays off in the long run, explains Pat McCurdy Jr., company president.
"We have great people doing great things every day," says McCurdy. "Our go-to-market strategy is to attract a great sales representative and to help that person develop the skills to build a relationship with a buyer and show them how our products and services really lower their total maintenance repair and operations cost."
A formal training program to train new salespeople can take a year or more to complete, depending upon the individual, and focuses heavily on new account development, product conversions and product knowledge.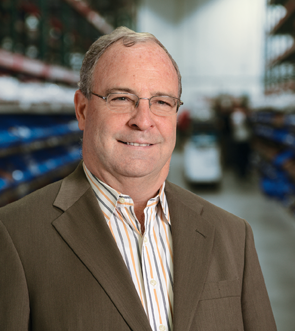 "We have seen a correlation between our top writers and product knowledge," explains Chas McCurdy, vice president of sales.
The family-owned business celebrated its 90th anniversary in 2013. What started as a small regional wholesale distributor with a single location has grown into a national company with more than 1,000 employees, distribution centers in Columbus, Reno, Nev., and Dallas, and annual sales of approximately $190 million.
"When I look at the team that we have pulled together over the last 30 years, it just makes me feel good that most of the people are making more today than they ever have in their career. If you can create that culture and environment, people appreciate that and are loyal to you and we are loyal to them," says Chas McCurdy.
Expansion plans
The company has occupied its current headquarters location for eight years and is undergoing a multi-million dollar renovation that will add more than 100,000 square feet in the warehouse and increase office space by about 50 percent.
"We have had great growth and we are trying to always make sure that strategically we keep our facilities ahead of the curve so we can continue to provide superior service with same-day shipments and high fill rates," says Pat McCurdy.
He adds that the additional space will help reduce bottlenecks and ensure that service levels remain high even as sales and shipping volumes increase.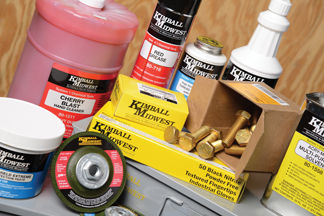 "There is a clear distinction between a private and public company. As a private company, we're willing to make this kind of investment in our facilities – this will be our largest investment ever – in order to support our people in the work we need them to do to support our vision. It would be short-sighted if we said, 'It's too much money, let's wait.'"
With fill rates consistently above 95 percent, the goal is to maintain enough inventory on the shelves in all three distribution centers to be able to ship it on time when and where customers need it. U.S.-made products comprise more than 80 percent of the company's inventory spend, and the majority are private label products branded by Kimball Midwest to deliver superior performance.
"Our emphasis is building the Kimball Midwest brand. We want to put our name on products and demonstrate how they perform better than the competition," Pat
McCurdy says. "With private label products, we know that we're dealing with a company that has engineered a better product."
Chas McCurdy adds that while low-cost, high-quality import products are available, he prefers to do business with domestic manufacturers because it's easier to maintain consistency of product quality and the overall supply chain, and also gives Kimball Midwest greater control over the product specifications.
"Our product price may be higher, but because we can produce a superior product that performs better, or because we package in smaller quantities or do a better job of inventory organization, our overall cost will be consistently lower than the competition," he says.
Much of the business is focused on vendor managed inventory programs. They range from a salesperson going into a customer location on a weekly basis to re-stock bins and shelves, to more sophisticated efforts that include automated replenishment, ordering by smart phone and Internet ordering capabilities.
"Our business is really dependent upon our sales force going out to customers," Pat McCurdy says. "Whether it's a weekly, bi-weekly or monthly account call, they'll be there ready to manage the customer's inventory levels for him."
Salespeople work closely with customers to devise inventory stocking arrangements suited to the facility, collaborate with maintenance departments to determine their project requirements, conduct surveys to learn product usage patterns or redesign a tool crib to gain efficiencies. In short, the sales representatives act as unpaid employees at each account.
"We will make sure that a customer's bins are organized so when they go to retrieve an item it's where it's supposed to be," says Chas McCurdy.
He described one situation where a large customer with multiple locations was approached by a national distribution chain last year about installing an automated tool vending program in the facility. The vending machine sat empty on the plant floor for several months.
"In certain situations, a vending solution is perfect. But we see a lot of problems with them, like ongoing maintenance of the machine and keeping it properly stocked. In this case, the cost of the cure was greater than the disease," he says.
In many cases, technological advancements in the company's ordering system provide the ability to download orders whether received at 10 a.m., 2 p.m., or 4 p.m. and still ship that same afternoon from any of the company's three DC's, so a vending machine is an unnecessary, frivolous expense.
This model depicts a multi-million dollar expansion planned for Kimball Midwest's headquarters building that will add more than 100,000 square feet of warehouse space and increase office space by 50 percent.
Although technology has changed the way the company does business today, core values have remained constant over the years.
"Our philosophy, including our vision, mission and core values, are the same today as when I started in the business in 1984. We want to remain family-owned and operated and we want to double our sales every five years. We call that the 'Kimball Commercial' and it's a message that we emphasize to the entire organization regularly," says Chas McCurdy, who is one of four McCurdy brothers active in the business today.
Third-generation family members are being groomed to eventually assume ownership of the family business, but they must first go to college, work in another field for four to five years to gain business acumen and then join Kimball Midwest to learn the business from the ground up.
Much like they did when asked to take over leadership of the company by their father in the early 1980s, the McCurdy brothers hope the next generation will inherit a profitable business that continues to be green and growing.
This article originally appeared in the May/June 2014 issue of Industrial Supply magazine. Copyright 2014, Direct Business Media.
COMMENTS: 0
---