Warehouse Solutions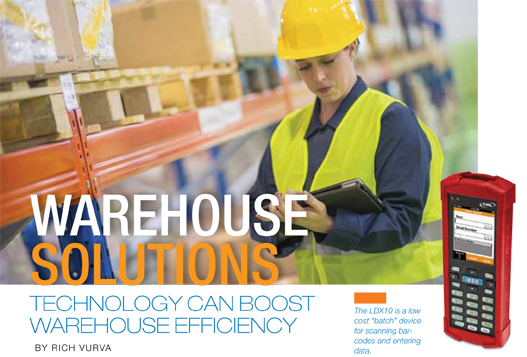 By Rich Vurva
Every distributor strives to optimize profitability. One way to accomplish that is to keep costs low by moving product as efficiently and quickly as possible. Several technologies exist that help achieve that end goal and you don't necessarily need to spend an arm and a leg to acquire them. We reached out to companies that produce products ranging from mobile computers and labeling systems, to barcode scanners and inventory control solutions, about what's driving new product development in the industry.
Mike Kearby, president
AML
www.amltd.com
Two trends are driving innovation in our industry. First, the lower price of consumer-based products, such as smartphones and tablets, is a great temptation for many people who take the mindset that the devices are so cheap that when they break, they'll just throw them away. This is obviously a short-sighted viewpoint. Smartphones and tablets don't have barcode scanners or extended life batteries, nor are they designed to be used all day, every day, and they certainly aren't designed to be dropped and potentially abused.
Peripheral accessories are used to add the barcode functionality and make some attempt to make the devices more durable, but these accessories come at a high price (sometimes more than the cost of the device) and with debatable performance in terms of ruggedness. Also, tactile keyboards aren't an option and the consumer devices don't have hot-swap capable batteries so when the battery dies, the device is simply out of service.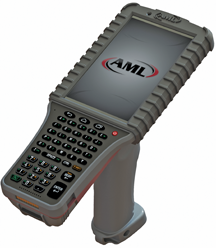 Long-term, rugged devices will outlast and outperform consumer-grade devices even when enhanced with peripheral devices, making for a lower total cost of ownership. However, this mentality does drive home the fact that industrial users are sensitive to price to the point that they are willing to risk reliability, which no one should be forced to do. Consequently, we have made a concerted effort to develop mobile computers that are rugged and reliable, and affordable. These devices will never have as low a purchase price as a consumer-grade device, but over the long term they will always have a lower cost of ownership. Our products are "built for purpose" meaning they are not intended to be all things to all people, which allows us to offer the most desirable feature set at reasonable prices.
The second trend is that Windows has forever dominated the embedded mobile device space. But over the past few years, Microsoft has seemed to place less emphasis on the mobile device space, presumably assuming there was no alternative, competing operating system. The traditional Windows CE and Windows Mobile operating systems are gone or are quickly going away, and there is no clear path forward with Microsoft for embedded handheld devices. Enter Android, which rocketed up the smartphone market share list. Being an open-source operating system, and given the uncertainty about Microsoft's long-term plans in the embedded space, Android was the perfect solution at the perfect time. Many software vendors in the industrial space, including all the major WMS providers, now support Android mobile devices. Consequently, we made the decision that all new AML products will be predominantly Android-based and all existing Windows-based products will be refreshed to include Android models.
AML offers barcode-centric data collection equipment which includes mobile computers, vehicle-mounted computers, and stationary computers (kiosks). All of our products either have integrated barcode scanners or the ability to connect barcode scanners to them. Consequently, we are huge proponents of barcode systems and the inherent benefits they offer distribution facilities in labor savings, error reductions, better inventory accuracy and overall efficiency improvement. Barcode systems allow distribution facilities to move inventory quicker and more efficiently, with better accuracy and visibility, requiring less labor. Most of our products are engineered, manufactured and serviced in our Dallas facility, which means our knowledge base is here, not halfway around the world. In addition to offering affordable, built-for-purpose devices, we can offer U.S.-based support and technical resources at a level that our competitors cannot since none of them manufacture their products in the United States.
In terms of what's on the horizon, we just launched our new Scepter mobile computer at ProMat in Chicago. This is the rugged, Android mobile computer mentioned above. Beyond the Scepter, we're spending the short term refreshing our current product offering by including Android models for all of them, as well as upgrading our barcode scanning options to include the latest in what is called "near/far" scanning, the ability to scan barcodes at great distances, up to 40 feet, and yet still up close, as near as 6 inches.
Kent Savage, founder & CEO
Apex Supply Chain Technologies
www.apexsupplychain.com
Distributors are challenged to differentiate themselves in a distinct and measurable way. The long-standing claims of "good service, good pricing" are not enough anymore. Customers are demanding more.
Over the past decade, Apex has revolutionized industrial distribution by deploying more than 100,000 of its devices to make industrial vending a best practice. In just a few short years, industrial vending has gone from being a far-out idea to proven technology. End users have learned that it is a more efficient and more effective way to provide MRO materials to the workers who need them.
The next frontier is automated replenishment systems. While industrial vending systems provide access-controlled dispensing for MRO supplies, automated replenishment systems, like Actylus Smart Bin Solutions from Apex, provide frictionless availability of critical parts, supplies and components on a fully automated basis. This enables distributors to reduce their operating costs for bin stocking by 30 percent or more while increasing the level of service to customers.
In turn, this provides the differentiation they seek and makes them more competitive. Another huge benefit of Actylus Smart Bin Solutions is that it frees up personnel from counting and streamlines replenishment. This allows them to spend more face-to-face time with customers, resulting in more orders.
We are also seeing a huge growth in demand for our automated locker systems for automated 24/7 Will Call Order Pickup. Many of today's customers are on the go. Apex AnyWhere lockers can be placed inside or outside a distributor's branch, at a customer site or at remote locations. Customers can simply scan a code and pick up their orders any time, night or day. This, too, plays directly to the distributor's need to provide new and better service styles and differentiate themselves from competitors.
Our history is one of innovation. Of course, Apex is the world-wide leader in industrial vending solutions with a broad range of dispensing and locker devices, smart supply cabinets and smart bin systems. All Apex solutions are powered by our Connect n' Go Technology, which makes them easy to use, easy to implement and easy to afford. You simply plug them into an electric outlet, connect to the internet (wired or wireless) and you are up and running. Unlike older industrial vending technologies, the implementation is quick and painless.
Apex solutions connect to our secure, unified transaction platform, The Trajectory Cloud, to provide real-time reporting, business intelligence and analytics, alerts and notifications, as well as automated reordering. Trajectory is unique in that it has processed billions of secure transactions for over 17,000 corporate users in 44 countries. Distributors around the world have found Apex solutions to be the easiest and best way to provide the service their customers demand while streamlining the replenishment process. Best of all, Apex solutions virtually eliminate stockouts and costly emergency orders.
Our latest innovation is our range of Actylus Smart Bin Solutions. Our automated smart bins track replenishment levels and trigger reorder notifications, which drives cost out of any bin management system. Distributors report that they typically save as much as 30 percent or more of the time required to support manual bin programs. Inventory levels and safety stock can be cut dramatically and stockouts and emergency or "hot shot" orders are virtually eliminated. Bin checks are no longer needed, which increases distributor productivity and frees up their personnel to spend more time with customers.
Actylus Smart Bin Solutions were created specifically with distributors and their customers in mind. That's why our sleek, brightly colored bins and bin rack are illuminated by LED lights. They replace dark, unattractive and bulky bin systems located in dark production facilities. The lights are also used to alert workers when a bin reaches its preset level and has triggered a reorder notification.
We're always thinking about what's next. In fact, Actylus is less than two years old and we've already extended the product line based on customer feedback.
The original Actylus 8000 Smart Bin Solution is an eight-shelf high rack of smart bins. Last year, we extended the Actylus line, adding the 8100 and 8200 to provide one- and two-shelf solutions, respectively. This gives customers the ability to deploy our Smart Bin Solution more broadly across their operations, including small assembly cells and benchtop applications, for example.
Our ruggedized, new 6800 Series AnyWhere lockers offer an incredibly flexible design and are ideal for indoor and outdoor use for asset management (check out/check in) and automated Will Call/Order Pick Up applications.
Later this year, we will introduce a new line of Intelligent Controlled Spaces (ICS) to accommodate larger orders for items such as pipe, bar stock, spools of wire and cable and other irregular and outsized shaped items.
Beyond that, we can say that Apex invests heavily in R&D to continue our history of game-changing innovation. Expect to see many more breakthrough solutions coming out of our labs in the months and years ahead.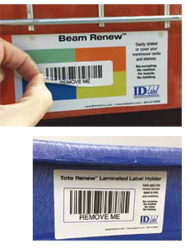 Neal Lulofs, chief marketing officer
ID Label
www.idlabelinc.com
One of our primary markets is the supply chain – especially warehousing and distribution. Retail e-commerce sales have boosted demand for regional warehouse space. As a result, we've seen an increased demand for our solutions that serve those customers. We've responded in several ways, including introducing new barcoding products, investing in new manufacturing equipment and acquisitions, and increasing our sales and marketing efforts.
It's critical that mobile scanning technology works seamlessly with barcoding imagery. Via direct and distributor sales partners, we provide a range of custom barcoding solutions that enable warehouse and distribution center operators to efficiently track, manage and ship inventory. Our core barcoding solutions are pallet and LPN labels for moveable units, warehouse rack location ID labels, signage (aisles, racks, bulk storage, safety, etc.) and professional installation services for all of the above. Our clients benefit from:
Lower overall costs vs. in-house solutions
Eliminating unnecessary expenses and hassles
Improving scan accuracy and preventing errors
Increased staff productivity and uptime
We just introduced three new barcode labeling products that support the need for inventory location flexibility, speed and efficiency, which are essential for today's modern warehouses and distribution centers. For instance, Clean Release allows for the easy removal and relabeling of locations and containers with new barcode data as product inventory and information changes. It also eliminates countless unproductive worker hours otherwise spent scraping off old labeling and repeatedly cleaning and treating warehouse racks, beams, totes and shelves.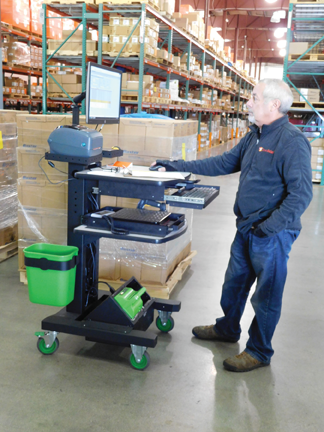 Kevin Ledversis, North american sales director
newcastle systems
www.newcastlesys.com
It's easy to underestimate how much excess worker motion, product transportation, and touches can cost an organization. Integrating Newcastle Systems' Mobile Power Technology into your receiving, picking, shipping, and/or inventory management process eliminates costly footsteps and creates rapid and significant changes in volumes, accuracy and efficiency.
Our units are basically a computer on wheels. It could be a computer or tablet or a laptop, and it usually features some type of a print function for printing labels or paper. We mobilize static devices. Most warehouses have multiple printers and computers throughout the facility, but they're bolted to a wall or a desk. This physical limitation forces workers to walk back and forth to those stations sometimes hundreds of times a day.
With our equipment, you take a cart right to where the work is and eliminate all of those footsteps.
Our mobile workstations offer a variety of sizes and styles to fit your business needs. The new entry-level EcoCart mobile powered workstation is designed to provide true mobility within a facility, while eliminating unnecessary movement, touches and transportation wastes. This can result in improved dock to stock cycle times in receiving and on-time shipments in your shipping areas. It can be used by pickers and stockers. The most common uses are in receiving, quality assurance, quality inspection, shipping, picking, inventory control or cycle counters. You also have supervisors using these as their workstations or desks so they can be out on the floor and not tied to a desk.
NB Series mid-size powered workstations provide mobility anywhere in a facility. They provide seamless rechargeable power and the ability to run up to four devices at once for 8 to 12 hours of normal use. They are also available with a new lithium power system. The compact footprint and 5-inch locking swivel casters make it easy to deploy to areas of need and, using a slotted upright system, the shelves and accessories can be quickly adjusted in seconds to suit the operator's needs.
We typically measure return on investment in a matter of two to three months. After using one of our mobile workstations, users realize they have an extra 1 to 2 hours a day because their employees aren't spending so much time walking. They realize they can receive 30 percent more product in a day. If you're going to pay somebody for 8 hours a day, you're only getting 6 hours of work a day out of them when you're forcing them to walk all over the place.
Most people in distribution carry thousands of SKUs to satisfy customer needs. They have to touch these boxes every single day. Our mobile workstations pay for themselves because they can be taken right to the pallet and receive inventory where it sits. With products in shapes and sizes from 18 inches to 48 inches wide, there is a solution for every need.
This article originally appeared in the May/June 2017 issue of Industrial Supply magazine. Copyright 2017, Direct Business Media.
COMMENTS: 0
---