Measuring the Pulse of Customers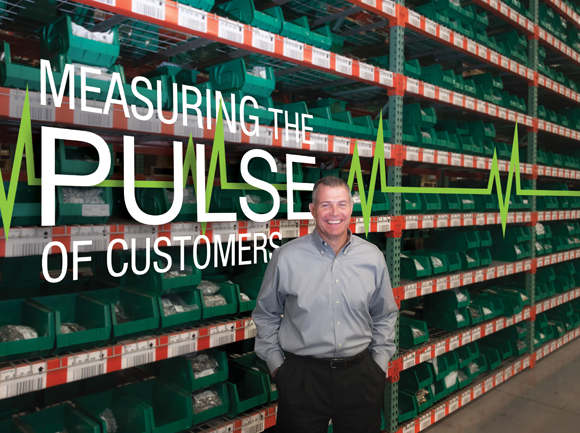 Endries International president Steve Endries in the company's distribution center.
Endries International's Pulse System manages critical supplies for customers all across the globe
by Rich Vurva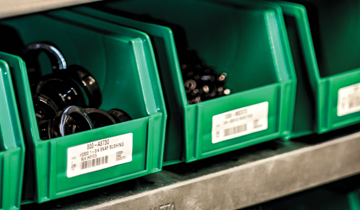 Picture a rack of shelves in an original equipment manufacturers (OEM) facility filled with bins holding nuts, bolts, fittings, electrical components, clamps and assorted other parts. Some bins run out of material quickly and other items move slowly. A few bins have predictable usage patterns while others may empty rapidly one week and at a snail's pace the next because of shifting production schedules.
Managing this inventory falls to companies like Endries International, a Wisconsin-based distributor of fasteners and Class-C parts serving OEMs worldwide.
Historically, until an Endries associate visited the plant to scan the bin or perform a visual inspection, Endries wouldn't always know how much inventory would be required from day to day or week to week.
The challenge was to develop a cost-effective system that could be more responsive to customer demand. In 2015, with help from the University of Wisconsin E-Business Consortium, Endries developed a patented, automated system called Pulse to help manage customer inventory.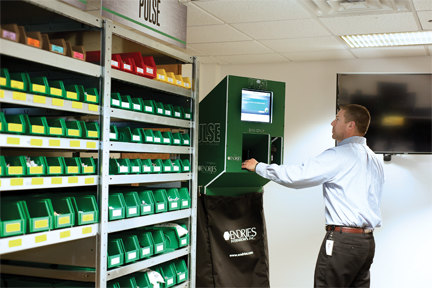 Director of sales Dave Girard demonstrates the Pulse management System
With the Pulse system, when a bin at an OEM facility is emptied, an employee places the empty bin in a kiosk, which reads a radio frequency identification (RFID) tag on the bin. Nearly instantaneously, a signal from the kiosk travels across a wireless
network to the Endries data warehouse to announce that the bin, holding 3/8-inch serrated flange nuts, has been emptied, triggering an order for replacement product.
"We named the system Pulse because, literally, we've got our hand on the pulse of that customer, 24/7," says Steve Endries, president of Endries International.
It has been installed at customer locations in North America and Europe and will soon be introduced in the Asia-Pacific region. The system can read multiple RFID tags at a time and can trace products down to the lot number if required for quality control. It can also be used to track inventory of products not directly supplied by Endries.
The Pulse system is just one of many vendor managed inventory (VMI) solutions the company uses to manage more than a half-million SKUs for customers around the world. Endries estimates that about $50 million worth of inventory is under management by the Pulse system today.
Other VMI systems include single-bin stocking points strategically located in a customer's facility, in which an Endries associate manages and services the inventory based on visual queues. Multi-bin systems feature more than one bin holding the same item; as one bin is emptied, it's replaced by a full bin and the Endries associate replenishes the empty bin as required. Additional fulfillment solutions include point-of-use cabinets, industrial vending machines, and other on-site management systems and in-plant stores.
Humble beginnings
Steve's father, Bob Endries, founded Bob Endries Auto Specialties in 1970 out of the basement in his home in Brillion, Wisconsin. In 1973, he built a 60-foot by 80-foot metal building on the West Ryan Street site where the corporate headquarters remains today. That same year, Endries also acquired a Detroit-based business that sold fasteners, which began the transition from supplying auto parts to becoming a distributor of fasteners to OEMs. In 1975, the company changed its name to Endries Fastener & Supply.
Bob Endries continued to run the company until his retirement in 2003, when Steve became president.
Today, Endries International serves customers in the U.S., Canada, Mexico and in Europe. A sourcing and quality facility opened in Taiwan in 2004, and with a recent acquisition, an A2LA and ISO9001-accredited lab in China was welcomed into the family. To ensure consistent quality standards, Endries maintains a quality system compliant with the ISO 9001:2015 standard, and continuously measures and improves customer satisfaction.
How does a company from a small town in Wisconsin grow to $350 million in annual sales in 2019?
"We knew we had good relationships with our customers that we were serving locally, and we knew we had good systems and processes to be able to repeat that in other parts of the country and other parts of the world," Endries says. "Our customers entrust us with their business. We take that very seriously."
The management team reasoned that it was possible to take the same VMI practices and ISO processes in place at existing customer locations, many of which were major Fortune 500 and larger manufacturers, and replicate those in other facilities, first in North America and later on a global scale.
"In 1995, when we were $20 million in sales and operating in Wisconsin, Chicago and St. Louis, we realized there was an opportunity to work with customers in other parts of the country. So, we grew extensively from 1995 to 2005, going from $20 million to $150 million, mostly by working with customers that gave us opportunities in multiple locations," says Endries.
The best practices and processes built over time became the basis for training programs still followed today.
"We want that consistency in place, and the technology platform that is worldwide so that what we do in a customer's facility in York, Pennsylvania, looks like what we're doing in Des Moines, Iowa," Endries says. "We all talk the same language. That's been truly scalable up to this point, and will be scalable moving forward."
From acquired to acquirer
In 2005, the Endries family sold majority interest of the business to Ferguson Enterprises Inc., which later became Ferguson plc, the world's largest distributor of plumbing and heating products, based in the United Kingdom. Endries is currently owned by MSD Partners, a New York-based investment advisor formed by MSD Capital, a private investment firm that manages the assets of Michael Dell and his family, founder of Dell Technologies.
In the past 12 months, Endries has completed three acquisitions, including Branam Fastening Systems in Cleveland, Ohio, Legacy Fastener and Supply in Fort Worth, Texas, and Industrial Products Company of Lynchburg, Virginia, which collectively brought in about $45 million in sales.
In most cases, the management teams of the acquired companies remain to help manage the local businesses. Within six months to a year, the companies are converted to the Infor ERP system that Endries uses so they can take advantage of the full breadth of service offerings that Endries provides customers.
"At Branam Fastening, we converted them to our system and also moved them from two 10,000 square foot buildings to a new 50,000 square foot facility in Ohio," explains Endries. In addition to serving the needs of former Branam customers from the new location, the facility also ships products to other Endries customers in that region.
"We're doing the same thing in Texas and in Virginia, using those facilities and those teams to help us become more local to our customers," Endries says.
Todd Fischer, vice president and COO, and Dave Girard, director of sales, are shown in front of an Endries Pulse management system display
By introducing Endries capabilities and processes, such as its Pulse inventory management system, the newly acquired companies have expanded service and product offerings and are poised for growth.
Endries expects to make additional acquisitions in 2019. He says distributors that have a similar culture, meaning they are extremely customer-focused, primarily serve OEMs and have experience in VMI, are the most attractive acquisition candidates.
Lessons learned from previous acquisitions have proved valuable in developing processes to integrate newly acquired companies into the fold as quickly as possible. The key is to incorporate best-in-class processes that are found in the collective organization and get everyone aligned and moving in the same direction, but not making changes so fast that customer service suffers.
"Since we have been through acquisitions ourselves when we were the company being acquired, we understand what those owners and those employees are going through, so we can empathize with them," Endries says.
Culture is key
Despite being a multi-national, multi-million dollar operation, Endries International still feels like family to most employees. Several staff members have been employed at Endries for decades.
"I came here as a high schooler and worked here all through high school and college," says Matt Vechart, senior vice president and CFO, who has worked at Endries for 30 years. "Steve's dad had a methodology for hiring. When he found a good worker for his business, he'd look at their family to see if there was someone else who might be a good addition to the business as well."
Vechart has two brothers working in the business and other associates also have siblings and other relatives employed by the company.
"The transition, led by Todd Fischer, VP and COO, from a home-grown technology platform to one that was scalable, which is our Infor ERP platform today, was a key to our success," says Vechart. "We would not have accomplished what we've done with our home-grown technology platform."
This desire for continuous improvement and growth is embedded into the DNA at Endries. The company plans to double its annual sales within five years from a mixture of organic growth and via acquisition.
"Throughout our history we've had a competitive drive. We continuously challenge ourselves from an innovation standpoint, seeking continuous improvement," Endries says. "We're always looking for ways to do something different to make it better, bigger, faster."
This article originally appeared in the May/June 2019 issue of Industrial Supply magazine. Copyright 2019, Direct Business Media.
COMMENTS: 0
---