Get Smart
How smart distributors use their WMS to deliver a better customer experience
by Eric Allais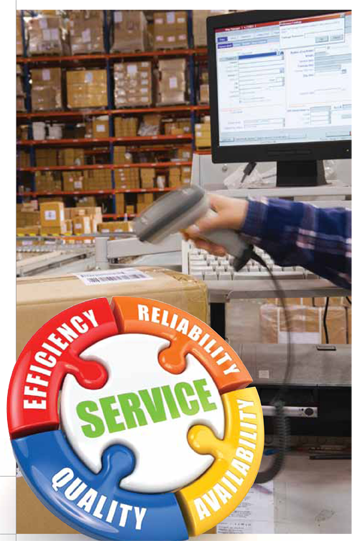 While customer service is an obvious business value proposition, managers of warehouse and distribution centers know that to be competitive, customer service is more important in today's world than ever before. The growth of e-commerce and e-fulfillment means that all brick-and-mortar retailers compete with Internet retailers, whether they have an online business component or not. In order to keep up, many businesses compete with Amazon's price position by providing outstanding, more personalized customer service.
A good example is a marine supply company in Seattle that uses real-time warehouse information to create an in-store pickup program. Customers are automatically sent a text message as soon as an order is ready for pickup. This gives customers the freedom to order online and collect their items without having to wait for delivery or stand in a checkout line – a service that large e-tailers simply cannot offer.
Following that example, you can build and maintain buyer loyalty by making it faster and easier for customers to do business with you. Competing on price, with the size and scale of Amazon, is practically impossible for many small and mid-sized companies. Instead, smart companies can and should make up the difference by delivering the kind of customer service that larger retailers find difficult to match.
Give people what they want, now!
There is no better way to keep your customers coming back than by giving them what they want, when and where they want it. Order accuracy cannot be overstressed. A botched order destroys customer confidence and encourages them to shop elsewhere. Since other options exist, customers will jump ship if they're nervous that your shipping accuracy is suspect – regardless of your prices.
Today's progressive distributors have transformed their fulfillment operations by investing in a solid warehouse management system and designating a champion to stand behind it, a person with the clout, know-how, management skills and enthusiasm to make a WMS rollout successful. Once the WMS is deployed, these companies report huge gains in shipping accuracy and inventory control across their warehouse operations. By eliminating human error and streamlining receiving, picking, sorting, packing and shipping functions, a WMS that has been fully embraced within a warehouse facility will achieve much better order accuracy.
Order accuracy is critical, especially when customers depend on your products for their livelihoods. Many suppliers offer just-in-time delivery to customers because of space constraints, shelf-life issues and carrying costs. This is an extremely valuable service if your customers typically resupply at the last minute, but it puts a heavy burden on the warehouse or distribution center to fulfill those orders quickly and accurately. An optimized WMS allows you to meet tight deadlines with the correct order every time, without increasing labor costs. It accurately shows inventory quantity on hand so you can better balance availability with shortages. Whether resupplying your own warehouse "just-in-time" or delivering inventory to a customer "just-in-time," you can provide these services with confidence, and do it profitably.
Time is money. Don't waste either one.
A WMS increases labor efficiency by automating and simplifying workflows. The result is faster deliveries, another surefire way to keep customers happy and returning for repeat business. In another example, the marine supply distributor cited earlier has customized its WMS to automatically split large orders and assign picking tasks to multiple workers using the most efficient paths. Special items like rope, chain or netting that need to be cut to size, or items that are custom-assembled for individual orders can be easily allocated to specially trained staff and prioritized in the picking flow.
The right WMS can also help reassign flexible workers to whichever part of the warehouse needs them at a particular time. As the workload within the different zones ebbs and flows throughout the day, there's a great potential for inefficiency. With a WMS, an idle worker on the loading dock can easily check to see if another team has a backlog. What does this transparency mean for management personnel? The answer is they no longer need to constantly track how and where to shuffle employees throughout their shifts, resulting in more time and greater efficiency.
Many WMS systems offer employee and warehouse metrics that give managers the information they need to make their warehouses more efficient. Do you know where your operation loses time? Is it in picking? Receiving? Cycle counts? All of these elements affect your business's ability to deliver outstanding customer service, and data from a WMS will help you find the problems and fix them quickly.
A WMS gives near-instant access to a huge amount of information, which directly translates to a better customer experience. With a WMS, employees can check the status of orders or the exact location of inventory on the shelves. Looking at it from your own perspective today, if a customer calls your team to ask about an order, can you give that customer the status without even having to put them on hold? If so, it's impressive; if not, perhaps it's time you took a closer look at your systems.
The cumulative improvements made possible through the deployment of a WMS mean that distributors can get more done in less time, giving them the freedom to concentrate on delivering better service to their customers. Instead of competing on price, companies can more smartly focus on quality customer service through fast, accurate deliveries built on a lean, efficient distribution process. It's a timeless competitive advantage.

Eric Allais, president and CEO of PathGuide Technologies Inc., has over 30 years of experience in marketing, product management and sector analysis in the automated data collection industry, including warehouse management practices in wholesale distribution. Contact him at eric@pathguide.com.
This article originally appeared in the Nov./Dec. 2015 issue of Industrial Supply magazine. Copyright 2015, Direct Business Media.
COMMENTS: 0
---