Making the sales effort digital-ready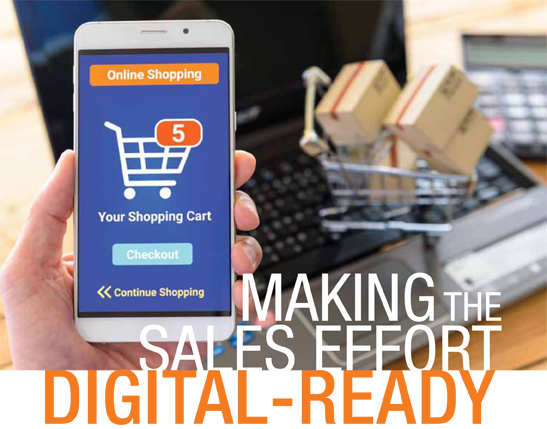 By Scott Benfield
The traditional distributor sales role has enjoyed the most freedom and financial opportunity of any position(s) in the firm. Compensation schemes can be lucrative for top sellers, many of whom earn six figure incomes year after year. Additionally, once the territory becomes established and customer relationships cemented, job security is above average, as there is a real risk that the seller can take their relationships to a competitor if they change jobs
The fundamental job of selling is to influence a customer to buy incremental products and services. Because of the immensity of hundreds of vendors with tens of thousands of SKUs, distribution management depends on outside sales to drive organic growth. Inside sales, most often, is a customer-service function. However, owing to the immensity of product lines and application issues, knowledgeable inside sellers are also valuable. Losing a qualified inside seller can make the buying experience miserable if the customer needs assistance and can't get a timely resolution.
Because of these reasons, the distributor sales effort, costing some 40 percent of operating expenses, has seen limited change over the three-plus generations of wholesale distribution. Tinkering with the function in order to get efficiencies is risky, especially if key sellers take top customers to a competitor. The upshot is that few distributors drastically change their sales effort and there has been limited need for substantial change, until now.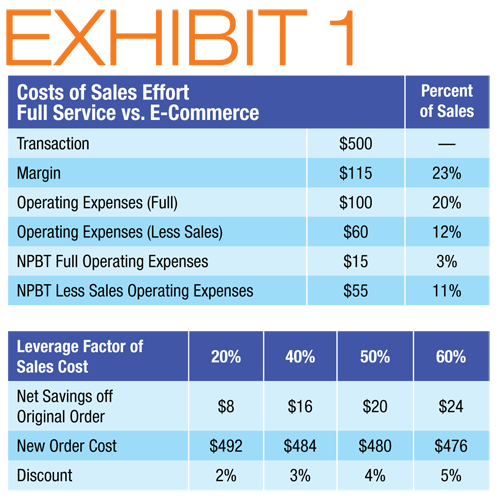 The Financial Case and Cultural Bias in Distributor Sales
If we look at a $500 transaction at 23 percent gross margin and 20 percent operating expenses, we are left with $15 net before tax or 3 percent. The transaction, in Exhibit 1, is a surrogate for MRO distribution and is used to illustrate the cost of a full-service sales effort. Full-service operating expenses are $100. However, the sales cost at 40 percent of expenses are in question with e-commerce. Many of the more successful e-commerce platforms have minimal sales presence and a reduced price. For the mock order, the sales cost is $40 and, if leveraged fully, would give a net profit before tax of $55. But leveraging the sales force at 100 percent is not practical. Even the most austere e-commerce models require some sales presence. In Exhibit 1, we've modeled the effect of 20 percent, 40 percent, 50 percent and 60 percent leverage of the sales force cost on the order. At a 50 percent factor, the order nets a $20 discount or a 4 percent price decrease. We often find where distributors question the power of a 4 percent price increase in the marketplace. For those who doubt the effect of a consistent, lower price, consider the following:
Our review of alternative e-commerce models finds that many have reduced the sales effort, especially for commodities, and passed the savings on to the customer to gain share against full-service competitors. These firms are known as transactional distributors or segment platform entities and include examples such as Zoro Tool (www.zoro.com) or Sustainable Supply (www.sustainablesupply.com). Typically, these e-commerce entities provide limited sales support, few branches, and offer prices that average 10 percent or so less than the full-service competition. In most instances, they easily take share away from full-service distribution. They use technology to restructure the supply chain for efficiency. Redundant sales support, branches and supporting expenses are gone and they pass savings on to the customer.
Currently, most traditional full-service distributors are attempting to move their full-service model online and keep their sales effort and branch complement intact. In the long run, we believe this effort will fail. Why? E-commerce requires significant funds to develop and perpetuate. Firms that try to maintain this expense, along with the expense of a full-service platform, will price themselves out of the market, as their operating costs will become prohibitive.
Today, at a 15 percent penetration of total demand rate, e-commerce and new models of distribution are not noticeable to many distributors. Their effect on sales loss is small. However, our experience with parallel industry low-cost upstarts that use technology and new business models to significantly reduce costs is that they can have substantial negative effects on inefficient industries. Southwest Airlines and Walmart are fitting examples. The upshot is that many distributors will be forced to alter their online business models over time. Customers, especially millennials, will not pay significantly more for commodities unless the full-service value proposition can justify a 10 percent premium. We believe it is prudent for distributors to rework their sales effort to reduce redundancies and develop a competitive value proposition for online growth.
B2B e-commerce grows at an approximately 7 percent compound annual growth rate. Our forecasts are that most commodities will be purchased online, which means that the current online penetration of 15 percent has a 4x factor to rise to 60 percent of demand.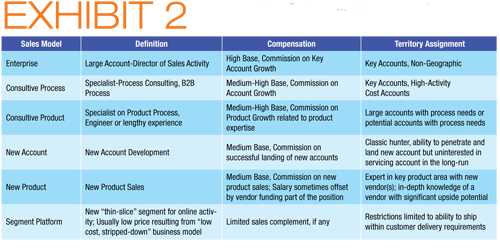 New Sales Models for a Digital Supply Chain
Should the traditional distributor want to fund a sales force, the likelihood is that new models, account assignments and compensation will need to be brought into play. It is worth repeating that our research and work does not find traditional geographic generalists, compensated on margin dollars for commission, will be efficient to compete. However, some sales roles can add value and will not be replaced by e-commerce. They are enterprise sellers, consultive sellers of product and process, new account and new product sellers. They are listed in Exhibit 2. In the exhibit, the model of selling is listed along with the definition, compensation structure and territory assignment. The enterprise model was introduced in the early 2000s and adopted for the Pareto customers. The idea is that B2B relationships grow in complexity and demand a talented manager of all contact points with the customer. In short, the enterprise seller marshals and assigns resources to grow the account.
Effective enterprise sellers have significant experience in all functions of the firm. They have implicit trust of the customer and executives of the distributor to amend various processes to profitably grow the customer relationship. Typically, tenured executives or senior managers who are looking to move out of high-pressure, day-to-day management jobs are good candidates for the enterprise role. Because of their significant experience, salaries and bonuses tend to be higher for enterprise sellers and the minimum account size is $500,000 to $1 million with significant upside growth.
Consultive sellers are of two types; process and product. Process sellers are experts at a business process and using it to improve sales or reduce interactive costs with the customer. Common roles are inventory management services, onboarding e-commerce and digital relationships, joint go-to-market efforts and more.
Product consultants are experts in a product-based process. Some consultants we've worked with are in areas such as valve actuation, factory line automation, process heat, medical facility sterilization, and others. Both consulting roles should be able to manage an ongoing pipeline of projects and, ideally, their efforts are billed separately from product sales to the account. In the case that their services are not billable, incremental sales at their account base should be measured.
It is important to note that consultive sellers should be measured on projects at select accounts. They often settle into roles as geographic product-based sellers; this is not their purpose. Consultive sellers can come from many areas including traditional generalist roles, competitors and vendors. Because of their expertise, salaries and commissions tend to be higher than traditional sales roles.
New account and new product sellers are growing in distribution firms. The new account seller's role is to land new accounts with verified potential. Account planning and time management skills are important in this position. New account sellers are interested in bringing in new accounts, getting them up and running, and moving on to the next potential customer. Hence, compensation should be a combination of base and new account commissions. Some distributors attempt to get the new account seller to grow their accounts. This is usually a mistake; successful new account sellers have limited patience for the slow growth patterns of relationship selling.
New product sellers are specialists in new applications. The more disruptive the technology, provided it has demonstrable advantages, the better. Distributors that support new product launches for vendors should have exclusive or highly selective agreements. It is not uncommon to find manufacturers to help fund new product sellers with their distributors. In these instances, we recommend contracts that spell out the length of time and amount for joint funding. New product sellers are often engineers or technical specialists with significant experience in a process and how it is improved with new technology. They typically command a medium to high base salary and higher percentage commissions on accounts.
New models of selling are on the increase in B2B organizations, with distributors facing the greatest challenge. Generalist sales positions will become increasingly difficult to financially justify, especially if they support commodity products. Alternative online models of distribution are growing at double-digit annual rates with limited sales presence. They use cost savings from reduced sales personnel and brick and mortar branches to drive demand with prices that are 10 percent or more less than full-service distributors.
So far, full-service distributors have been slow to change their models as B2B e-commerce counts for only about 15 percent of total demand. Given that commodity products represent 60 percent of all sales, and B2B online sales grow at a 7 percent compound annual growth rate, we expect a four-fold increase in e-commerce in MRO/industrial/institutional products at a pace three times greater than traditional transaction methods. Distributors that dominate online will need to leverage the generalist sales effort with specialized models. Customers will continue to value sellers who demonstrably deliver value in new ways.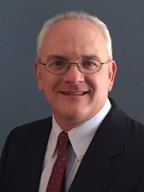 Scott Benfield is a consultant for manufacturers and distributors in B2B channels. He is the author of six books and numerous research studies on changes in B2B relationships and channel structure. His firm's work can be seen at www.benfieldconsulting.com and Scott can be reached at Scott@BenfieldConsulting.com.
This article originally appeared in the Nov./Dec. 2017 issue of Industrial Supply magazine. Copyright 2017, Direct Business Media.
COMMENTS: 0
---