Forward Facing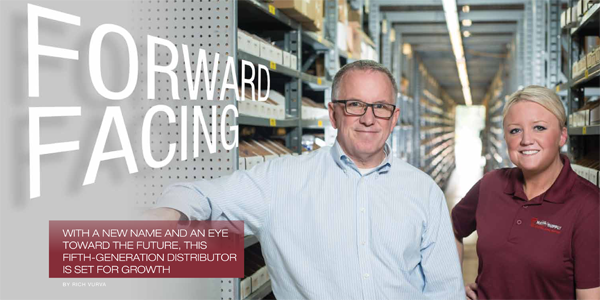 Bob Mars III is shown here with his daughter, Anna Watters, a fifth-generation family member making her mark on the company.
By Rich Vurva
Running a distribution business that has survived into the fifth generation of family ownership is an accomplishment that few companies have achieved. It also creates a unique set of challenges. You're constantly reminded of the "If it ain't broke, don't fix it" maxim. But you also don't want to fail to adapt to changing trends that might put the future of the business at risk.

Minnesota-based Mars Supply has managed to tread the line between adhering to the core values established when the company was founded in 1924, and making needed adjustments as each succeeding generation of family owners reacted to new marketplace realities.
Mars recently adopted a business model called the Entrepreneurial Operating System, which is a set of simple concepts and practical tools to get everyone in an organization pulling in the same direction.
"We adopted it two years ago and it's really helped us move forward. We now have better discipline, better accountability, more clarity in the organization and better alignment to our core goals," says Bob Mars III. Along with his brother Bruce, Mars is following in the footsteps of their great-grandfather, William P. Mars, and grandfather, Robert S. Mars, founders of the company (see "Company Milestones" at right for a brief history of Mars Supply).
In 2017, Mars completed a rebranding project to modernize its message and update its look. With the help of a local marketing company and a multi-generational team of employees, the logo and name were changed from the Roman god of war and the unwieldy W.P. & R.S. Mars Company to the forward moving "M" and Mars Supply.
Listening to customers
Mars describes the company as being "customer intimate." The concept comes from a book called "The Discipline of Market Leaders," which suggests that companies fall into one of three categories. They're either innovators (think 3M, Apple or Intel), operationally excellent (think UPS, FedEx or McDonalds) or they're customer intimate, meaning they have structures in place and the knowledge to deliver solutions designed to meet specific customer requirements.
"We're customer intimate and we'll do what the customer wants us to do," he says. "That's not easy and it makes you less efficient, but you have to stake your claim on one of those three. So, we try to be as efficient as we can, as innovative as we can, but we know that the reason customers stick with us is because of the relationship we built with them and the extra services we provide. We do a lot of listening and a lot of custom designing."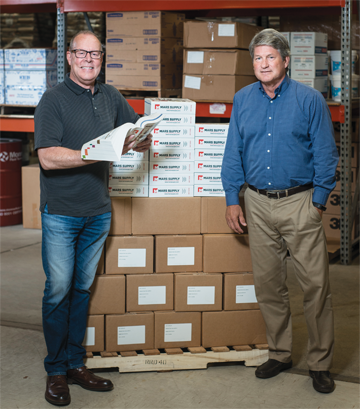 Steven Meacham and Rick Palmer, executive vice presidents at Mars Supply
For example, a service offering three daily deliveries addresses the needs of customers who don't want to wait until the next day to receive orders. Mars has two tool and hydraulic equipment repair shops, a conveyor belt slicing and hose coupling shop and a band saw blade welding center. In addition, certified technicians repair and recalibrate gas detection instruments. Repairing air and electric power tools, grease pumps, hydraulic track tools, gas detection instruments and other tools satisfies customers who see the value in fixing a tool for a fraction of the cost compared to buying a replacement tool.
"These services give us an edge against competitors that don't do tool repair, band saw blade welding, daily delivery or other services such as onsite safety training and safety audits," says Rick Palmer, executive vice president.
Vending solutions
Mars offers a selection of point-of-use vending solutions that it can tailor to fit each customer's requirements, including vending platforms such as Autocrib, Cribware, SnapVend and SupplyPro.
"A lot of our growth in the past few years has come through vending programs," explains Steve Meacham, executive vice president. "All of our programs are custom-designed for our customers."
For a typical job shop that may want better control over the same 40 to 50 cutting tools ordered repetitively, a helix coil-style machine may be the best solution. Manufacturers that want to dispense a variety of products – such as safety supplies, cutting tools and chemicals – from one machine, may prefer a locker system or cabinet with flexible bin configurations. It's not a good solution if an end-user needs to retrieve a cutting tool from one machine and walk to another cabinet to check out the remaining items he needs to complete a job.
When a machine operator references the "job traveler" – the list of specifications, tools and procedures that travels with the job throughout the shop – he needs to have confidence that the list is complete and up to date.
"We like to get that information into the vending software so when the user comes up to the machine, they can scan a barcode on the traveler and the vending machine will issue the cutting tools needed for the job," says Meacham.
Mars strives to help the customer design a program that makes the most sense for their operation, even if it means stocking a competitor's products in a Mars-supplied vending machine.
"One of our core values is resourcefulness, meaning we're going to try and help you save money wherever we can. So we design our vending programs around helping customers reduce their cost," says Mars. "It doesn't start with us telling them what they need, it starts with us listening to what they consider cost and which cost they'd like to try to reduce."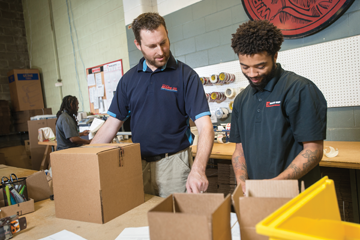 Adam Morrisen, Ivan Evans and K.G. Brown prepare orders for shipping in the Mars Supply warehouse
Online ordering expected to grow
When Mars acquired cutting tools specialist Walter R. Hammond Company in 2013, Bob Mars had two immediate objectives. No. 1, don't mess with the "secret sauce" that made Hammond successful – its deep inventory and its reputation for getting customers what they needed, often on the same day – and No. 2, figure out how to maintain and grow Hammond's online sales, which were experiencing growth in the low double digits.
Mars invested in the Magento e-commerce platform in part because of its ability to connect with the Prophet 21 ERP system that Mars uses. "That gave us a back-end platform that interacts with P21 that is extremely flexible and can grow with the needs of the market," explains Palmer. The Hammond Company website has been live for about a year, and Mars is in the process of moving the Mars Supply online store to the same platform.
"It's pretty obvious that if we want to be a viable force in the marketplace in years to come, we better have a decent e-commerce option for our customers," Mars says. "We're hoping that once our new website is launched we can move past the $50 million mark and continue growing." With total online sales below 10 percent currently, Mars anticipates that e-commerce sales will grow to 25 percent within three years.
Mars also expects to see growth in its private label brand. A new compressor oil product was introduced in October, joining a drill set, tape measure, lens cleaning towelettes and Ice Bite de-icer products in the Marsco line up.
"Just about every manufacturing company has a compressor so the compressor oil will make a good add-on sales opportunity for us. We surveyed our customers and found that they have an interest in buying compressor oil from us," explains Palmer.
While not a major part of the business today, Palmer says the private label product line has growth potential. It's another example of how this Minneapolis area distributor is willing to tweak its approach to business while remaining true to its core principles, just like the company's founders would have wanted
This article originally appeared in the Nov./Dec. 2018 issue of Industrial Supply magazine. Copyright 2018, Direct Business Media.
COMMENTS: 0
---