Let the Gopher Get It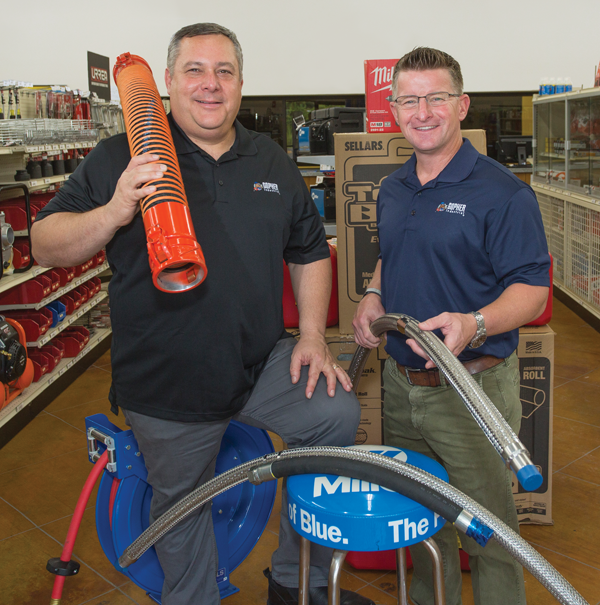 Gopher Industrial co-owners David Sandlin (left) and David Jones orginally launched an e-commerce company, but later opened a storefront in Southeast Texas.
Gopher Industrial leverages technology and technical know-how to deliver solutions to customers
Unlike most distribution businesses that begin with a brick-and-mortar location and expand into e-commerce, Gopher Industrial started its business online. Co-owners David Jones and David Sandlin launched the company in 2004 in Southeast Texas with the idea to develop a business-to-business e-commerce solution. Each of them had worked for various industrial distribution companies throughout their careers, built strong relationships with suppliers, and utilized technology to develop the most efficient processes.
They built a robust platform to support their web-based approach using a product from a major distribution software provider. Products were drop-shipped from manufacturers and from wholesalers to customers in all 50 states and a dozen or so countries. But as the company grew, and as Amazon Business appeared on the horizon and started siphoning away online sales, Jones and Sandlin decided that it would be better to focus on ways to add value rather than compete with the online behemoth.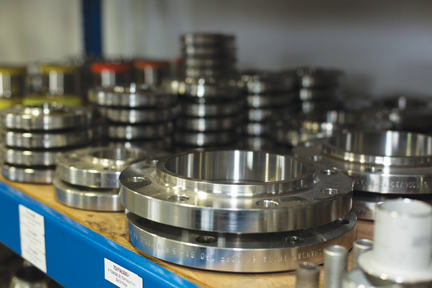 So, Gopher began stocking inventory to avoid delays and other issues inherent with online distribution and a reliance on third-party providers. The focus shifted from exclusively selling online to building a local customer base, which led to the development of a storefront that sold industrial products to a mix of businesses that includes petrochemical, marine, ship builders, pipe and steel fabricators and other industries. In 2011, Gopher added a 350,000 cubic foot distribution center to support its local presence.
The business focuses primarily on hose, welding and safety products. "We chose to focus on those three because they require a technical skillset and a relationship with the end-user to understand the application. It's not just shipping product in a box," Jones says.
Adds Sandlin, "Rather than making price the main issue first, we focused on building relationships with our customers, providing more technical solutions and services, and then competitive pricing."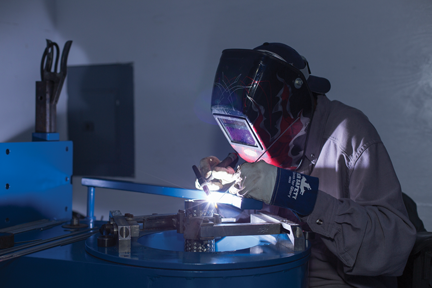 The company recently achieved ASME Section IX certification, which means its welders meet standards established by the American Society of Mechanical Engineers. Gopher also participates in NAHAD's Hose Safety Institute, indicating that fabricators follow industry-leading safety guidelines.
Gopher also sells MRO supplies such as abrasives, lubricants, power tools, fasteners, janitorial supplies and more. "We like to tell customers, we don't sell hand tools, we sell integration. We provide them an opportunity to come to one place to leverage their spend and to get support in a lot of different areas to lower their transactional costs," Jones says.
Sandlin says there's no value in just having the cheapest price. "But if you call me and ask about a product, I can say, 'Why don't you look at this one instead? It's got more amps, it's going to last longer, you're going to have better bend radius.' That's where we show value. Don't go on the internet to research for two hours looking to save a few pennies. Let us be your Gopher."
The brick-and-mortar side of the business has grown to represent more than 75 percent of sales.
"One of the things that really helped our company is, right out of the box, we embraced technology. Evolving with technology was not foreign to us," says Jones. He says Gopher is more nimble than traditional distributors with legacy systems and processes in place that often have difficulty changing their business model midstream.
"We're very agile as a company. We're always looking for a way to improve our processes," adds Sandlin. "We ask ourselves why are we doing it that way? How can we improve the process?"
A marriage between e-commerce and brick-and-mortar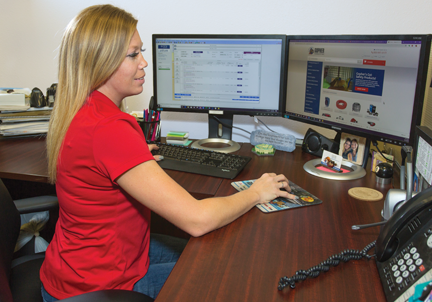 Managing a growing business became increasingly difficult when Gopher industrial's previous ERP provider stopped supporting their software, pushing them to adopt another solution.
"Our business continued to grow," says Jones. "But during that time, our software provider decided to shelve the product we were using. The relationship was terrible; we knew we had to make a change."
It took Gopher Industrial about two years to find the right solution that could grow with the business. After conducting extensive research and talking to other users in buying groups and associations they belonged to, including the American Welding Society, NetPlus Alliance and NAHAD – The Association for Hose and Accessories Distribution, the team looked at Inform from DDI System.
"When you choose an ERP system for your business, you're married to it, so we wanted to make sure we were with people who shared our vision," says Jason Huebel, director of IT and e-commerce. "After we attended a user conference and talked to a lot of people, we understood DDI's continual push to innovate and build software; they back their product without any additional funding and are committed to businesses like ours. That was important to us."
In 2014, the team made the switch to Inform ERP which worked seamlessly with Gopher Industrial's established investment in an e-commerce strategy. By utilizing a combination of a B2C software solution and Inform eCommerce for B2B, the company was able to successfully drive consistent customer reorders and even integrate its trademarked GOcrib – Inventory Management Solution that is mission critical to the business.
"It was important that our e-commerce strategy work alongside our business processes. For example, with the hose assembly and the welding fabrication we do, we were required to do something Amazon just can't do. Our e-commerce solutions can handle that, and as a result, it's the perfect combination of industry-specific technology for our business," says Jones.
Today, the company can easily measure key performance metrics and execute essential tasks, such as kitting, to improve processes throughout the business. Most importantly to the team at Gopher Industrial, Inform continues to improve with each new version.
"I've been using Inform for a long time now," says Huebel. "And we've been through several different versions. We continue to experience product updates that really improve functionality and make things more efficient for us."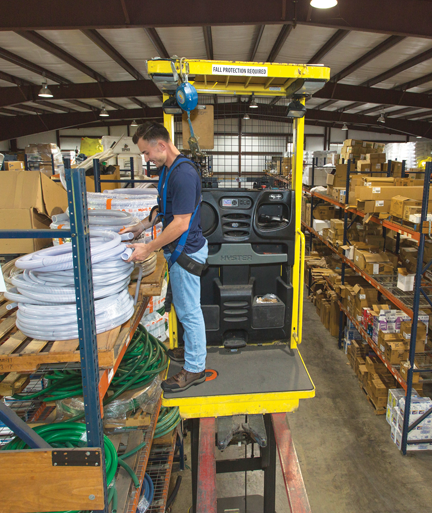 Improving workflows
Specific areas where Gopher Industrial has benefitted from the ERP platform include the accounting department.
"We're able to do more in our accounting department with fewer people because of the way the matching functionality works with Inform," says Jones. "With our previous technology, items would need to be matched line by line against the purchase order. Now our accounting team can just look at the totals and kick it back to purchasing to reconcile only if there's a difference."
Batch invoicing functions have further improved workflow efficiencies.
"With Inform you can send out 50 invoices in seconds if you want. And if you set them up correctly, you can send them electronically," continues Jones. "You don't have to print them, put them in an envelope and all that. Little things like that go a long way."
Enhanced reporting capabilities also help Gopher Industrial's leadership team keep their eyes on meaningful business metrics. Capturing high-level data such as a general ledger report down to specific product costs, Inform allows assigned users to pull the information they need, when they need it.
"I use the Advanced Report Writer a lot for inputting and exporting product cost data," says Huebel. "We represent more than 600 brands and over 1 million SKUs. I'm able to update cost information easily by batch updating—it could be a thousand products at once—so that saves me a lot of time."
Open communication channels
The Gopher Industrial team says that clear communication is essential to making a partnership with a software provider work. When questions or issues arise, they know exactly who to call to find the answers they need.
"The last relationship we had was like a bouncing ball," says Huebel. "We could never find the right person. We keep an open line of communication with support staff at DDI System, and we have direct points of contact we can call. That has been very helpful."
Jones agrees, emphasizing the importance of doing your research before you're locked into the relationship. Having this relationship in place, he says, is key to
long-term success.
"You've really got to understand the product, who you're partnering with, their background and how long they are in it," he says. "People will call you all the time to promote their software, and that's the last thing I want to do—turn the ship around and start doing something else. So when you do it, you want to make sure you do it right with a partner who is also focused on the future and helping you evolve. Inform continues to do well for our business."
Strong relationships
Jones believes it's critical to have strong partnerships with vendors and suppliers. That's why the company focuses on no more than one or two major brands in each product category. The approach requires salespeople to develop a deep understanding of the product in order to learn how to sell that brand against competing brands and, even more importantly, bring true solutions to customers. It also means there are fewer business relationships to manage, less data to integrate into the system, and fewer price changes to deal with on a continuing basis.
In the end, Jones says the focus needs to be on providing solutions to customers. If customers want to do business electronically, Gopher Industrial is equipped to handle online sales because that's how the company got its start. By focusing on products that require technical expertise and an understanding of each customer's application requirements, Jones and Sandlin hope to insulate the business from competitors like Amazon that lack personal relationships and the ability to devise technical solutions for end-users.
"People buy from people, but you'd better have a reason to be there," Jones says. "If you're not in there adding value for your end users, at the end of the day, you're wasting their time. At Gopher Industrial, we have found a way to genuinely add value."
This article originally appeared in the Nov./Dec. 2019 issue of Industrial Supply magazine. Copyright 2019, Direct Business Media.
COMMENTS: 0
---