Pinnacle of Success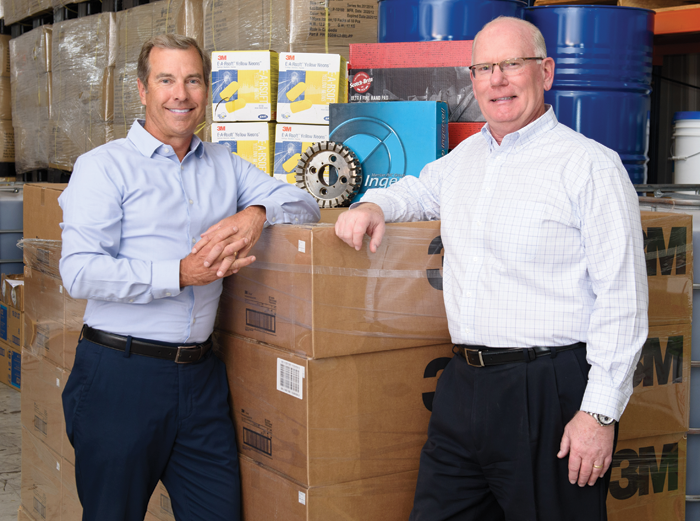 Mike Sauppe (left) and Tim McNeeley are co-owners of Pinnacle Tool & Supply, Toledo, Ohio.
This Midwestern distributor strives to help customers achieve their goals
by Rich Vurva
Toledo-based Pinnacle Tool & Supply got its start in 2000 when two industrial distributor salesmen decided the time was right to launch their own company. Tim McNeeley and Mike Sauppe met while working for a local industrial distribution company. The pair soon became friends and started musing over someday launching their own business.
"We were the top two salespeople for that company and began thinking we could do this for ourselves," recalls McNeeley. "We developed a comfort level with each other and started formulating a business plan and, in March of 2000, pulled the trigger."
The duo began serving manufacturers in Northern Ohio, Southeastern Michigan and Northeastern Indiana, focusing primarily on cutting tools, abrasives, metalworking fluids, safety equipment and industrial supplies.
Within months, the pair hired Julie McLaughlin as their first employee. She had been employed in the distribution industry for about a dozen years and added business savvy and industry expertise.
"When people call in, they not only like her personality, but she's a wealth of knowledge," explains McNeeley. "She can talk speeds and feeds, shims, seats and screws, surface finishes, gage calibrations, certificate numbers . . ."
Having McLaughlin spend her time on customer service, purchasing and running the warehouse, freed up McNeeley and Sauppe to leave the office to visit customers and build a customer base. McLaughlin remains with Pinnacle today.
Within a few years, Pinnacle hired a salesman in the Cleveland area to expand business in that geography. The company has grown to about 17 people today and has annual sales of around $12 million.
Growth through acquisition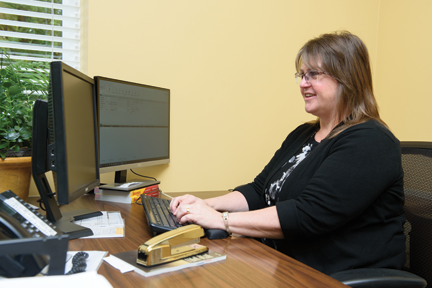 Julie McLaughlin spends her time on customer service, purchasing and warehouse operations.

When McNeeley and Sauppe learned that the owners of W. Lewis & Sales of Solon, Ohio, were exploring the idea of selling the company, the pair introduced themselves to the owners. Those conversations began an 18-month courtship period that ended in Pinnacle's first acquisition in late 2018.
"That acquisition gave us the presence that we needed in the Cleveland area. It gave us a branch, a book of business, and credibility by grabbing an 85-year-old name that was rock solid in the marketplace," McNeeley says.
In May of 2021, Pinnacle acquired Industrial Metalworking Supply of Brecksville, Ohio, a distributor of abrasives, cutting tools, cutting fluids and electrical discharge machining (EDM) supplies. Following the acquisition, IMS was moved into Pinnacle's Solon facility.
The acquisitions strengthened Pinnacle's relationships with several existing suppliers and grew the customer base once again.
"They carried a lot of the same brands that we carried. For example, Radiac grinding wheels. When we bought W. Lewis, that added more Radiac. Then when we bought IMS, it added even more Radiac, so we got more buying power with the manufacturer and picked up a lot more customers," McNeeley says.
Pinnacle hopes to make additional acquisitions in the future. McNeeley and Sauppe realize that they're competing against much larger companies for potential acquisitions, but are convinced that some owners prefer to sell their companies to a buyer who looks beyond just the numbers.
"In both of our acquisitions, the previous owners felt a real loyalty to their customer base and wanted to make sure that the company buying them would treat their customers like family," Sauppe says. "It came down to, 'We really like what we feel from you guys. We believe you're going to be able to help our customers and continue to keep our name in the marketplace.'"
He adds that the previous owners also wanted assurances that their employees would find a home with the company who acquired them. "We found positions for all of them that wanted to stay on," Sauppe says. "It's been a great transition for both companies we've acquired and obviously for us as well."
Sauppe says future acquisition targets will likely carry a similar product line as Pinnacle and be located in close proximity to Toledo. "We will continue to look for acquisition opportunities that make sense geographically and with the right product mix. It's not just about getting larger; we need to continue to add value for our customers."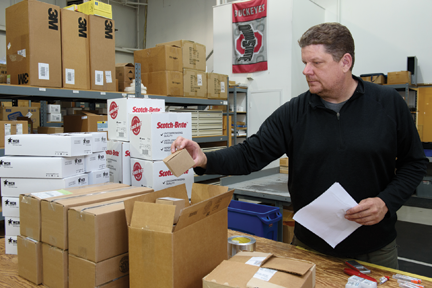 Jeremy VanWormer, Pinnacle warehouse shipping/receiving manager, prepares an order for shipment.
Managing growth
McNeeley and Sauppe split their time between the Toledo and Solon locations and remain the top two salespeople at Pinnacle. Taking care of customers while simultaneously managing a business is a never-ending balancing act. It's one reason why Pinnacle has no plans currently to expand its geographic reach beyond the Midwest.
"We have a large customer with plants all over the country and I would love to go on the road and visit those plants to tell them about the success we've had here," McNeeley says. "But that takes time and our number one priority is managing correctly the business we have today. We don't want to spread ourselves too thin."
The pair decided early on to have as diversified a customer base as possible. Customers include cabinet makers, automotive and aerospace suppliers, tool and die shops, metal fabricators and more.
"When Mike and I started the company we both agreed we're not going to do business with the big three automakers," McNeeley says. "Our goal was to deal with the Tier 1 and down levels. That's where we've been successful because we can get into a plant and make an impact."
Pinnacle attempts to make a difference for customers by applying technical knowledge in cutting tools and abrasives, vending technologies to help manage input, personalized service and, more recently, e-commerce capabilities.
The Berkshire eSupply e-commerce platform provides a digital ordering process that would be difficult for a small distributor to develop on their own. "Our focus on the e-commerce side is making sure our customers know that we have the products they need," Sauppe says. "So, it's given us not only the platform that we can modify and make our own, but it's also given us access to items that we may not otherwise carry."
COVID implications
When manufacturing slowed during the height of the COVID-19 pandemic, Pinnacle pivoted to supplying hand sanitizers, sprays, disinfectant wipes and other PPE supplies to schools, hospitals and other industries where Pinnacle didn't traditionally have a foothold. A recent marketing effort promoted availability of cleaning supplies to help protect against the spread of COVID-19.
"We've always sold PPE such as gloves and safety glasses. We represent 3M and a variety of other safety lines," Sauppe explains. During the pandemic, Pinnacle began selling hand sanitizers, foggers, sprayers, wipes, and other disinfecting and cleaning products.
"As it turns out, that was our savior. Where most companies in 2020 were down 30 percent in sales or more, we were actually up 2 percent," McNeeley says.
Ongoing challenges
Hiring qualified people, especially salespeople, is an ongoing challenge for Pinnacle.
"The teams that we've put together at both locations are very good at what they do and we appreciate their efforts every day," McNeeley says. "We need more of that if we're going to continue to grow and buy more companies. We'd hire two salespeople today in Cleveland if we could find them."
Sauppe adds that one way to attract new salespeople, and keep existing sellers motivated, is to continually add something new for them to talk about with customers.
"You've got to keep your sales team excited by bringing new ideas for them to go to market, whether that's through promotions, a new product line, or e-commerce. Energizing and keeping the excitement going keeps sales moving in the right direction," Sauppe says.
This article originally appeared in the Nov./Dec. 2021 issue of Industrial Supply magazine. Copyright 2021, Direct Business Media.
COMMENTS: 0
---