Problem solvers
The Rowland Company takes pride in seeking solutions to unique customer problems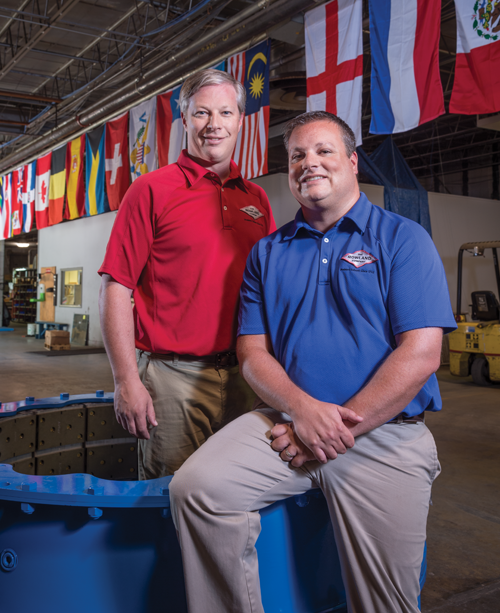 Rowland Company president Bart Yost and his brother Adam, vice president, pose alongside a 52-inch diameter clutch. The company focuses primarily on sales and service of 14-inch to 38-inch diameter clutches, but Rowland has handled units of up to 60 inches.
By Rich Vurva
If you ask Bart Yost or his brother Adam to describe their company, you might get different answers. The long answer is that the Rowland Company is a specialty industrial power transmission distributor with the added capabilities of fabrication and component assembly. The company provides products such as brakes, clutches, couplings, universal joints, gear boxes, variable speed drives, friction material, crane electrification and related items.
The short answer is that the Rowland Company solves problems for customers.
The business will cut, bond and shape virtually any type of friction material used in a variety of industrial applications. For example, the friction is used for Rowland-supplied brakes on unwind stands in the paper and printing industry; tension brakes that control the speed of massive steel coils as they're being slit or shaped in a steel processing plant; and clutches and brakes used in the stamping industry.
Rowland provides clutches used in applications ranging from shredders in the metal recycling industry, to tugboats hauling cargo far out to sea, where failure can have catastrophic results, to grinding mills used to process minerals.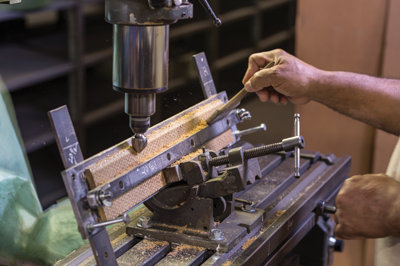 Friction segments that have been drilled and cut to size are then moved to the mill for a machinist's finishing touch. Used in the transit industry, the friction liners are inserted between the base of a transit car and the car itself.
A diverse mix of customers from sectors including mining, energy, marine, pulp and paper, steel, transit, metalworking and entertainment industries has helped minimize slumps in sales when specific industries, such as oil and gas, are in the doldrums.
From its base in Philadelphia, Rowland traditionally served the Mid-Atlantic region but has always had customers up and down the Atlantic coast, making Maine to Florida its new focus. A new division, the Rowland Company Crane Group, which focuses on the overhead crane business, expanded the company's reach globally. The new crane group provides replacement products, and performs repairs and overhauls of cranes for customers in North America, South America, and the Caribbean. Flags from 40 different countries hang in the warehouse, representing locations of customers across the globe.
In some cases, the crane group will outsource installation to an outside firm, but the company has opted not to provide field service for repairs.
"We did a strategic plan and one of the things we discussed was if we want to become a field service provider. As of now we decided that we don't want to do that. You'd have to hire too many employees and would have the added liability of having people go into their plants and break down their equipment. We're just brake and clutch guys. You send us your brake and clutch and we'll fix it," says vice president Adam Yost.
Another growing part of Rowland's brake business involves mobile or highway cranes.
"It's not a large part of our business, but it's a growing part. Last year sales in that product line were up around 20 percent. We see it growing more and more," explains company president Bart Yost.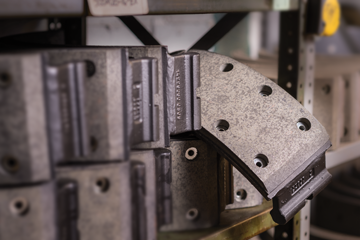 The mobile crane business serves as a good example of how a company under third-generation ownership needs to adjust its business model over the years to reflect new trends in the marketplace. Recognizing that improvements in technology such as better friction material means products last longer and don't need to be replaced as often, Rowland sought to develop expertise in a growing market.
Customers in the mobile crane business include large contractors and crane rental companies. Several are based in the Mid-Atlantic region, but there are many more outside of the geographic region.
"We experimented with having our customer service guys test their inside sales ability and make outbound calls specifically for the mobile crane business. It worked really well. We made contacts all over the country and internationally. With some of our other products it's harder to make outbound calls because it's more of an engineered product," says Adam.
Rowland has earned a reputation for being able to solve any problem related to the products it sells and repairs, in part because of its knowledgeable sales force and customer service team. As those people near retirement, however, replacing them has created a dilemma.
A history of service
Business owners often point with pride to how long their companies have been in business. With a history tracing back to 44 years before the American Revolution, the Rowland Company has a legitimate claim to bragging rights. The oldest continually operated company in Pennsylvania and one of the oldest in the United States, Rowland Company was founded in 1732 by Benjamin Rowland. It manufactured springs for wagon wheels, shovels, saws, axes and other items needed to carve a nation from the wilderness.
According to a book called "In the Cradle of Industry and Liberty: A History of Manufacturing in Philadelphia," published by the Manufacturing Alliance of Philadelphia, the business was known by a number of different names throughout its history. In the early 1950s, the Rowland family sold all locations except for its Philadelphia operation, where it became involved in the distribution of automotive and truck parts. In 1962, it was purchased by Gulf & Western Industries, which also purchased an automotive parts suppliers by the name of Gaul, Derr and Shearer, owned by David Yost. The companies were merged together under the name American Parts System.
In 1967, Yost decided to buy the old Rowland heavy-duty truck parts operation and moved The Rowland Company into a new era. Steven Yost, David's son, joined the family business in 1972, and David's daughter, Helen Yost, joined the company in 1992. By then, the company's focus was on engine parts and power transmission/drivelines for industrial markets. A third generation joined the company in 2001 when Steve's son, Bart Yost, became involved, followed by his brother Adam, in 2006.
Today, the company specializes in distribution, fabrication and assembly of industrial power transmission products.
The sales dilemma
Adam Yost says the company has been re-evaluating its approach for hiring salespeople. It's a dilemma faced by many distributors. Should they hire young people with an engineering background and teach them how to sell, or find promising salespeople who can learn the industry from the ground up?
"We like to hire someone with a technical background who can talk to people in a technical manner, understand their application and what they're trying to do and then come up with a solution," Adam says.
Until they determine the right approach, Rowland is still looking to fill sales positions along the East Coast, following the retirement of a long-time salesman. Bart Yost has helped fill the gap by calling on customers in the area when required, and inside salespeople are keeping in contact with customers by phone, but it's not an ideal long-term solution.
"We feel that face-to-face contact is important in this business," Bart explains. "With many of our products, they're not something that a customer purchases on a continuing basis, so it's important to see someone every now and then just to keep in touch."
The personal touch
Adam adds that the personal touch helps strengthen the business relationship. "You can support a customer internally, but to really grow that business and be of service to the customer, you need to have someone in front of them," he says.
Bart describes how a customer from the Caribbean ordered a motor and a gearbox to replace aging units used on a conveyor line in a salt processing operation. When the products arrived, they were installed on the lines but didn't work. The customer called Rowland to place a second order, this time providing a few more details about how the products were to be used. These products also failed to generate enough power for the application. Finally, Yost decided to send a salesperson to the Caribbean, accompanied by a rep from the manufacturer.
"They were able to identify the problem," Bart explains. "When trying to start the conveyor while it was loaded, they didn't have enough power. We proposed a package with a higher horsepower motor and a variable frequency drive to control the motor better."
The solution would have taken longer to identify if someone hadn't gone in person to witness the operation and ask questions. The personal touch also aids in establishing contacts and building relationships with more than one person in a facility. Multiple contacts help when suggesting that replacing a gear-style coupling with a more expensive disc-style coupling, or using more costly Kevlar based friction material on a brake instead of standard friction material, will save money in the long run by reducing maintenance costs.
Looking at the whole system is a longer sales process because you may start with a maintenance guy, who needs approval from his manager, who then bumps it up to someone in purchasing, and so on.
"It is a little bit of a longer sale, but once you do one sale, and now you know the names of the engineering manager, purchasing agent, and purchasing manager, the next sale is much quicker because you can just say, 'Hey guys, here it is,' and hit them all at once," explains Bart.
The approach has worked and is a major reason why the Rowland Company is known by customers as problem solvers.
This article originally appeared in the Sept./Oct. 2016 issue of Industrial Supply magazine. Copyright 2016, Direct Business Media.
COMMENTS: 1
Posted from: Hariram, 10/10/16 at 6:24 AM CDT
Best part of the article I liked is: "We like to hire someone with a technical background who can talk to people in a technical manner, understand their application and what they're trying to do and then come up with a solution," Adam says
---