Valuations remain stable
M&A activity continues at a steady pace
by Curt Tatham
Public market valuation multiples in the sector remain relatively steady as companies continue to report improved earnings and modestly more optimistic guidance regarding future quarters. The earnings improvement continues to be driven by a return of top-line sales growth generating magnified earnings growth based on the operating leverage created through cost efficiencies achieved during the economic downturn.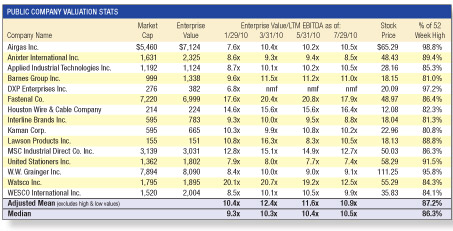 Meanwhile, M&A activity in the industrial supply sector continues at a steady pace with both strategic buyers and private equity groups announcing transactions in various end markets and product segments. Several of the noteworthy transactions announced in recent months include:
• Applied Industrial Technologies Inc. acquired UZ Engineered Products from State Industrial Products. UZ Engineered Products is a distributor of products for maintenance, repair, and operational needs. For the year 2009, UZ Engineered Products generated annual sales of approximately $23 million.
• Freeman Spogli & Co., through its fund, FS Equity Partners VI L.P., agreed to acquire Brooks Equipment Company Inc. from Behrman Capital and other investors. Brooks Equipment Company Inc. distributes and markets fire protection and prevention equipment and products. The company offers fire extinguishers, fire hoses and nozzles, gauges and valves, sprinkler systems, ladders and blankets, fire alarm control panels, and first aid kits and cabinets. Additionally, it provides rivets, tamper seals, safety discs and washers, siphon tubes, heat and smoke detectors, replacement bulbs and batteries, and aluminum and plastic signs.
• Atlas Copco Group acquired the assets of American Air Products Inc. The American Air Products business will be incorporated into the Central Region of Atlas Copco Compressors in the U.S. American Air Products Inc., doing business as Clayhill 2, supplies air compressors, air dryers, air filters, process vacuum equipment, and accessories in Minnesota, Wisconsin, Iowa, North Dakota and South Dakota. It also sells lubricants, coolants and parts and tools, as well as offers used equipment and provides repair services. The company was founded in 1965 and is based in Saint Paul, Minn., with additional locations in Fargo, N.D.; and Eau Claire, Wis.
• 3M acquired U.K.-based Dailys Ltd., a supplier of non-woven disposable protective clothing, primarily chemical protective coveralls for industrial use. Terms of the transaction were not disclosed.
• ABC Supply Co. Inc., Beloit, Wis., finalized its purchase of Bradco Supply Corp. The acquisition of Avenel, N.J.-based Bradco is the largest in ABC Supply's history and adds 129 locations in 30 states to the ABC Supply roster. With these additions, ABC Supply now has 479 locations in 44 states and the District of Columbia, and sales of more than $4 billion.
• Applied Industrial Technologies Ltd., the Canadian subsidiary of Applied Industrial Technologies Inc., acquired the business of SCS Supply Group Inc., formerly known as Toronto Bearing & Belting and CBS Equipment. The acquired business operates eight locations with 61 employees throughout southern Ontario and services industrial customers with bearings, power transmission, electrical, fluid power and industrial supplies.
• Industrial Distribution Group Inc. signed an agreement to acquire substantially all assets of Alamo Iron Works, Inc. Alamo Iron Works Inc. engages in the distribution and transportation of industrial supplies and steel products for commercial and industrial customers in the United States and Mexico.
• TPG Capital signed a definitive agreement to acquire American Tire Distributors Holdings Inc. from Berkshire Partners LLC, Greenbriar Equity Group LLC and Investcorp International Inc. for $1.3 billion (0.6x revenue, 13.6x EBITDA). American Tire Distributors Holdings Inc., through its subsidiary, American Tire Distributors Inc., primarily engages in the wholesale distribution of tires and custom wheels for the replacement tire market principally in the United States.
• Houston Wire & Cable Company signed an equity interest purchase agreement to acquire Southern Wire Corporation and Southwest Wire Rope LP from Teleflex Incorporated for $50 million in cash. Southern Wire Corporation and Southwest Wire Rope LP together have revenues of $80 million in 2009. Southern Wire Corporation supplies industrial wire ropes, aircraft cables and related hardware products and is based in Olive Branch, Miss. Southwest Wire Rope LP provides material handling, lifting, and mooring products and is based in Houston.
M&A activity within the sector should continue its pace in coming months contingent upon continued improvement in public market valuations of strategic acquirers, strong balance sheets of strategic acquirers, the need for public companies to augment internally generated growth rates, large pools of undeployed capital at private equity firms and continued improvement in liquidity in the debt markets.

Curt Tatham is a managing director at Lincoln International, where he leads the firm's Distribution Group. Reach him at (312) 580-8329 or ctatham@lincolninternational.com.
This article originally appeared in the Sept.Oct. 2010 issue of Industrial Supply magazine. Copyright 2010, Direct Business Media.
COMMENTS: 0
---