CRM: Not Your Father's Sales Enablement Tool
Here's a Top 10 list of ways to get more out of your CRM
By Mark Dancer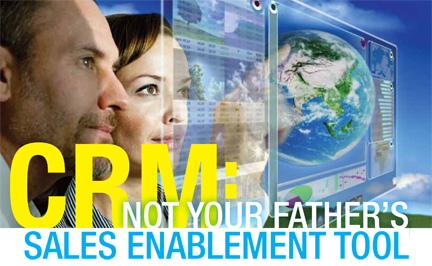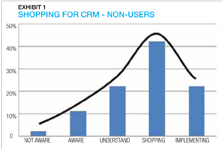 Today's modern CRM systems are getting a hard look by distributor executives. In research conducted for my new book, Getting the Most Out of CRM: Best Practices for Wholesaler Distributors, I found that 61 percent of distributors are using some form of CRM, from basic contact management through sophisticated opportunity management and social communication tools. Of the distributors not currently using CRM, more than three in five distributors are actively shopping or implementing a new CRM tool. (Exhibit One)
Why are so many distributors putting energy and investment into CRM? From distributor executives, we heard that today's CRM tools are easy to use, flexible and innovative. CRM puts information in a salesperson's hands, in the field, when needed for planning a customer visit or onsite answering customer questions. CRM helps leaders keep track of sales results in real time and eliminates the need to manually look up data when faced with a problem or risky decision. Sales managers find that CRM is a powerful tool for improving sales coaching, helping to focus salespeople on executing the right activities, with the right customer at the right time.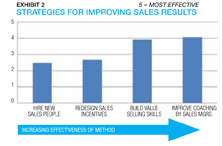 But more than anything else, CRM is gaining traction because it can help drive strategies for growing sales and profits. Our research found that 75% of distributor executives indicated that improving sales productivity is a top concern. When asked how they are going about improving performance, four strategies were mentioned: hire new salespeople, redesign sales incentives, build value-selling skills and improve coaching by sales managers. These strategies can work on their own, and many distributors are finding that CRM can further accelerate results. (Exhibit Two)
Top 10 Distributor Benefits
Our conversations with executives identified the top 10 benefits for distributors considering CRM for the first time and for distributors that are looking to expand or improve the results gained through CRM:
Manage customer contact information. Perhaps the most basic of benefits, CRM helps salespeople create and maintain a customer database, from basic information about names and positions, to personal information about business goals, professional affiliations and family members.
Manage sales pipeline or territory results. CRM has the potential to transform a salesperson from order taker to opportunity manager by improving a wholesaler-distributor's process for developing opportunities and tracking progress across a step-by-step approach.
Provide access to customer data for salespeople. CRM helps salespeople succeed by placing information including purchases, deliveries, rebates and credit status at their fingertips for better call planning, problem resolution and follow-up.
Provide data for coaching by sales managers. CRM dramatically improves coaching by focusing conversations on actual customers and opportunities. As coaching guides sales behaviors, salespeople realize more and more success, strengthening the coaching process.
Improve handling of leads and prospects. CRM upgrades lead handling by integrating multiple sources of leads (e.g., tradeshows, advertising, inbound inquiries, etc.) with the appropriate salesperson's daily dashboard.
Automate reports for salespeople and management. Without CRM, many salespeople and sales managers create their own spreadsheet tools to manage their sales process, which requires manual effort and results in poor planning and sales execution.
Provide data for management decisions. CRM improves the quality and speed of decision-making. Experienced users of CRM live by two rules: 1) no decisions can be made without real and current data and 2) only data that comes from the CRM can be used for decision making.
Execute marketing programs through salespeople. New levels of internal collaboration are becoming a priority for building a high-performing sales organization. CRM connects marketing and salespeople in automated, traceable communications.
Optimize product mix sold to customers. CRM yields results by improving account and territory plans, tracking goals set for salespeople and providing visibility to sales managers, sales leaders and executives.
Improve accuracy of sales forecasts. CRM improves sales forecasting by providing an accurate and detailed understanding of sales results by salesperson and territories, by products and brands, by peak and off-season efforts, and any other way that a distributor might track business results.
When CRM Fails
To be sure, our research also found distributor executives that were not at all satisfied with results gained through CRM. In most cases, failure was linked to an uncomfortable truth – CRM is an automation tool and it will not deliver promised results if the distributor does not already have an effective and consistent process for driving sales results!
As one distributor CEO put it, "CRM can be a very effective tool to help salespeople become more effective and sales managers manage with greater effect. But CRM is a tool, not a solution in itself. CRM will not make a poor salesperson effective and it will not make a poor sales manager a good sales manager."
Bottom line, CRM can accelerate sales and grow profits, but not unless distributors are willing to put in the hard work of building a sales process, improving coaching capabilities and following through with discipline and commitment. For those distributors that make the effort, CRM is an essential tool and standard practice.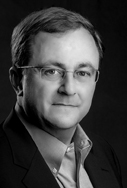 Mark Dancer is president of Channelvation Inc. He is a leading authority on channel strategy, innovation and execution, and an advisor to market leaders, digital channel startups and industry disruptors. His experience includes more than 25 years in distribution-intensive industries, including technology, industrial, construction, automotive, capital equipment, education and life sciences. Mark welcomes new ideas and feedback, and can be reached at mark.dancer@channelvation.com. His new book, Getting the Most Out of CRM: Best Practices for Wholesaler-Distributors is available from NAW at http://www.naw.org/crmfordist.
This article originally appeared in the Sept./Oct. 2013 issue of Industrial Supply magazine. Copyright 2013, Direct Business Media.
COMMENTS: 1
CRM Software
Posted from: George Winchester, 3/12/14 at 1:13 PM CDT
Informative speech!
May I recommend Snapforce CRM software, you can't go wrong with them.
They are error-free, FREE trial with a live demonstration, and also they are VERY hands on.
For more information please visit their site http://www.snapforce.com
---