Building a digital moat: Part 2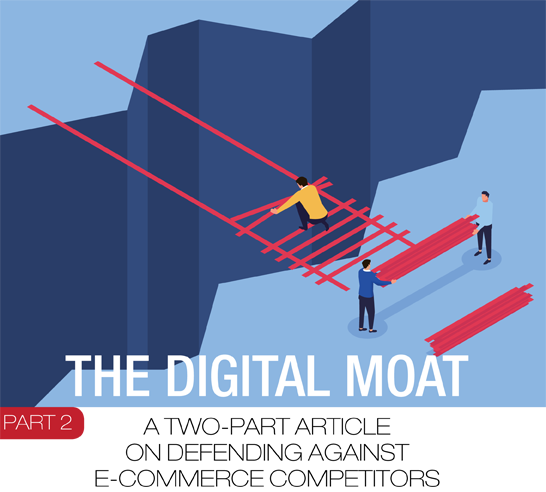 by Scott Benfield
Last issue, we discussed the need for distributors to broaden their marketing and sales efforts to include more new products and combinations of new products to offer a demonstrable advantage to the customer. The need for differentiation in full-service distribution is prescient as e-commerce based competitors are moving into distributor markets with low-cost business models that use technology to reduce operating costs and then pass the cost reductions to customers.
Today, distributors are well-versed in value-added selling to their customers including product-based recommendations that reduce direct costs, improve product life, and reduce indirect costs. However, there is real need for distributors to concentrate on new products and, especially, changing their scope of view from individual operations to the entirety of the customer's product development process and combining several new products, even with differing vendors, to improve customer performance. The concentration of several new products — across the customer product development process — holds promise.
Too often, distributor salespeople are too granular in their value-added selling and miss broader applications for new products. The opportunity is also rich since many distributors don't concentrate on new products where future value is created. New products, introduced early, not only differentiate the distributor, they separate the value-added discussion from commodities to areas of expertise mastered by the sales organization. Early introductions of new products have the potential to capture share and pay higher profits across their life cycle. New product depth in distributors helps greatly differentiate their value from the commodity specialists entering the e-commerce space.
New Product Introduction; Follow the Customer Product-Development Process
Distributor sellers can show numerous examples of taking existing products and improving a customer's financial results. There are fewer examples where they take new products and accomplish the same thing, and a very few examples where distributors concentrate on several new products across the entirety of the product development cycle. To accomplish successful selling of new products to a product's development cycle, the distributor should expect to:
Pick a customer's product (generally, the larger the sales volume the better) and work with their operations and product management to diagram the product development process. Special notation should be made to parts of the process that are slow, where rework has to be done, where material flow is a problem, where pre-launch defects are high or where post-sales problems are developed.
Review the customer's end product for products you can recommend that make the customer offering better in performance, life-cycle cost, ease of installation, etc.
Research new technologies with top vendors. If in doubt, contact the vendor directly and get their consultation on the application. Work to use several new technologies for expanded solution(s).
Propose trial runs of new products across the customers' production cycle. Be careful to document before and after performance metrics and their financial impact.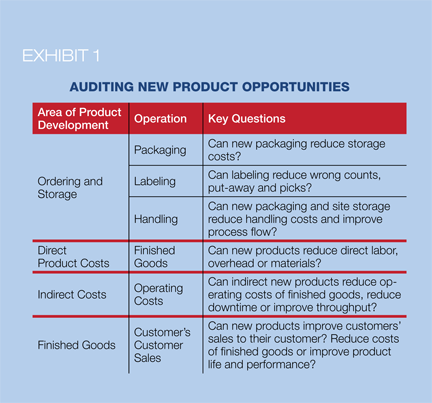 Exhibit I outlines a New Product Opportunity Audit, including the Area of Product Development cycle, Operation, and Key Questions to ask. Distributors commonly conduct audits for existing products but typically don't offer several new products recommendations across the production process. The exhibit lists four major areas of the product development process including: Raw Material Ordering and Storage, Direct Product Costs, Indirect Costs specific to the product, and Finished Goods. Each area influences product development. Carefully reviewing each part of the process for
opportunity is key to new product sales. The exhibit specifies operations within each major area and asks specific questions that may lead into possible new product applications. The exhibit is not meant to be exhaustive, it's an introduction into the concept of new product selling across the product development process. To aid distributors in developing successful new product introductions we encourage new measures, training, and improvement of new product sales percentage.
Driving New Product Sales through the Sales Force
New product sales requires planned changes to the sales effort to come to fruition. We recommend the following steps to improve the revenues from new products:
1) Pick the best new products from the most cooperative vendors. Carefully review new product technologies and look for those with a good start in initial sales. As for vendors, work with those known to successfully launch new products and those that support new products with vendor funds, special inventory programs, and sales and marketing support.
2) Review seller capabilities and educate on new products. You can't sell a new product if you can't demonstrate its value. After new products have been selected, educate sellers on their advantage(s) versus existing technologies and competitive offerings. Require that sellers know payback estimates and cost savings from using the new products.
3) Change compensation for sellers to recognize new product sales. Sellers spend their time where discretionary income opportunities are evident. If you reward sellers on margin dollar and/or sales increases versus prior year-to-date, it is worth
it to make a specific incentive for new product sales. Generally
speaking, an increased payout for new products is a good way to get sellers' attention and time.
4) Review new products during sales meetings and highlight successes. Sales meetings usually involve standard formats with management doing most of the talking. Prepare presentations on new product sales and concentrate on successes. Share success stories and make sure territory managers try new approaches that have worked in other territories.
New product sales, across the customer's product development cycle and involving several new products is, largely, a new approach for distributors. However, the potential to bring large scale, cutting-edge change to a customer has many advantages including being tough for competitors to copy and providing unique value streams to the customer for many years to come. New products can help build a Digital Moat against online competitors that don't have the product expertise or sellers for new product introduction. Driving new product sales as a higher portion of total sales is one of the best ways for traditional distributors to hold internet competitors at bay. The more planning, education, and execution that goes into new technologies,
the better.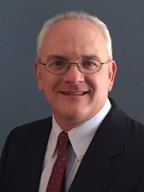 Scott Benfield is a consultant for distributor and manufacturers in B2B markets. He is a member of Digital Channel Advisors, a full-service firm that takes mature businesses through all parts of digitization. He can be reached at Scott@BenfieldConsulting.com or (630) 428-9311.
This article originally appeared in the Sept./Oct. 2019 issue of Industrial Supply magazine. Copyright 2019, Direct Business Media.
COMMENTS: 0
---