Top 20 Industrial Distributors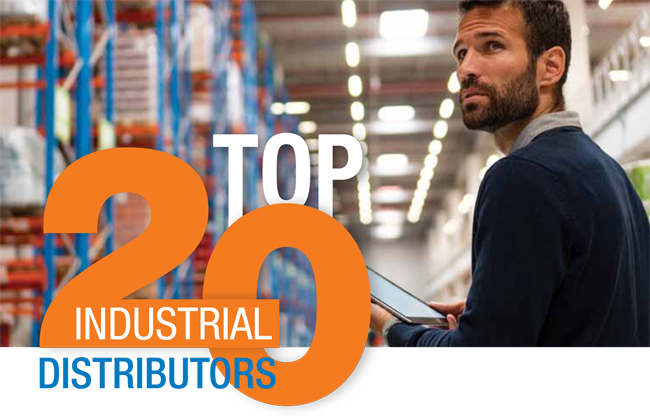 2018 a banner year with partly cloudy horizon
by Tom Gale
For North American industrial distributors, 2018 is shaping up as a vintage year of strong sales growth, with 2019 moderating for downsized expectations. That was reflected in double-digit year-to-year revenue growth in 2018 for most of the largest industrial distributors, where for the first time in many years, most industrial market sectors were hitting on all or at least most cylinders – automotive, aerospace, energy and more.
MDM's annual Top 40 list, which ranks revenues of the largest industrial distributors in North America, is now available at mdm.com. You'll also find an expanded listing of the top 150+ industrial and construction distributors in the U.S. by specific sector. MDM's ranking of the top 20 distributors on that list are shown here, based on 2018 annual revenues.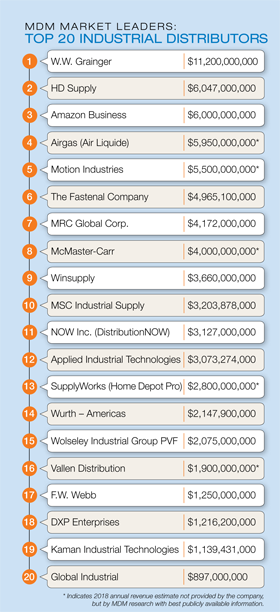 Digital Changes Everything…Almost
Overall, digital transformation continues to shape the competitive landscape as customer buying patterns shift and distributors adjust their business models to adapt. Amazon Business clearly has the lead, but the industry is in the early stages of how new types of digital marketplaces and alliances will define winners and losers. New channel models are evolving rapidly, and marketplace platforms will increasingly define how distributors gain access to customers.
At the same time, traditional outside sales models are increasingly strained by these disruptive shifts impacting every distribution channel, where digital disruptors keep raising the bar on pricing visibility, delivery performance and integrated supply chain and workflow management.
For the second year in a row, Amazon Business is the headliner when talking about revenue growth for industrial products sales. Debuting on the MDM list at No. 6 last year, the industry disruptor continues to move quickly up the list of largest distributors to No. 3 this year, by MDM estimates. Amazon Business does not report financial results, but said it would surpass $10 billion in its revenue run rate near the end of 2018. By MDM's calculation, that puts its 2018 total revenues at roughly $9.5 billion, with its share of U.S. industrial/construction/MRO products at roughly $6 billion.
It's not a big stretch to project for Amazon Business to be the largest broadline MRO industrial products distributor in the next year or two, if it is able to maintain its current pace. It's getting closer in 2019. For many, it's hard to imagine W.W. Grainger not owning that spot – but that's just the point. The Amazon Business platform, as both a direct seller and a marketplace, has a capability to scale across the incredibly fragmented markets that traditional or even hybrid brick-and-mortar business models simply can't. Even though W.W. Grainger has been a digital pioneer since the 1990s, we're still seeing disruptors rapidly gaining share in traditional markets, similar to what has happened in office products, and previously in consumer channels such as books, travel and music.
That doesn't mean Amazon Business is going to wipe out the top 20 – far from it! While there may be some significant share shift by digital disruptors, I expect our Top 20 list will remain fairly stable for years to come. The very nature of these deeply fragmented markets that digital sellers are exploiting also bodes well for the distributors on this list and for smaller, agile specialty distributors, I believe. These customer markets are distinct niches served by strong value propositions developed over decades in most cases – that's why they've successfully made it to the top of the heap in revenues! There's a lot of value that digital can't displace.
It's important to note that ranking industrial product distributors is not an apples-to-apples exercise. While there are direct competitors, the fragmented nature of industrial and construction product markets in the U.S. means that most of the companies on this list compete at a tangent: to varying degrees, each distributor has an overlapping assortment with a list of similar, but not identical, competitors. The exception continues to be Amazon Business, which as a platform company, cuts a wide swath across all industrial products sectors with its marketplace of participating distributors and suppliers.
M&A Was Strong in 2018
Chicago-based W.W. Grainger still tops the list with $11.2 billion in 2018 revenues, more than doubling its prior-year growth rate with a 7.4-percent increase over 2017, compared to a 3-percent growth rate 2016-2017. Mergers and acquisitions continued at a strong pace from the prior year, with several top-20 industrial distributors executing large deals in 2018:
Applied Industrial Technologies, Cleveland, acquired FCX Performance, which ranked 25th on MDM's 2018 list with $557 million in revenues, significantly expanding its flow control product offerings and services to complement its fluid power segment.
HD Supply, Atlanta, acquired A.H. Harris Construction Supplies, a specialty construction supplies distributor, strengthening its markets in the Northeast and mid-Atlantic regions. A.H. Harris had 2017 revenues of $380 million.
MSC Industrial Supply Co., Melville, New York, acquired All Integrated Solutions (AIS), with $66 million in 2017 revenues, strengthening its position in the Upper Midwest region.
More recently, Kaman Corporation, Bloomfield, Connecticut, announced in June 2019 that it will sell its Kaman Industrial Technologies unit to private-equity firm Littlejohn for $700 million.
While there have been fewer large-scale deals this year by industrial distributors, conditions are favorable to see continued add-on acquisitions as well as the potential for larger deal announcements moving into the fall. With a forecast slowing economy and more digital disruption certain to keep pressuring margins and traditional distribution models, I expect we'll see some bold moves to strengthen both digital capability as well as drive growth in challenging markets.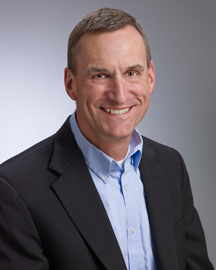 Thomas P. Gale is CEO of Modern Distribution Management, a provider of market intelligence and competitive industry insight for distributors since 1967. Reach him at tom@mdm.com.
This article originally appeared in the Sept./Oct. 2019 issue of Industrial Supply magazine. Copyright 2019, Direct Business Media.