On the Move
Bearing & Drive Solutions strives to be the distributor of choice in the Northeast U.S.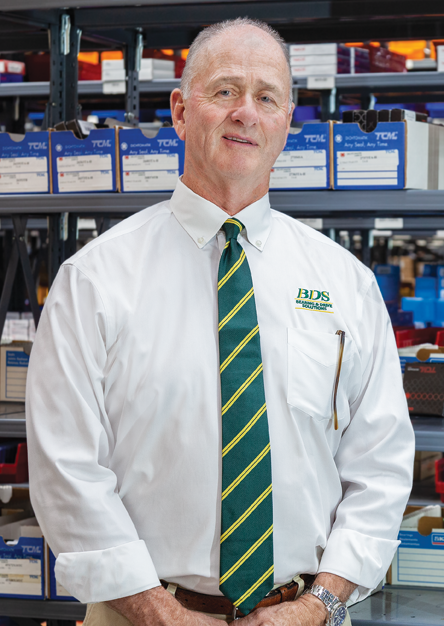 by Rich Vurva
Mark Stevens is a man on the move. Always looking for that next opportunity, the owner of Bearing & Drive Solutions has been the driving force at BDS for more than 40 years.
Stevens was just 24 years old when he launched Bearings & Drives Unlimited in 1978 in a small strip mall in Souderton, Pennsylvania, along with business partner Dennis Gruver. The two had met when they both worked for a small independent bearing distributor in Southeastern Pennsylvania. Gruver retired in 2000.
"We started one location with no lines and a line of credit. Our first year we wrote $400,000 in business; the next year it was $800,000 and the year after that we sold $1.2 million, and it just grew from there," Stevens says. Between the pair, Stevens was primarily the hunter who chased new sales, while Gruver kept closer tabs on operations. "I was not comfortable sitting at a desk. I don't even have an office right now. My car is my office," he says.
Stevens gave up his office space a few years ago when the company expanded its IT department and had no place to put the new employees. He plans to set up an office in Philadelphia by the end of the year so employees will know "That's where you go to see Mark," he says.
Over the years, through organic growth, opening new branch locations and a handful of acquisitions, the company expanded beyond bearings, chain sprockets, belts, pulleys, couplings and motors. "What we're doing today all ties into rotating shaft technology, but we've morphed into more of a solutions-based company," Stevens says. "So our name became Bearing & Drive Solutions because we bring to the table more than just radial ball bearings."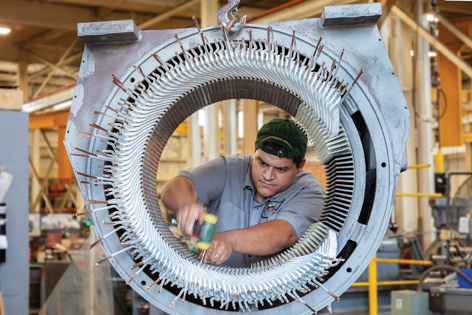 Jose Barreto works on a motor in one of BDS's three electric motor repair shops.
Today, with annual sales of more than $100 million, the company is one of the largest independent distributors of bearings and power transmission equipment in the Northeast. Divisions include D-Electric, Reading Electric, Stroudsberg Electric, which repair electrical and mechanical rotating equipment; G3 Automation, the electrical division that specializes in industrial control products; Sealing Specialties, which specializes in standard and advanced seal components; LMR Conveyor Belt, a conveyor belt fabricator; and Talon Bearing, an investment recovery company.
Stevens remains majority partner of BDS, along with several minority partners who manage various aspects of the business.
"I could not have built this company without my partners," Stevens says. "They bring a variety of skills and talents to bear and are truly the heartbeat of this company."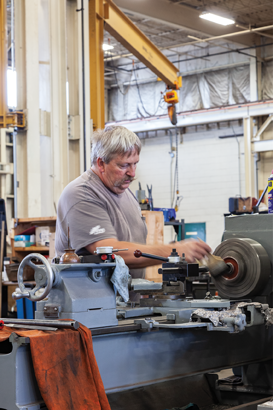 James Kunsch is a lathe operator for Bearing & Drive Solutions.
BDS has expanded from its original focus on selling bearings to encompass a broad range of power transmission products, material handling, fluid power, electro-mechanical repair, sealing technology, automation and an investment recovery group, which acquires excess inventory from plants that have been shuttered and re-sells it.
Growth through acquisition
Some acquisitions enabled BDS to expand into new product categories. For example, all three of the company's electric motor repair shops were acquired. "We made the decision to acquire our first motor shop not so much to repair motors, pumps and gearboxes, but more out of a recognition that if you want to be recognized in the electric motor world and sell bigger motors, you should probably own an electric motor repair shop," Steven says. He reasons that customers who invest in high-horsepower motors want assurance that there's someone to support their investment when maintenance or repairs are required.
In July, the acquisitions of Philadelphia Ball & Roller Bearing and Universal Motor Distributors, both in the Philadelphia area, brought businesses with five new
locations into the fold. Some of the acquired facilities will be merged into existing BDS locations, bringing the total footprint by year's end to 19 locations. The two companies will be re-branded Universal Bearing & Drive Solutions and Philadelphia Bearing & Drive Solutions.
Stevens first approached "Philly Ball" owner Mike Wolf Sr. about 8 years ago to gauge his interest in selling his company. Wolf was semi-retired and had left the day-to-day operations of the business to his sons and left the decision up to them. Not long after Wolf Sr. passed away in 2018, Stevens and Mike Wolf Jr. resumed discussions about BDS acquiring Philly Ball. In a letter that Stevens sent to employees announcing the acquisition of Philadelphia Ball & Roller Bearing, he told the story about the long courtship process between the two companies. "It started to take legs 8 years ago and got real 1 ½ years ago. My point being, stay the course. Nothing worthwhile falls from the sky. If it is worth having, it is worth working for," he wrote.
Universal Motor Distributors was heavily involved with HVAC and industrial markets, including high-rises, office buildings, universities and hospitals, which will extend BDS's reach into new customer segments.
Stevens was prepared to close on both acquisitions in March but decided to put them on hold when the coronavirus pandemic hit. The delay was partly out of concern for how the pandemic would impact business and partly out of a reluctance to do anything less than a traditional launch, complete with introducing new corporate attire and branding for the acquired businesses and holding in-person meetings with employees at the new locations.
"There's a lot that goes into our launches and we felt that in light of what was going on with this virus, it was advisable to put it off a few months," he says.
Despite the pandemic, sales are up about 8 percent this year, only slightly off the double-digit sales gains targeted at the start of the year. Customer segments served include light and heavy manufacturing, food processors, pharmaceutical, energy and more.
"We typically script double-digit growth every year. We're very blessed because we have a diverse customer base. When one business slows down, another tends to pick up. So, we're doing just fine and it's actually pretty amazing in light of what's going on in the world," he says. Stevens credits the hard work of his 20-plus territory salespeople and specialists who have dealt with all of the changes they've had to go through this year.
Eye on training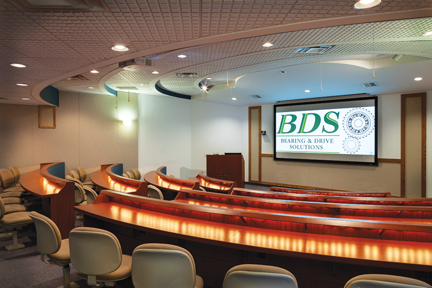 Four training centers with seating for up to 135 people are all linked via video conferencing, which enables BDS to hold training sessions for employees and customers.
"We run our training centers four times a year on different subjects. So it's as if we're making 130 to 135 sales calls in eight hours and educating people as to the proper utilization of bearings, power transmission, automation, fluid power, material handling or whatever the topic might be," he says.
The Warehouse Inventory Now (W.I.N.) program guarantees delivery of BDS stock items from any of 14 warehouse locations by the next working day — and often — on the same day an order is received. A fleet of 25 delivery vans moves inventory to local customers, while a larger straight truck drives the 400-mile loop that connects each location.
The objective of the W.I.N. program and the strategic placement of locations throughout Pennsylvania, New Jersey and Delaware is to maintain no more than a 30-mile radius from each customer to ensure fast service.
While Stevens anticipates making additional acquisitions in the future, other growth plans include construction projects that will add 12,000 square feet of space onto the warehouse in Quakertown, an additional 20,000 square feet for the Allentown branch; and more space at Hazleton. In addition, a newly purchased 23,000-square-foot facility in South Philadelphia will include an executive conference room to bring the partner group together for planning sessions and to host customers. If you time it right, you might even be able to catch Mark Stevens in that new office building. Unless, of course, he's in his car driving in search of the next new business opportunity.
This article originally appeared in the Sept./Oct. 2020 issue of Industrial Supply magazine. Copyright 2020, Direct Business Media.
COMMENTS: 0
---