3M Post-it Dry Erase Surface
Post-it Brand from 3M introduces Post-it Dry Erase Surface, an instant, flexible whiteboard solution.
---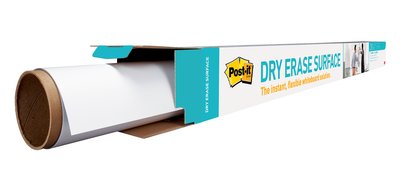 It can be applied to smooth surfaces to transform them into collaborative canvases. In three simple, tool-free steps – unroll, peel and stick – Post-it Dry Erase Surface will adhere to conference tables, walls, and even to existing whiteboards in need of a refreshed surface. Post-it Dry Erase Surface is designed to help office workers collaborate and communicate in more places.
With as many as two-thirds of American offices now using an open-space office arrangement, creating intuitive and innovative products that allow for greater collaboration has taken on new importance. Post-it Dry Erase Surface offers a stain-proof, high-performance writing experience that is smooth to write on and erases cleanly every time. This enables groups to explore ideas and solve problems without missing a beat.
"The move toward open and shared workspaces is rooted in the power of collaboration and its ability to increase productivity, profitability and innovation. The introduction of Post-it Dry Erase Surface means that employees can easily transform formal and informal areas into spaces with writable canvases where visual thinking and information sharing can happen," said Denny Powell, marketing manager for Post-it Brand. "This innovation helps cultivate an environment with teamwork at its core, ultimately helping people better communicate and achieve together."