JetBlack personnel de-duster
JetBlack, the blower powered personnel de-dusting unit from ACI, has been re-modeled and upgraded.
---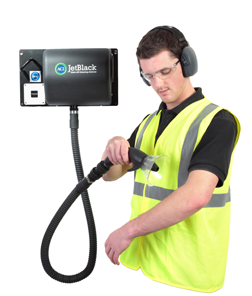 The new unit is more compact yet has a greater air output without any increase in energy consumption.
The new JetBlack is the product of a re-configuration of the previous model's internals which results in enhanced air flow to give 10% greater output (2.75 PSIG) plus a reduction in overall size that makes it less obtrusive and easier to install within the workplace.
Like the original JetBlack, the new model is safe and economical to run. Because it delivers a high volume of air at low pressure it can be used even against exposed skin – something that can be fatal with compressed air. It is economical to operate too, operating costs being 90% lower than typical compressed air systems.
The standard hose length with the wall mounted unit is 142cm (56in), and noise levels are still lower than 78db(A). A spare filter is included with each new JetBlack supplied, and the access to the filter is now much easier on the new model as you can see in the illustration above. In fact, all replacement parts are interchangeable with both the versions.
As an option, and to be to be compliant with the USA's OSHA (Occupational Safety and Health Administration) requirements, the JetBlack outlet nozzle can be fitted with a chip-guard.