Posted May 3, 2017
AMCI Single Axis Stepper Motor Controller
Advanced Micro Controls Inc. (AMCI) released its3501-HSTP1 Single Axis Stepper Motor Controller for Allen Bradley's SLC500 system.
---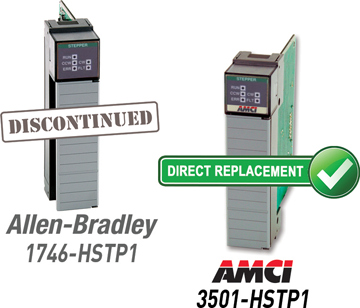 The module is a direct replacement for the Allen-Bradley 1746-HSTP1 motion module for SLC500, which has been discontinued. AMCI specializes in PLC-based Motion Control and is licensed to sell the direct replacement module. AMCI's 3501-HSTP1 replacement module is referenced within the Rockwell Automation PartnerNetwork Encompass program, as its approved technology fills the gap within the Allen-Bradley product offering.
AMCI has been Rockwell Automation's partner for PLC-based motion control products since 1992, and has been manufacturing the original 1746-HSTP1 for Rockwell Automation since 1994 as a private-party manufacturer.
"Having AMCI sell the direct replacement is just a natural transition to a trusted partner," said Matt Tellier, AMCI motion control product manager
The single-axis 3501-HSTP1 stepper motor controller is designed to control the position and velocity of a stepper motor, and features discrete inputs for functions such as homing and emergency stop. The module can also control a servo system that has been configured to use step and direction inputs.