All Material Handling self-locking hook
All Material Handling introduced a new "L" option for 1 ton to 5 ton MA series hand chain hoist and ¾ ton to 6.3 ton LA series lever hoist.
---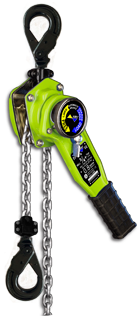 Self Locking Hooks are also available as individual parts for updating existing hoists. Self locking hooks are designed to be closed by the load being lifted. They are easily assembled into the standard bolted hook blocks, allowing complete hook inspection per ASME B30 safety code.
AMH distributors may specify top and bottom Self Locking Hooks by adding the "L" code at the end of the model number as explained in the new price list made available to them.
Hoists, equipped with the "L" option or with previously announced USA load chain "U" option, are assembled and tested at one of AMH's U.S. service centers. A new inspection and test certification, by individual serial number, will be packaged with each unit identifying the service center's address and the technician responsible.
If equipped with "U" option the hoist bodies will also display "USA LOAD CHAIN" and "USA ASSEMBLED & TESTED" stickers.