Posted May 18, 2018
Airmaster Safety Yellow Air Circulators
Airmaster, a manufacturer of air circulation and ventilation fan solutions, offers its Safety Yellow Air Circulators.
---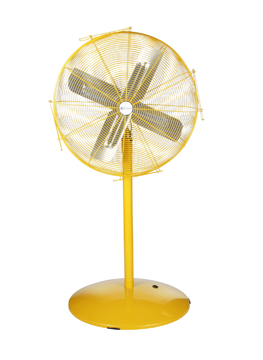 The Safety Yellow Air Circulators' distinct color is designed for better visibility and to promote better safety and awareness in the workplace. The non-oscillating air circulators meet OSHA safety standards and have a hinged guard for easy cleaning. Available in five mounting options, the Safety Yellow Air Circulators can be assembled using a pedestal base, wall mount, vertical mount, channel mount or I-beam mount.
Other features for the air circulators include a patented modular motor end dome for easy maintenance and a 115-volt, 1/3-horsepower, 1 phase, 2 speed, totally enclosed ball bearing motor. The Safety Yellow Air Circulators also come with a five-year warranty.
"When working in automotive, food processing or other factory environments, Airmaster understands the importance of safety," said Greg Helbling, vice president of sales and marketing at Airmaster. "The Safety Yellow Air Circulators are designed to be highly visible, so everyone on the shop floor can easily be aware of their presence."