Posted July 12, 2022
Allied Machine releases M geometry for T-A Pro drill
Allied Machine and Engineering announced the launch of the T-A Pro M geometry insert.
---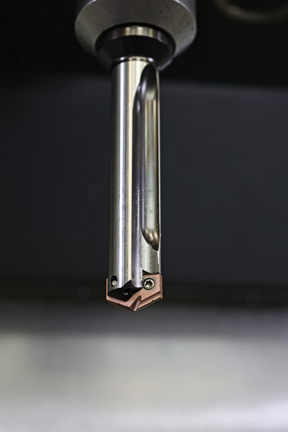 As the newest expansion of the T-A Pro high-penetration drilling system, this insert targets stainless steel and heat resistant super alloy (HRSA) materials. With the release of the ISO-material class M geometry and proprietary margin design paired with the development of the new AM460 coating, Allied Machine is able to provide a tool that offers low cutting forces, excellent penetration rates and long tool life in challenging stainless and heat resistant super alloys. The new insert geometry produces the best results with the newly designed T-A Pro holders but is also compatible with T-A holders and is offered in Z-3 series with diameters ranging from 0.437 inches – 1.882 inches (11.10 millimeters – 47.80 millimeters).
In industries such as aerospace, automotive, energy and food service that often machine stainless steel and HRSA materials, the cost-effectiveness and reliable performance of the M geometry insert are a necessity due to the high costs of these raw materials, which are among the highest in manufacturing. Because the use of these materials continues to grow in many industries, improved drilling solutions like the M geometry target difficult-to-machine materials—a key factor in remaining competitive in any market.
Additionally, the design elements of the T-A Pro M geometry allow larger diameters—1 inch and above—to be used on smaller or under-powered machines where additional setups on other machine tools would be needed or where parts would need to be contracted out. Machining components in-house cost-effectively while meeting specifications every time ultimately increases throughput and profitability.
"In a material class where applications are known to bring unpredictable results, the new M geometry T-A Pro insert has been engineered to provide a winning combination of tool life, penetration rate, and process reliability so that you can feel confident when applying the tool to your specific needs. The addition of the M geometry solidifies the T-A Pro line as a comprehensive, industry leading solution when it comes to holemaking," said John Weniger, product manager.