Posted December 4, 2017
Allied Machine AccuThread T3
Allied Machine & Engineering has added the AccuThread T3 to its existing thread mill line.
---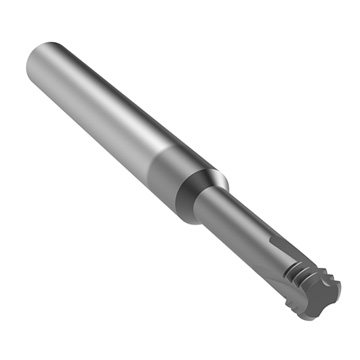 The new AccuThread T3 is built for machining hardened or hard-to-machine materials such as stainless steel, tool steel, and high-temp alloys. It is designed to machine only three threads at a time, reducing tool pressure and dramatically increasing the chances of tool survival. The T3 will provide a longer tool life, less tool breakage and higher quality threads for machinists.
Offered in both inch-shank and metric-shank options, the AccuThread T3 is made for deeper-than-standard threads, available in 2xD and 3xD. Additional diameters are available on request. Allied offers this thread mill for UN thread forms with pitches from #1-64 to 9/16"-12 as well as ISO thread forms with pitches from M2x.4 to M12x1.75. In addition, Allied Machine & Engineering provides their premium AM210® coating to these thread mills to protect from excess wear and improve tool life.