Allied Motion SXD Compact Servo Drive
The SXD 15 is the first in a new series of economical advanced digital servo drives from Allied Motion.
---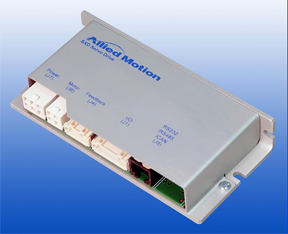 This compact, modular unit can drive a DC brush, DC brushless or AC brushless motor requiring up to 1 kW of power.
The SXD 15 can be either panel or DIN rail mounted. Its small size makes the SXD easier to integrate into equipment and minimizes panel or enclosure size.
Standard ratings are 12 to 80 VDC bus, 15 A continuous and 30 A peak current.
Additional features include:
Torque, velocity and position control modes
Four digital inputs, one digital output, all isolated and two analog inputs plus one analog output
Communication via RS232, RS485 or CAN
A Keep-Alive feature to enable maintaining logic power with the main power off
Full protection against short circuits, voltage excursions and temperature extremes
Allied Motion's IN Control, a Windows-based software application, enables easy, intuitive set-up and configuration of the SXD 15 drive.