Allied Moulded compression molded enclosure
Allied Moulded Products introduced its compression molded Control XL Series 40″ x 32″ fiberglass enclosure.
---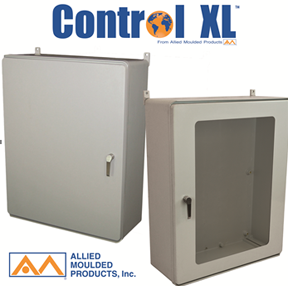 The compression enclosure (part numbers AMXL403212L3PT and AMXL403212L3PTW) offers durability and strength without the excessive weight of a comparable metal enclosure. It is molded with Allied's proprietary ULTRAGUARD formulation, thus maintaining its aesthetic and structural integrity when exposed to extreme environments. Standard features include molded-in back panel brass inserts, as well as compression molded foot brackets for wall mounting installation. The formed-in-place polyurethane gasket system provides a watertight seal to maintain its NEMA 4X rating, and it features a 316 stainless steel 3-point latching handle system.
"The new Control XL Series enclosure is a great addition to our already-full line of fiberglass reinforced polyester enclosures. The 40″ x 32″ size, a consistently requested size, is spacious and ensures full-panel access for [Allied Moulded's] customers. It has the same features and strength of our existing fiberglass enclosures, and is available at an economical cost," explains Bill DeRoche, national sales manager for Industrial Products at Allied Moulded.