Allied Moulded ULTRAPLUG
The ULTRAPLUG Hole Plug assembly from Allied Moulded Products is a fast and easy solution for plugging unused holes in NEMA 4X metallic and nonmetallic enclosures.
---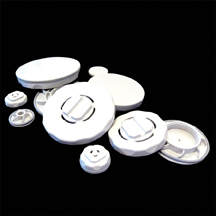 The ULTRAPLUG's patent-pending fin design creates a self-centering, anti-rotational plug that ensures a quick, one-person assembly and installation, plus no-tools tightening. The plugs fit a wide range of hole sizes without the use of restrictive and unreliable plug centering spacers, and is available in a corrosion resistant polycarbonate material with a neoprene/EPDM gasket. The hole plugs are molded in two colors: RAL 7035 (light gray) to match the industry standard for most nonmetallic enclosures and ANSI 61 (dark gray) to match the industry standard for painted carbon steel enclosures.
"The ULTRAPLUG is an easy solution to plugging unused holes ranging from 1/2" to 4 3/4" in size," said Bob Knecht, Allied Moulded marketing manager. "They can be used with wall thicknesses from 16 gauge through 1/4" in metallic and nonmetallic enclosures. Their low profile interior nut and exterior plug save valuable panel space. In addition, this design very effectively reduces the amount of time – and the number of people – required for assembly and tightening."