American Cutting Edge hybrid blades
American Cutting Edge introduced the first line of ceramic snap off and titanium hybrid blades to the United States.
---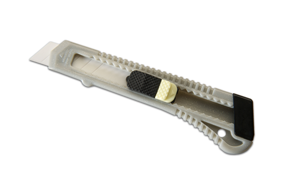 These blades have a demonstrated blade life up to 85 times longer than their carbon and stainless steel counterparts and offer an unrivaled level of precision cutting. Other extreme performance materials have already made their mark in fixed cutting applications in the packaging and converting industries. Now they are finally available in snap off form, and for hand knife use.
In addition to their extreme performance, the ceramic blade is chemically inert, non-magnetic, corrosion resistant and can withstand extreme heat without deformation. These blades are also available with all ABS plastic hand knives, with no metal parts, in addition to traditional plastic hand knives with metal guides. These are added benefits to electronics and chemical companies with clean rooms, food and food packaging processesors and others concerned about contamination.
In CATRA (UK) tests, these new blades have demonstrated dramatic increases in blade life. In independent testing, blades are required to cut through synthetic test card containing 5% quartz, until the blades are determined to be "blunt." This is measured by an inability to cut through 5mm of the card. While stainless steel cut 0.3 meters and carbon steel cut 1.6 meters during their "useful life," our proprietary titanium hybrid blades cut through an amazing 8.8 meters of material before dulling. Even more impressive, our ceramic blades cut through a whopping 25.4 meters!
The difference in performance is a function of the extreme hardness of our ceramic and titanium hybrid materials. While traditional steel blades have a hardness of HV640 to HV800 (HRC of 57 to 64), our ceramic blades have a hardness of HV1310 and the metalized ceramic particles in our titanium hybrid blades measure HV2900. In fact, they are too hard to be properly measured on the Rockwell scale. As hardness increases, the blade will take a better edge and hold it far longer, as evidenced by the test results.