Posted August 29, 2016
Ames 88X Universal Extension Handle
A new telescoping extension handle from AMES Taping Tools has a universal tip that accommodates four different finishing heads, eliminating the need for multiple, tool-specific handles, saving cost and time.
---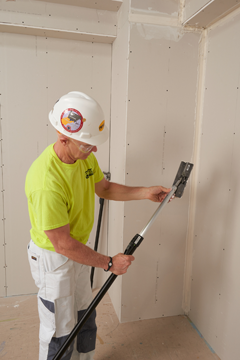 The 88X Universal Extension Handle replaces other handles that work only with a single finishing head; thereby offering a 4-in-1 solution for contractors. Finishers can now use the
same 88X professional-grade handle with four common finishing tools: the AMES Nail Spotter; Corner Roller; Corner Applicator and Corner Finisher. Plus, an optional threaded tip adapter allows the 88X handle to be used with a wide range of tools such as paint roller frames or cleaning tools.
The comfortable, non-slip handle easily adjusts from 3 1/2 to 6 1/2 feet with a touch of the quick-release position lock that prevents slippage or twisting. The heavy-duty handle extends contractors' reach up to 10 feet for easy finishing of ceilings and corners.
The lightweight fiberglass outer pole has a heavy-duty aluminum core for lasting strength and repeated performance.
Features include:
Larger diameter for a lasting, comfortable and secure grip, day after day
Positive locking stops for quick, seamless and confident adjustments anytime
Extension up to 10 feet perfect for any job
Aluminum design delivers one of the most durable handles in a surprisingly lightweight package
Optional threaded adaptor allowing the attachment of sanding tools, texture brushes and paint rollers to create even more job possibilities for the Universal Extension Handle