Crescent self-adjusting pipe wrench
Crescent announced its new 12" Self-Adjusting Pipe Wrench (SKU: CPW12).
---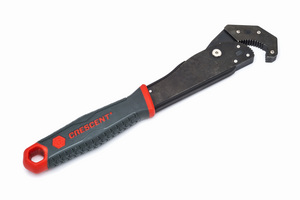 The new Self-Adjusting Pipe Wrench is built for fast, one-handed performance for a variety of jobs.
The quick, self-adjusting head instantly grabs and releases pipes and fasteners, providing fast ratcheting action with the ease of one hand. Gripping and slipping are no longer a concern because of the innovative angled tooth design developed by Crescent. This allows the jaws to bite deep and hold tight under heavier torque. With an exceptionally slim profile, the wrench is able to improve access in tight spaces.
"The new self-adjusting pipe wrench exemplifies quality and durability; two attributes that are synonymous with the Crescent brand," said Griffin Biering, product manager for Crescent. "Contractors and plumbers will appreciate the gripping power of the unique angled teeth. Lighter than others on the market, this innovative pipe wrench is easy to carry around and use all day long."
The Crescent 12" Self-Adjusting Wrench works on almost all common pipe from 5/8 - 1-1/2", including black-iron, galvanized, PVC and copper. Additionally, users can conveniently and swiftly tighten and loosen nuts, bolts and couplings with the ratcheting tool. A black-oxide finish resists corrosion, and a dual-material grip provides added comfort and durability.