Apex Fastening Tools for light industrial and MRO
Apex Fastening Tools, a division of Apex Tool Group LLC, announced the expansion of its fastening tools and accessories for users in light industrial and maintenance/repair applications.
---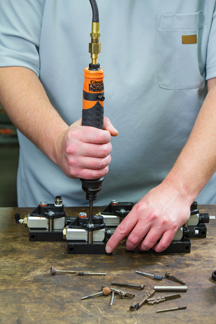 Apex Geta tools provide a high-quality, cost-efficient solution.
"The Apex Geta line is a value leader focused on light industrial and MRO markets," said Vipul Agarwal, Global Product Manager, Apex Fastening Tools. "We strive to respond to our customers' needs and have expanded this product line to deliver a high-quality product with reliable, consistent performance at a cost-effective price."
Apex Geta drive tools have been engineered to perform better, last up to five times longer and cost less than alternative industry tools, making them ideal for fast-paced construction, light industrial assembly, and general maintenance and repair applications. All products are machined from high-grade alloy steel and heat treated to provide a long-lasting, non-brittle toughness. This ensures a quality, durable solution for virtually any light industrial environment.
"Apex Geta tools are designed and manufactured for a precise fit to the fastener," added Tim Heitkamp, Product Engineering Supervisor, Apex Fastening Tools. "This fit, along with the durability of our tools and high-strength material, gives our tools more wear resistance than our competitors which means longer tool life for our customers."
The Apex Geta line includes a wide variety of screwdriver bits, bit holders, nutsetters and sockets available in various sizes and dimensions, including:
Torx, Phillips, Square, Torq-Set, and Slotted insert and power screwdriver bits
Magnetic bit holders
Magnetic sockets
Nutsetters
Extensions