H.K. Porter Indexing Rebar Bender
H.K. Porter, a hand tool brand from Apex Tool Group, announced the launch of its new Indexing Rebar Bender.
---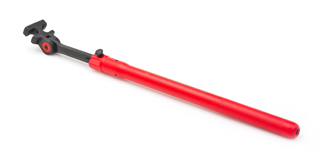 Available in three different sizes, each bender has a strong indexing head that grips rebar securely for accurate bends.
The smallest size works on #3 and #4 rebar. Its push button telescoping feature extends the bender to 35 inches for maximum leverage and collapses to just 21 inches for convenient storage and portability. The mid-size model handles #5 (5/8") rebar and the largest works on #6 (3/4") rebar. All models feature a 14-position indexing head that adjusts with a center push button to allow for improved access and leverage.
"When bending ¾-inch diameter rebar, end users will appreciate the flexibility and extra leverage the 14-position indexing head provides," said Jason Wirth, product manager for H.K. Porter. "Professional tool users want higher performance from their tools even on small jobs. The Indexing Rebar Bender delivers what users want at a value."
The Indexing Rebar Bender features knurled grips for better handling and extra sturdy steel handles for the toughest work conditions. From roadwork crews to professional contractors, this bender provides much more versatility and power than a standard hickey bar.
"This rugged tool makes tough work easier," added Wirth