Aquila® DPU102 industrial gloves
The new Aquila DPU102 glove range offers EN388 cut level three protection for high levels of safety, comfort, flexibility and sensitivity in industrial assembly situations.
---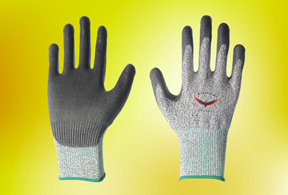 The gloves are designed for situations such as glass/glazing manufacture, automobile and engineering, as well as metal stamping and assembly. Developed from the popular and established DPU103, the new DPU102 is a cost conscious glove which maintains its cut resistance for up to eight wash cycles. Capable of offering a significant cost saving in production, assembly, installation and maintenance environments while ensuring a high degree of conformity with legislative requirements.
The Aquila DPU102 features a high quality 13 gauge cut resistant (level 3) liner over the whole of the glove, not just specific areas, so affording 100% hand protection unlike cheaper alternatives which often only protect the palm and fingers. Use of the specialist Alkimos yarn technology with polyurethane palm and finger coating confers excellent levels of breathability, snugness of fit, flexibility and sensitivity for worker comfort in precision handling areas. The DPU102 is glass fibre free.