Axxis offer Bostitch Cordless Carton Closing Stapler
Axxis, a manufacturer/distributor of power fastening tools and fasteners, now offers packaging customers the Bostitch Cordless Carton Closing Stapler.
---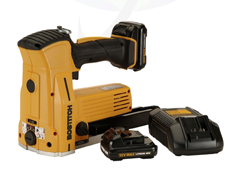 Introduced this summer, this unique tool eliminates the need for air hoses and affords operators limitless portability when stapling and closing corrugated containers used in manufacturing and distribution.
Depending upon the model ordered, the tool accommodates either A or C carton closing staples (5/8" or ¾" length). The 12v Li‐On slide battery powers the tool for 700 shots and can be recharged quickly.
Weighing just over 6 lbs., the tool can be used in a variety of positions with minimal user fatigue.
"We are excited to be able to make such an innovative product available to our customers," said Carl Schneider, Axxis president. "The Bostitch name carries a significant amount of weight in the industry and fits perfectly with our company's philosophy of making the best performing brands available to our customers – backed up by experienced, expert service and support."
Schneider also reports that Axxis now offers the entire line of Bostitch Packaging (Carton & Bag Closure) products, including pneumatic "stick/roll" staplers, plier staplers and bag closing tools.