Brush Research's New Flex-Hone Resource Guide
Brush Research Manufacturing announced the release of its new Flex-Hone Resource Guide.
---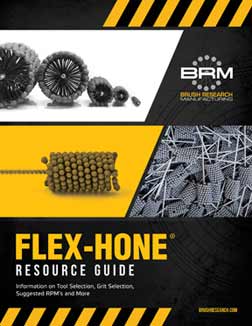 Designed for ease of use, this technical guide is an excellent reference for assisting in purchasing and operating Flex-Hone Tools. The technical booklet offers information on selecting tool diameter, abrasive type and grit. Also included is information on suggested RPMs, lubrication, setup and much more. Frequently Asked Questions and extended information on tool benefits also provide additional troubleshooting information. This resource is packed with the best information on how to successfully use the Flex-Hone Tool to create excellent finishing and deburring results.
Print copies of the new full-color resource guide are available by filling out the form in the literature section of the BRM website. A PDF version of the resource is also available on the website to view and download.