Bahco Easy-Cut Bimetal portable bandsaw blade
The new Bahco Easy-Cut Bimetal Portable Bandsaw Blades for hand-held machines are the ideal, versatile blades for cutting all common materials.
---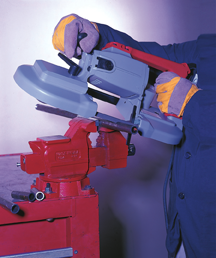 The Easy-Cut Bimetal Portable Bandsaw Blades are perfect for fast cutting, and the unique, patented Easy-Cut blade configuration eliminates the need to specify tooth pitch or type. And it also reduces the number of different blades from twelve to two, an obvious benefit for distributors and end users alike.
They feature easy feeding, good control and precision cutting for a variety of materials, including: bronze, copper, mild steel, aluminum, brass, chrome and others. These blades cut all materials commonly used in construction: conduit, galvanized and PVC pipe, rebar, angle iron, wood, virtually any material, all without changing the blade.
Two lengths of the Bahco Easy-Cut Bimetal Portable Bandsaw Blades are available:
PBEZ835
Dimensions: Inches: 1/2 x.020; Millimeters: 13 x .050
Length: Inches: 32 7/8; Millimeters: 835
Tooth Type: EZ
Available in 1, 3 or 100 pack quantity
PBEZ1140
Dimensions: Inches: 1/2 x.020; Millimeters: 13 x .050
Length: Inches: 44 7/8; Millimeters: 1140
Tooth Type: EZ
Available in 1, 3 or 100 pack quantity